Dir: Gilles Paquet-Brenner. France-U.S. 2015. 112mins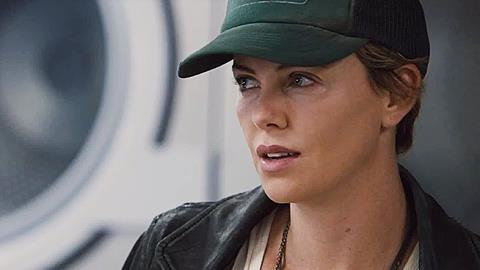 It's called Dark Places and you can say that again. Screenwriter-director Gilles Paquet-Brenner (Sarah's Key) offers sustained suspense and Charlize Theron gives a very fine performance as Libby Day, a hostile woman whose life has been governed by the night her mother and two sisters were murdered by her brother Ben in their Kansas farmhouse in October of 1985. Given the right handling (April 8 roll-out in France is decidedly low-key), audiences who like twisty narratives laced with wrenching revelations should be pleased with this satisfyingly downbeat thriller.
Charlize Theron and Chloe Grace Moretz elevate the material, making a somewhat far-fetched story both believable and enjoyable.
Adapted with her blessing from Gillian (Gone Girl) Flynn's second novel, the film began shooting in August 2013 but, per the director, the editing process was spread over 15 months, with the final edit completed in January of this year. Although the layered, time-hopping story is complex, the telling of it is clear.
We discover the jagged puzzle pieces along with surly Libby as the film skillfully juggles quite a cast of characters and more than its fair share of rumours and hidden motivations.
Now in her late thirties, Libby, whose rotten dad (Sean Bridgers) left when she was only two-years-old and whose mother did what she could to hang on to the family farm, believes that the Days suffer from "bad blood." That approach to their pathetic circumstances doesn't seem completely implausible. The film kicks off in 1985 with a grainy B & W flashback by night: the camera shows the passage to a bedroom and then a tearful woman's face (Christina Hendricks) on a pillow telling her unseen daughter she loves her.
We're next shown the daughter, eight-year-old Libby Day (Sterling Jerins), seated on the edge of a hospital bed with a bandaged foot, being prompted by an unseen cop to confirm that her 16-year-old brother Ben is the killer. Young Libby nods.
It's a clear case of leading the witness but since Ben (Tye Sheridan as a teen, Corey Stoll as an adult) didn't have an alibi and has never tried to appeal his conviction in almost three decades in prison, grown Libby sincerely believes Ben to be the killer.
Libby has coasted into advanced adulthood on donations from strangers and the proceeds from a ghost-written book she's never read (A New Day by Libby Day). But she's down to a few hundred dollars and is two months behind on the rent for her unkempt apartment when she begrudgingly accepts an appearance fee from The Kill Club, an organisation of true-crime enthusiasts, some of whom dress up like Victorian child molesters and some of whom are devoted hobbyists trying to get to the bottom of notorious cases with gnawing inconsistencies or open cases with no arrests.
Local laundromat owner and Kill Club treasurer Lyle Wirth (Nicholas Hoult) — "We solve crimes. It's what we do" — convinces Libby to revisit the trauma and tragedy of her childhood in exchange for some much-needed cash. The clock is ticking because it's coming up on 30 years and Ben's file will be shredded in three weeks if nothing new comes to light.
Members of the club are convinced that Ben is innocent and urge Libby to visit her brother in prison, something she's never done. She's foul-mouthed and reticent and he's surprisingly mellow. Libby agrees to look deeper into the loose ends she knows nothing about.
ith ace visuals from DoP Barry Ackroyd, the story toggles back and forth between past and present. With echoes of the real-life West Memphis Three, teen Ben — who dyed his hair Goth black and had Devil-themed posters in his bedroom — was accused of being a Devil-worshipper who killed his family in a Satanic ritual.
Suffice it to say, that's a flawed if convenient explanation for what really happened that very bad night in the Day house.
Libby acts like a victim because, well, she is one. Usually sporting a denim baseball cap and a flimsy white T-shirt that's seen better days, slouching Theron is absolutely convincing as a self-loathing haunted soul with zero ambition. As the town's "rich slut," Chloe Grace Moretz gives yet another pitch-perfect performance. Both actresses elevate the material, making a somewhat far-fetched story both believable and enjoyable.
Production companies: Denver & Delilah Films, Hugo Productions, Mandalay Pictures, IM Global, Exclusive Media, Daryl Prince Productions, Cuatro Plus Films
International sales: Bloom, www.bloom-media.com / info@bloom-media.com
Producers: Stephane Marsil, Charlize Theron, A.J. Dix, Beth Kono, Matt Jackson, Azim Bolkiah, Matthew Rhodes, Cathy Schulman
Screenplay: Gilles Paquet-Brenner, adpated from the book by Gillian Flynn
Cinematography: Barry Ackroyd
Editor: Billy Fox, Douglas Crise
Production designer: Laurence Bennett
Music: BT, Gregory Tripi
Main cast: Charlize Theron, Nicholas Hoult, Chloe Grace Moretz, Tye Sheridan, Corey Stoll, Christina Hendricks, Drea de Matteo