A Serbian family struggle to survive in 1990s Kosovo in Serbia's Oscar contender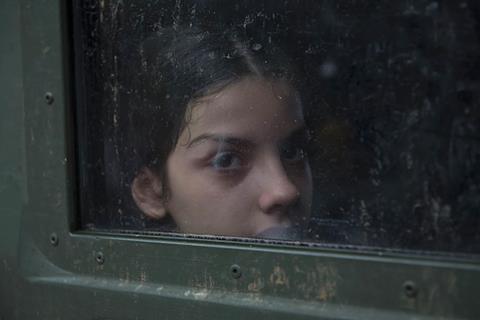 Dir/scr: Dusan Milic. Serbia/Denmark/Bulgaria/Italy/Greece. 2022. 104mins
Over several decades worth of films inspired by conflict in the Balkans, there have surely been few quite as genre-crossing as Darkling, the fourth film from Serbian director Dusan Milic. Announced as Serbia's Academy Awards contender, this Kosovo-set item (which premiered at the Trieste Film Festival in January) is on one level a realistic drama of life under fire, on another an atmospheric psychological chiller with a distinct folk horror feel. The current vogue for art-house scarers – if that's what Darkling really is – should enhance the visibility of this shadow-steeped, artfully executed feature; not least because of its emotionally involving child-focused narrative and hypnotic young lead Miona Ilov. On the minus side, the film paints itself into a corner with a perplexing, inconclusive ending.
Sly, purposeful camera moves, largely understated interplay between the actors and imaginative sound design all conspire to suggest something troubling at work
The action takes place after the wars of the 90s, at a time when – as the opening titles explain – a small Serbian community remained in Kosovo under the protection of international peacekeeping presence the KFOR (Kosovo Force). Young heroine Milica (Ilov) is one of the remaining residents of a small rural community, living with her mother Vukica (Danica Curcic) and grandfather Milutin (Slavko Stimac) on the latter's farm, having moved there after their own house was set on fire (the background is the anti-Serb attacks by Albanians in Kosovo).
With the community almost totally emptied out, Vukica is keen to leave with her daughter but Milutin insists on staying until Milica's father and uncle return, having mysteriously vanished some time ago. Two Italian soldiers escort Milica and a handful of other children daily to the nearby village school, where they are set the task of writing about their everyday life, to potentially be read out at the United Nations (Milica's letter is heard intermittently in voice-over). Meanwhile, with the family's resources running low and electricity in short supply, Milutin has placed their farmhouse under siege conditions, with a mysterious non-human presence seeming to threaten their safety from the nearby woods, and farm animals disappearing or being found dead daily.
Starting the film in deep darkness, to which it repeatedly returns, director Milic, DoP Kiril Prodanov and designer Milenko Jeremic make the house's interior a claustrophobic netherworld, cluttered with furniture and lit in ominous chiaroscuro. The house is alternately a site of peril and a safe hearth, with the friendly but ineffectual soldiers offering a tentatively reassuring presence – one of them, played by Italian screen regular Flavio Parenti, nurturing an understated mutual attraction to Vukica. Meanwhile, the forest makes its menacing presence felt, not least in POV shots suggesting that someone (or something) is keeping a watchful eye on the family's ever more fragile refuge.
Sly, purposeful camera moves, largely understated interplay between the actors and imaginative sound design all conspire to suggest something troubling at work beneath an already troubled surface. There are some keenly ironic touches: while the soldiers try to cheer them up with an overbearingly bouncy Italian pop song, the children sit glumly in the back of their armoured car, all joy long ago sucked out of them. Meanwhile Ilov – her Milica often silent but gazing at the world through large, often unreadable eyes – provides a magnetically affecting focal point.
The action is delicately built up over several days, although Milic makes a clumsy move in the early planting of a dangerous weapon that is clearly bound to do someone serious harm before close of play. When the film reaches its climax, Milic is unafraid to go full Gothic – with a thunderstorm raging and the wind howling – and things getting apocalyptic indoors and out.
With its enigmatic coda and, earlier, a tricksy dream sequence, Darkling makes us wonder what we've really been seeing, prompting us to read the action as partly metaphorical, or as generated by the psychic scars of war trauma. The film may be textually richer as a result but it suffers in terms of coherence, and leaves us feeling that Milic has been out to make a point, not entirely trusting either to his film's main dramatic themes or to its genre dimension. True to its title, this is a film that works all the better the longer it keeps us in the dark.
Production companies: Film Deluxe International, This and That Productions, Firefly Productions
International sales: Wide Management infos@widemanagement.com
Producer: Snezana van Houwelingen
Cinematography: Kiril Prodanov
Editor: Yannis Chalkiadakis
Production design: Milenko Jeremic
Music: Kristian Eidnes Anderson
Main cast: Slavko Stimac, Danica Curcic, Miona Ilov, Flavio Parenti