Dir. Ricky Gervais. UK, 2016, 96 minutes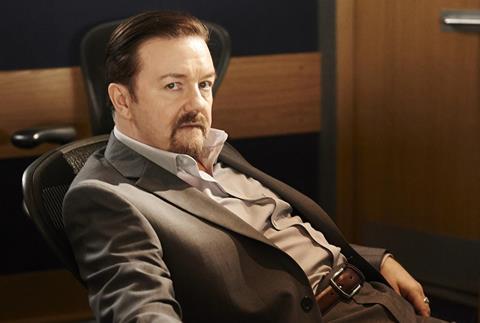 Thirteen years after the seminal UK version of The Office ended its run on BBC TV, child-man narcissist David Brent is back, his deluded ambition expanding in proportion to the feature-length, big-screen canvas. Age has not softened creator Ricky Gervais' determination to keep pushing the audience through the pain barrier, with a steady onslaught of excruciating cringe comedy, allowing only vague hints of redemption in the final furlong.
While Gervais returns often to the same comedic well, he's adept at transforming simple miscues into horrific spirals of embarrassment.
Nostalgic fans should squirm to their heart's content through the consistently entertaining, fitfully inspired Life On The Road, with home market the UK likely to yield the richest returns, both theatrically and in ancillary. Co-financed by eOne and BBC Films, and directed/produced by Gervais, it was picked up by Netflix for US and selected rights earlier this summer, and is set for a 2017 release there after its August rollout in the UK, Ireland, Australia and New Zealand.
In The Office, Brent's buffoonish antics were balanced by a combination of romance and comedy amongst the Wernham Hogg team. So it's perhaps fitting that for this belated franchise extension, deranged egotist Brent now commands our undivided attention.
No longer an office manager, Brent is now a sales rep for feminine hygiene and cleaning products company Lavichem. But the 55-year-old clings to dreams of rock stardom, so cashes in a chunk of his pension, takes unpaid leave, and reconstitutes his former band Foregone Conclusion with paid young session musicians to hit the road in his home county of Berkshire.
Once again, Brent has a film crew in tow, replicating the faux documentary format of The Office – although this time with cinematographer Remi Adefarasin (Elizabeth: The Golden Age), resisting any impulse to add flattering lighting to the dingy venues and banal budget hotel interiors.
As with the Absolutely Fabulous and Alan Partridge movies, the passage of time, in which zero self-growth has occurred, only enriches the comedic pathos of the scenario. Life On The Road sees Brent looking increasingly like a man out of time, even as he struggles to adapt his worldview to modern notions of inclusivity and diversity. And while Gervais returns often to the same comedic well, he's adept at transforming simple miscues into horrific spirals of embarrassment.
Brent's colleagues at Lavichem, established in the set-up, are thereafter sidelined when Foregone Conclusion hits the road. Attention turns instead to the relationship between Brent and his rapper protégé Dom (Ben Bailey Smith) and also with the band's increasingly incredulous road manager Dan (Tom Basden), a professional studio engineer who can't believe he has allowed himself to be dragged into this indulgent shambles.
The Dom storyline – the perplexed youngster has traveled a trajectory from Brent-managed solo artist to under-utilised guest performer to token black friend, ham-fistedly produced when the occasion suits – is a particularly successful narrative element.
Songs composed by Gervais and Andy Burrows (Razorlight, We Are Scientists), who also plays Foregone Conclusion's drummer, effectively skewer a middle-aged sales rep's notions of rock'n'roll hedonism ("Foot down on the floor/ Seventy miles an hour but no more"), while often displaying a comic flair for overly literal lyrics.
Since Foregone Conclusion have performed live with Gervais in real life, and a soundtrack album of the songs accompanies the film, uncharitable viewers may decide that the band represents a foolish grab at rock stardom not just for Brent but also for its creator, who enjoyed very modest success in short-lived early 80s electronic duo Seona Dancing.
While Life On The Road largely stays true to the "no hugging, no learning" template long ago conceived by Jerry Seinfeld and Larry David, Gervais does allow Brent a fraction of hope, provided by a Lavichem colleague, Pauline in accounts (This Is England's Jo Hartley). Her indulgent romantic interest is doubtless more than he deserves, but it's a welcome tidbit of reward for any audience member still willing Brent, after all these years, to find his footing on a redemptive path.
Production company: LOTR Films
International sales: eOne Pictures, www.eonefilms.com
Producers: Charlie Hanson, Ricky Gervais
Screenplay: Ricky Gervais
Cinematography: Remi Adefarasin
Editor: Gary Dollner
Production design: Anna Higginson
Music: Ricky Gervais, Andy Burrows
Main cast: Ricky Gervais, Ben Bailey Smith, Tom Basden, Tom Bennett, Jo Hartley, Andy Burrows, Mandeep Dhillon, Andrew Brooke, Nina Sosanya, Kevin Bishop