A single mother struggles to survive in contemporary Albania in Gentian Koci's unflinching feature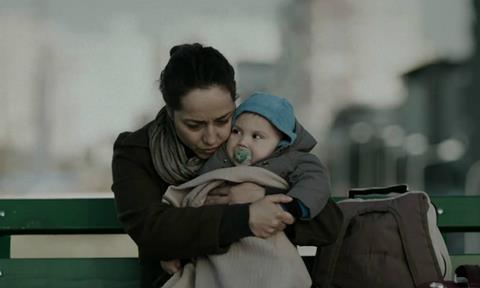 Dir/scr: Gentian Koçi. Greece-Albania. 2017. 85 mins
Economic pressures push a single mother to the brink of desperation in this hard-edged portrait of a hand-to-mouth existence in contemporary Albania. Ornela Kapetani gives a committed performance as Leta, a former nurse who, after a chain of bad luck and bad judgement, finds herself on the brink of homelessness, with her one-year-old son in tow.
There is an unsentimental toughness that runs through every element of this picture.
Sparse and unflinching, this is a tough, sometimes dispiriting, watch, but one which makes some important points about a society willing to turn a blind eye to the suffering of its most vulnerable members.
Following its premiere in competition at the Sarajevo Film Festival, Daybreak should generate further interest on the festival circuit, where it will be connect with socially aware and sympathetic audiences. Theatrical prospects in territories other than domestic might be limited by the fact that there are many other similarly-themed films - I, Daniel Blake being just the most high profile example - which deal with the financially precarious plight of single mothers.
There is an unsentimental toughness that runs through every element of this picture. It's present in the sound design, sharpened just slightly to accentuate the harsh rattle of Leta's landlord, pounding on the door to demand the three months of rent that she owes. It's there in the lighting, an unsympathetic glare which highlights the weary bags under people's eyes, the disappointment chiselled into their faces. It's in the colour palette, an especially bleak selection of tones which look like wet concrete in various stages of solidifying.
And most of all, it's in Kapetani's performance. Leta's face has been sharpened to a knife edge by the daily worries which pile up along with the debts. She is clenched shut, all emotion locked down. As such, the rare moments which we see beyond the carapace of self protection have a real potency: once when she cries in the shower, big, choking, gulps of despair, drowned out by the sound of running water; later when she smiles at her son and, just for a moment, the clouds part.
There is a lifeline tantalisingly close - a new job caring for Sophie (Suzana Prifti), a bedbound elderly woman while her daughter takes an extended trip to France. Whittled away by the pain and indignity of her condition, Sophie is a husk of a woman, yet Prifti gives the character a glimmer of something more, a hint of the woman she was before the long slow march towards death commenced. But Leta can't afford to see Sophie's suffering; she is a charge who must be kept alive at all costs.
And, for a while at least, it works. By sheer force of will, Leta keeps the lid on the debt and starts to claw her way back from the brink. But then a freak disaster strikes, and she must act decisively in order to keep a roof over her baby's head.
Whether or not the audience is satisfied by the film's conclusion will depend on whether they buy into an action which seems slightly at odds with Leta's hitherto ruthless but cautious behaviour. Credibility issue aside, however, it's a wrenching conclusion to a film which pulls no punches throughout.
Production companies: Artlab Film, Graal Films
Contact: Wide Management, festivals@widemanagement.com
Producer: Gentian Koçi
Cinematographer: Ilias Adamis
Editors: Christos Giannakopoulous, Bonita Papastathi
Production design: Ilia Kolka
Sound: Xenophon Kontopoulos
Music: Mardit B. Lleshi
Starring: Ornela Kapetani, Suzana Prifti, Kasem Hoxha