Florence Foresti, Nicole Garcia and Mathieu Kassovitz headline a female-centric post-cancer drama set in and around Lyon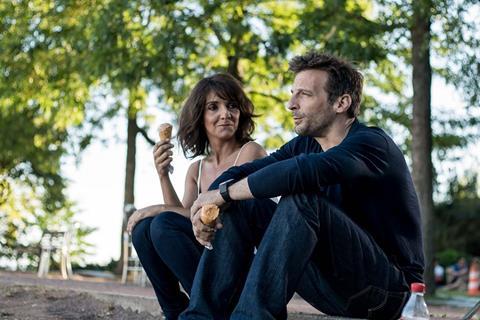 Dir/scr: Anne-Gaëlle Daval. France. 2017. 99mins
A relativity unusual topic — how to relate to one's own body and to other people after battling and beating cancer — is explored in a leisurely and ultimately touching manner in De Plus Belle. France probably boasts more female writer/directors than any other country and first-timer Anne-Gaëlle Daval (a costume designer by trade) has attracted a very talented name cast for her debut. Florence Foresti, a successful stand-up comic (she hosted the 2016 Cesars ceremony) known for her one-woman shows and usually wacky film roles is cast against type to fine effect as Lucie, a 40 year-old single mother who feels adrift now that her breast cancer has finally gone.
An obstacle to Lucie getting back a positive body image is that she may never have had one in the first place, thanks to her mother
The subject matter, treated with humour and an obvious commitment to showing people of all ages, races and shapes without catering to standard canons of "beauty," makes this an interesting item for festivals and possibly more.
Lucie is close to her brother, Frederic (Jonathan Cohen), who also happens to be her doctor. He tells his anxiety-ridden sister to get on with her life now that she has one again. After a four-year struggle with cancer she's still too tired to work a full day in the plant nursery she tends with her sister, Manon (Olivia Bonamy) and she wears a long dark post-chemo wig. When her 15 year-old daughter tells her to get another hairpiece since she looks "like Morticia Addams," Lucie enters the wig shop run by Dalila (Nicole Garcia).
Dalila - who alternates words of prodding and encouragement in both French and English - is a kind but firm figure when it comes to regaining womanly self-esteem and a proud sense of femininity in the wake of illness. She not only applies make-up and makes wig recommendations — she also runs a dance and exercise program that will culminate in a final show with a strip tease component. Dalila believes in healing through public nudity.
An obstacle to Lucie getting back a positive body image is that she may never have had one in the first place, thanks to her mother (Josée Drevon), a domineering widow who seems absolutely oblivious to the harm she has done by criticising how her least attractive child looks. It turns out there's a reason for that, revealed in an interesting mother-daughter scene.
One evening, cheerful and self-assured Clovis (Mathieu Kassovitz) takes an interest in Lucie. Since she believes she's no prize, she can't imagine what he sees in her — and, truth be told, that's not clear to viewers either. We learn that his jokey, low-pressure technique gets many a lass into the sack. But, skittish and unsure of herself, Lucie keeps wriggling away from Clovis's attentions. The story slowly heads toward a two-pronged finale that's worth the wait.
Captured via unfussy camerawork, the environment in and around Lyon provides laid-back settings for the film's slowly percolating drama.
Production companies: Nolita Cinema, Studiocanal, France 2 Cinema, Auvergne-Rhône-Alpes Cinema
International sales: Studiocanal
Producers: Romain Rousseau, Maxime Delauney
Cinematography: Antoine Roch
Editor: Frederic Baillehaiche
Production design: Nicolas Migot
Music: Alexis Rault
Main cast: Florence Foresti, Mathieu Kassovitz, Nicole Garcia