A young man grows close to his late father's male lover in this comic melodrama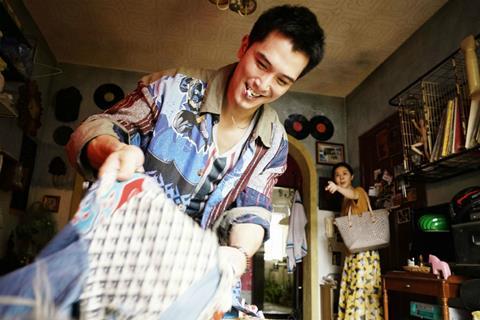 Dirs: Hsu Chih-Yen, Hsu Mag. Taiwan. 2018. 100mins
When the husband who left her three years previously finally dies from liver cancer, Sanlian (Ying-Xuan Hsieh) is forced to confront the realities of her relationship. Before his death, Song Zhengyuan (Spark Chen) signed over the life insurance policy which was intended to pay for the education of his teenage son, Song Chengxi (Joseph Huang). The new beneficiary is Jay (Roy Chiu), Zhengyuan's male lover. Sanlian is stridently furious about this. But, increasingly at odds with his mother, Song Chengxi is fascinated by Jay, and takes up residence in Jay's gaudy and somewhat insalubrious apartment. Over the course of the film, he gets to know the man that his father loved, and this comic melodrama wrings every last drop of drama from the set up.
The moments in which Ying-Xuan Hsieh reigns in the drama are the ones which resonate most deeply
The LGBTQ-themed storyline is a timely one: the Taiwanese High Court passed a resolution which legalised same sex marriage in May 2017, but a public referendum in November 2018 voted against it. Yet Dear Ex, with its focus on emotional dynamics and romance rather than overt gay sex scenes, is unlikely to be too much of a challenge for the regional audience. The raft of awards that the film has already carried off from the Taipei Film Festival and the Golden Horse Film Festival will also help with the marketing push. Elsewhere, further festival interest, particularly from those events committed to championing gay cinema, seems likely. Arthouse theatrical deals are possible; however, it should be noted that performances pitched at the volume and intensity of those here don't always travel particularly well.
The film is the feature debut for both directors. Hsu Mag is an experienced screenwriter who got the idea from the breakdown of one of her own relationships. She has television directing experience but none in film; her role here was focused on coaching the actors. Meanwhile, music video director Hsu Chih-Yen took charge of the visual component. His contributions include the vividly super-saturated colour palette which captures Jay's world; and scratchy, scrawled animated elements (devils horns on Sanlian, a crown for Song Chengxi) which take us inside the mind of the rebellious and reproachful son.
Alternatively wallowing in self-pity and berating her son for his grades, Sanlian is a bit of a thankless role for Ying-Xuan Hsieh. She gamely commits to a performance which is all attack mode and very little subtlety. Tellingly, the moments in which she reigns in the drama are the ones which resonate most deeply – a second after she has betrayed Jay by outing him to his elderly mother, she pauses, checks herself and an expression of self-disgust flickers across her face. Then she charges out of the frame, as if trying to out-run the monster that she has become.
Petulant, pretty Jay is allowed a little more development as a character. The shallow actor-director who seems unmoved by his lover's death, is gradually revealed to be a broken man who can't quite accept that Song Zhengyuan is gone, and has practically bankrupted himself in his memory.
The music choices and the production design compete for knowing kitsch, but there is nothing ironic about the emotional impact of the third act.
Production Companies: Dear Studio Co
International Sales: Dear Studio Co Sanling.Chang@Gmail.Com
Producer: Lu Shih-Yuan, Pan Maggie
Screenplay: Lu Shih-Yuan, Hsu Mag
Editing: Lei Cheng-Ching
Cinematography: Lin Chih-Peng
Production Design: Chou Chin-Hsien
Music: Lee Ying-Hung
Cast: Roy Chiu, Ying-Xuan Hsieh, Spark Chen, Joseph Huang