Bold and unconventional documentary following protests and the pandemic in Hong Kong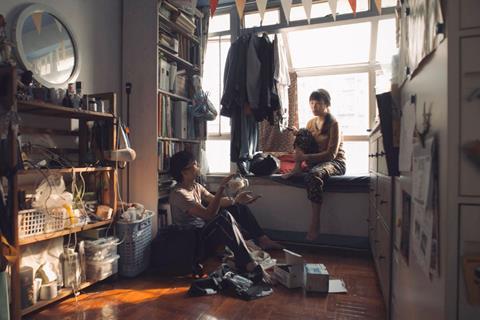 Dir: Rita Hui Nga Shu. Hong Kong. 2021. 107 mins
Of the many documentaries which have been born out of the Hong Kong pro-democracy movement, Decameron, an ambitious, sprawling video essay by artist and filmmaker Rita Hui Nga Shu, is the most formally bold and unconventional. Perhaps because it takes more risks in its far-reaching approach, there are some elements which fail to connect. But much of the film – which combines accounts of everyday life in a Hong Kong besieged on two fronts, by the pandemic and the police, with historical parallels – is arresting, and at times unsettling.
The anonymous crew on this project clearly know their way around a camera
The first documentary project from Rita Hui Nga Shu (Dead Slowly, Pseudo Secular), the film takes its title from the collection of stories by 14th-century Italian author Giovanni Boccaccio, a work which was itself conceived in the aftermath of a plague. Decameron was made in collaboration with a group of Hong Kong-based artists whose identities are protected. The result is a kind of three dimensional mosaic structure which weaves together protest art and responses to Hong Kong's twin crises while also looking to the past. Unlike the more direct approaches of films like Inside The Red Brick Wall and When A City Rises (prizewinners at IDFA and CPH:DOX respectively), Decameron is a more enigmatic and experimental work. As such, Rotterdam's summer edition represents a fitting launchpad for a film which should connect with audiences at further events geared towards the intersection between conceptual art and factual filmmaking.
Unlike many of the other films about the Hong Kong protests, which rely heavily on jittery amateur footage shot on smartphones, the anonymous crew on this project clearly know their way around a camera. There's depth and drama to the street scenes, frequently capturing the ebbing periphery of the protests rather than the frontlines. And the challenging framing of more intimate scenes – heads are obscured, we are invited to focus on hands wiping tears onto an undershirt – invites the audience to engage and question, rather than to just see.
But the film's most powerful moment – an extended opening single shot – is captured on a phone. It's not the shot itself which exerts such a punch, or not the shot alone at least. A small square frame in the centre of the screen shows a locked view through the window of a Hong Kong MTR subway train as it crawls through Prince Edward station. The camera captures eerily empty platforms and, occasionally, the reflection of the woman holding the phone. An announcement, repeated in Cantonese, English and Mandarin, warns of an emergency. "This station is closing because of a serious incident." We expect the shot to cut, but it doesn't. Instead, we hear mounting sounds of panic, shouts and crashes. Is it coming from inside the carriage? Or is this the sound from the streets overhead? It sounds like a city tearing itself apart. It's an extraordinary moment which is not quite matched for intensity elsewhere in the film.
The device of leaving shots to play out for far longer than is expected – or is comfortable – is used very effectively in other scenes, notably in a encounter (presumably dramatised) between Chan Tong-kai (a murder suspect whose case led to plans to change extradition rules, which then triggered the city's mass protests) and a Hong Konger who holds him to account. But other extended scenes – a shot of a distressed man in his pants standing in a bathroom for example – can feel a little unwieldy.
More potent are the seqeunces, shot from above like surveillance footage, of guerilla protest art in progress: unknown masked figures take streets which were filled with violence and reclaim them with art.
Production company: Rabbit Travelogue
International Sales: Mirror Stage Films
Producer: Rita Hui Nga Shu
Crew: "A group of Hong Kong Artists who fucking love Hong Kong."