Dirs/scr. Tarzan and Arab Nasser. Palestine/France/Qatar. 2015. 84mins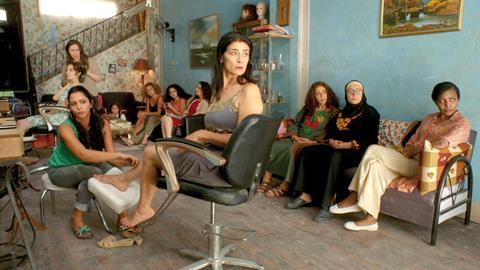 Even the customers of a Gaza Strip beauty parlour are not immune to the violence and conflict that surrounds them in Degradé, an ambitious, promising but only partially successful first feature from Palestinian twin brothers Tarzan and Arab Nasser. Stranding a cross-section of women in a confined setting allows the brothers to pursue their aim of exploring the realities of everyday lives in the Gaza Strip but the film is doggedly conventional from its single setting to its largely one-note characters. It works best as straightforward drama rather than caustic, absurdist farce, which is surprising given the brothers' reputation for irreverence. Further Festival exposure is certain but theatrical sales are less cut and dried.
There is still a sense that the brothers have not fully realised the potential of their material
Filmed in Jordan and inspired by true events from Gaza in 2007, the low-budget film depicts Christine's Salon as a sanctuary from the outside world. Degrade translates as degeneration but is also the name of a hair style. There are echoes of Steel Magnolias and Caramel in a salon where women come to pamper and gossip, trade news and escape reality. The talk here is of hair styles and waxing, marriages and relationships.
The first third of the film is a listless drift through the defining characteristics of the women in the salon. Owner Christine (Victoria Balitska) is the outsider and has settled in Gaza from her native Russia. Eftikhar (Hiam Abbass) is a bitter divorcee, Zainab (Mirna Sakhla) is strict about her religion, Salma (Dina Shebar) is about to be married, Fatima (Samira El Aseer) is due to give birth.
None of the women are especially remarkable and perhaps that is the intention; these are banal lives that just happen to unfold in a chaotic land scarred by eternal division. It does mean that the film struggles to fully engage as the women sit around talking with only an occasional spark of attitude and bitchy asides to amuse.
The brief glimpses of life outside the salon are filled with guns and menace. The salon is an oasis but also becomes a prison reflecting an entire country trapped by its history.
A stolen lion is the catalyst for a pitched battle that erupts outside the salon doors between Hamas and a gangland family. We hear gunfire and the shudder of explosions. Power is cut and the tension outside seeps into the salon where the talk turns to politics and the women come to blows.
The energy and pace in the final third, achieved through fast cuts and swooping handheld camerawork, makes for a much more compelling and even poignant film. There is still a sense that the brothers have not fully realised the potential of their material or fully exploited the absurdity of stolen lions and beauty parlour fisticuffs. You can only imagine what a young Almodovar might have made of it.
Production companies: Les Films Du Tambour, Made In Palestine Project
International sales: Elle Driver sales@elledriver.eu
Producers: Rashid Adelhamid, Marie Legrand, Rani Massalha
Cinematography: Eric Devin
Editor: Sophie Reine
Production design:Tarzan & Arab Nasser
Music: Benjamin Grospiron
Main cast: Hiam Abbass, Maisa Abd Elhadi, Manal Awad, Mirna Sakhla