Comic masters Benoit Delepine and Gustave Kervern take aim at the human cost of our online world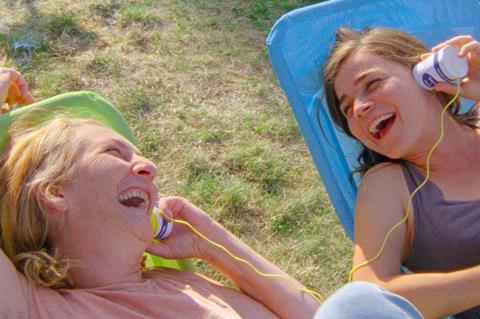 Dirs/scr: Benoit Delepine, Gustave Kervern. France. 2020. 106 mins
In what may be their most timely, commercially viable comedy to date, French masters of alt-whimsy Benoit Delepine and Gustave Kervern take sardonic aim at the economic, emotional and social costs of an online world in which cyberbullying and one-day delivery are two sides of the same Bitcoin.
All of Delepine and Kervern's films side with the underdog, and Delete History is no exception.
Delete History sees the duo at their funniest, largely thanks to sparkling performances from three leads chosen from outside the directors' regular acting stable, and a peppy script that trims back the sentimental longueurs of the pair's road-trip films (like the Depardieu vehicles Mammuth and Saint-Amour). The film only loses some of its impetus in a final act lull, although a dewy-eyed nostalgia for France's yellow vest protests feels a bit shoehorned into the story.
Early on, we see Corinne Masiero's character Christine dutifully clicking on all the traffic lights on a CAPTCHA popup and, in a way, the film is a similar kind of test, checking that we're human by reminding us what we sacrifice for the sake of cyber-convenience. It's the universality of this dilemma that should propel the film beyond the duo's French-language devotees – a territorial barrier that even the sparkling turn of Jean Dujardin in I Feel Good failed to breach.
All of Delepine and Kervern's films side with the underdog, and Delete History is no exception. It's a close cousin, in a way, of Ken Loach's two most recent pictures about the dehumanising power of our one-click world, not least in its nostalgic championing of community values and real human connection. The community in question is an outwardly neat housing estate on the edge of a small French town, where neighbours Marie (Blanche Gardin), Bertrand (Denis Podalyades) and Christine (Corinne Masiero) are all struggling to hold their lives together.
Unemployed Marie has recently lost custody of her teenage son and is about to be blackmailed over a sextape. Christine is an Uber driver who only gets one-star reviews. And locksmith Bertrand is up to his eyeballs in debt and dealing with a teenage daughter who is a victim of cyberbullying. All three are single, and look back fondly to the days of France's yellow vest protests two years earlier, when they briefly thought something might change.
Standup comedian Gardin – soon to be seen alongside Lea Seydoux in Bruno Dumont's On A Half Clear Morning – is the film's comedic centre of gravity, but Podalyades and Masiero are able sidekicks – the latter brilliant in a scene where she confesses her TV series addiction problem to Bertrand. Like many of the film's funniest moments, this is essentially a standalone sketch stitched into the story. This is also true of two hilarious cameos by the actor Benoit Poelvoorde and writer Michel Houellebecq. In an ironic stab at his nihilistic reputation, Houellebecq plays the buyer of a clapped-out car Bertrand has been trying to sell for months – perfect for committing suicide in. Another Delepine and Kervern regular, Bouli Lanners, puts in a brief appearance as a hacker called God whose office is inside a wind turbine.
The cracking comedic pace of a script that takes aim at everything from clickbait cat videos to price comparison websites lets up in the last third of the film, when Marie and Bertrand set out on separate trips to confront the faceless tech corporations that are ruining their lives. Bertrand's voyage involves a change of destination to an office to Mauritius in an on-location episode which seems contrived for the writer-directors to bring up that famously extinct Mauritian bird, the dodo, and suggest that, in the age of AI, we humans may be about to go the same way.
Production companies: Les Films du Worso, No Money Productions
International sales: Wild Bunch, info@wildbunch.biz
Producers: Sylvie Pialat, Benoit Quainon, Benoit Delepine, Gustave Kervern
Production design: Madphil
Editing: Stephane Elmadjian
Cinematography: Hugues Poulain
Main cast: Blanche Gardin, Denis Podalydes, Corinne Masiero, Vincent Lacoste, Benoit Poelvoord, Bouli Lanners