Nicole Kidman is a hard-bitten LA cop looking to settle some scores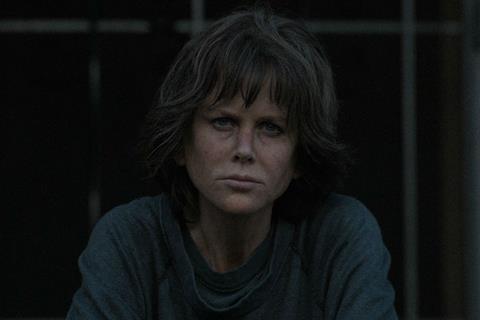 Dir: Karyn Kusama. US. 2018. 123mins
The sins of the past weigh heavy on Destroyer, a sun-splashed Los Angeles noir that's more an exercise in portentous atmosphere than a deft exploration of guilt and regret. Buried in makeup that accentuates her character's hard-luck existence, Nicole Kidman brings such compelling conviction to her role as a tormented detective that she single handedly imbues the film with urgency and authenticity. That proves crucial, since director Karyn Kusama often miscalculates Destroyer's sense of its own profundity.
Kusama and Kidman provide the film with a rugged, merciless quality
After a stint on the festival circuit, Destroyer will open in US theatres on December 25, no doubt hoping to secure Kidman her fifth Oscar nomination. (She won in 2003 for The Hours.) Fans of other moody indie revenge thrillers such as You Were Never Really Here might be on board, although mixed reviews and a despairing tone may turn off mainstream crowds.
As the movie begins, LAPD detective Erin Bell (Kidman) is waking up in her car, her weathered face and bloodshot eyes suggesting someone in the midst of a bad personal spell. But soon, her interest is piqued by hints that an old nemesis, a violent criminal named Silas (Toby Kebbell), has re-emerged, giving her an opportunity to settle some scores.
Written by Phil Hay and Matt Manfredi, the screenwriters behind Kusama's 2015 low-budget thriller The Invitation, Destroyer is constructed like a puzzle, balancing the present-day storyline with a series of flashbacks that reveal who Erin once was. Those latter scenes involve her going undercover with her partner Chris (Sebastian Stan) to infiltrate Silas's gang, although the exact outcome of that mission won't be clear until near the film's end. Suffice it to say, it has left Erin reeling ever since.
Kusama and Kidman provide the film with a rugged, merciless quality, depicting Erin as an antihero hoping to complete unfinished business. While it's a standard Hollywood gimmick to transform a glamorous star so that she looks "realer" through unflattering makeup, Kidman's Destroyer reinvention is so striking — and the actress' performance so gritty and exhausted — that we accept her as a troubled cop who can't let an unspecified past trauma go.
Cinematographer Julie Kirkwood makes good use of L.A.'s seediest sections, the squalor contrasting bitterly with the sunny weather. And when the action shifts to the nearby desert, Destroyer exudes a wide-open vastness that suitably mirrors its protagonist's spiritual depletion.
But the posturing can feel empty when the storytelling isn't as rich. And the film's parallel timelines create an inevitable problem; eventually, the flashbacks become frustrating as we grow impatient waiting to learn what Erin's big secret is. Thankfully, Erin's colourful interactions with colleagues and different strata of criminal lowlifes are consistently entertaining, providing intriguing hints about this stoic woman without revealing everything.
The supporting cast plugs into Destroyer's malignant mood, particularly Tatiana Maslany as a volatile addict who crosses Erin's path. And Kebbell manages to make Silas seem larger-than-life without overdoing the theatrics. There's a formidable evil within this gangster that's so repellent — and yet he represents the permanent darkness that could swallow up Erin if she loses her moral compass.
Regrettably, Destroyer occasionally aims for mythic, tragic self-importance — especially during a painfully protracted finale — which gives the story thematic undercurrents it hasn't fully earned. Kusama is on much firmer ground when she simply lets her vengeful cop rumble across the city looking for answers, unconcerned about the damage she leaves in her wake. Along those lines, Destroyer features an exemplary shootout that captures all that can be great about this film in a few blunt, arresting minutes — it's raw, immediate and visceral without suffering from delusions of grandeur.
Production companies: Annapurna Pictures, 30 West, Automatik, Family Style, Rocket Science
International sales: Rocket Science, info@rocket-science.net
Producers: Fred Berger, Phil Hay, Matt Manfredi
Screenplay: Phil Hay & Matt Manfredi
Production design: Kay Lee
Editing: Plummy Tucker
Cinematography: Julie Kirkwood
Music: Theodore Shapiro
Cast: Nicole Kidman, Toby Kebbell, Tatiana Maslany, Scoot McNairy, Bradley Whitford, Sebastian Stan