More world-building and a 'heightened zaniness' in China's answer to the F&F franchise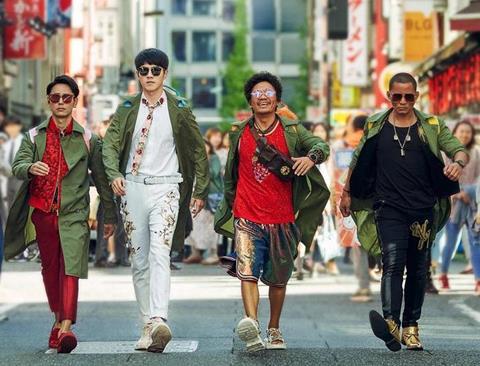 Dir: Chen Sicheng. China. 2021. 136 mins
Picking up directly from the stinger of its New York-set predecessor, Detective Chinatown 3 finds crime solvers Tang Ren (Wang Baoqiang) and Qin Feng (Liu Haoran) hitting Tokyo to crack another perplexing case. Although each installment requires its heroes to barrel around an international city, the Detective Chinatown franchise is best categorised as comedy-mystery rather than action-adventure since it thrives on a sometimes maddening mix of smart plotting and scatological humour. Nonetheless, world-building elements and an ever-growing roster of recurring characters clearly indicate that it has quickly evolved into a Chinese riposte to Fast & Furious, Mission: Impossible or even the Marvel Cinematic Universe. Such grandiose commercial ambitions are very much laid out in this typically hyperactive third outing which devotes almost as much energy to setting up further sequels and spin-offs as it does to the main storyline.
Insanely colourful, no expense spared
Of the seven films released in China for the lucrative Lunar New Year period, Detective Chinatown 3 is easily the most anticipated. As the latest installment in a massively popular homegrown franchise, it was set to dominate the 2020 Lunar New Year box office before the Covid-19 outbreak forced China's multiplexes to abruptly shutter. Postponed releases can erode audience enthusiasm, but in this instance has entailed pent-up demand since the threequel has set a record for the biggest opening weekend in a single market by racking up $397 million out of the gate. This means it has already outperformed the 2015 original, which grossed $126 million, and is on pace to surpass the $541 total of the 2018 follow-up. However, challenging Wolf Warrior 2 (2017), Ne Zha (2019) and The Wandering Earth (2019) for a spot in China's all-time top three depends on whether this a frontloaded phenomenon. Internationally, the franchise has developed a fair fan base so should post reasonable numbers in markets where it is playing theatrically with healthy streaming revenues to follow.
This time, Tang Ren and Qin Feng are assisting friendly rival Noda Hiroshi (Satoshi Tsumabuki). Their client is yakuza boss Masaru Watanabe (Miura Tomokazu), who has been accused of stabbing his turf rival Su Chaiwit (Hirayama Motokazu) to death at a private dinner but insists on his innocence despite all evidence pointing to the contrary. Also on the case are Thai detective and formidable fighter Jack Jaa (Tony Jaa) and renowned police inspector Tanaka Noki (Tadanobu Asano), who boasts a 100% clearance rate. While searching for clues, matters are complicated by the kidnapping of the victim's assistant, Anna Kobayashi (Masami Nagasawa), necessitating a race against the clock to rescue her from a life-threatening situation.
Simultaneously, this threequel develops the Crimemaster strand that was introduced in the second entry. An app which ranks and spurs fierce competition between the world's crime-busters, it is topped by the mysterious "Q" with the prodigious Qin Feng perpetually in second place. Realising that the somehow all-seeing "Q" may be in the vicinity, Qin Feng endeavors to determine his identity.
Shot entirely with Imax cameras, this is an insanely colourful, no expense spared blockbuster with director Chen Sicheng and cinematographer Du Jie maximising Tokyo's kaleidoscopic potential while throwing in plenty of references to exportable examples of Japanese pop culture. Cramming in as many locations as possible, Chen kicks things off with an elaborate airport fight sequence before staging a giddy, cosplay-infused set piece around Shibuya and a dramatic development at Tokyo's mammoth underground discharge channel. The highlight, though, is an undercover autopsy on the victim which starts out as a reprise of the morgue visit in its predecessor but evolves into a farcical riff on J-horror tropes with a ghoulishly funny pay-off. All this lunacy can sometimes grate, especially when Chen indulges in crude excesses or Hu Xiaou and Nathan Wang's rock-oriented score goes into overdrive, but the cast enthusiastically powers over any speed bumps.
Pivoting from mismatched partner dynamics to slapstick teamwork enables Liu's low-key genius and Wang's bumbling uncle to bounce off other co-stars. Tsumabuki has fun with his playboy detective's irresistible charm and flamboyant sartorial choices while martial arts star Jaa recalls Jason Statham's self-satirising turn in Spy (2015) by lampooning his indomitable action hero persona. Their combined antics also compensate for the fact that this is the most unevenly plotted entry so far with an intriguing locked room mystery, which references author John Dickson Carr, waylaid in the mid-section so Chen can establish a criminal conspiracy to be faced in further installments. This leaves the case to be resolved in a lengthy courtroom climax which takes an uncharacteristic plunge into tearful melodrama complete with tragic flashbacks.
Paradoxically, this is a very much a Chinese blockbuster but also one that has much in common with overstuffed Hollywood threequels. Yet even when it is more dedicated to brand extension than the art of deduction, Detective Chinatown 3 exudes a heightened zaniness which is most welcome in today's largely homogenised franchise landscape.
Production companies: Wanda Pictures
International sales: Wanda Media Co. Ltd, scb@wandamedia.com
Producers: Shang Na, Tao Sun, Xiang Yue
Screenplay: Chen Sicheng, Liu Wusi, Nomy Xu, Zhang Chun, Zho Lian
Editing: Tang Hongjia
Cinematography: Du Jie
Music: Hu Xiaou, Nathan Wang
Main cast: Wang Baoqiang, Liu Haoran, Satoshi Tsumabuki, Tony Jaa, Tomokazu Miura, Masami Nagasawa, Tadanobu Asano, Shota Sometani, Shang Yuxian