Dir. Jacques Audiard. France, 2015, 110mins.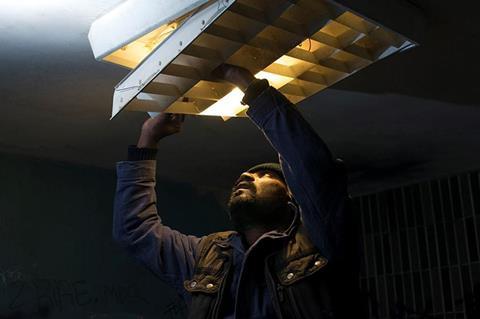 Jacques Audiard is a past master at depicting the emotional strain on individuals obliged to construct a new life from the ashes of the person they once were. A Prophet (2009) and Rust And Bone (2012) are just the two most recent examples. Dheepan follows an extreme case and even opens with a funeral pyre in which the events of the past are seemingly laid to rest. The story of a former Tamil Tiger making a fresh start in a French housing project proceeds without flashy tricks or showy technique, offering the pleasures of captivating storytelling with an irresistible human pulse.
The drift towards a violent, cathartic showdown, with echoes of Death Wish and Taxi Driver, sits uneasily with what has gone before
Audiard's reputation and the continuing topicality of the immigrant experience in France should make this a strong domestic performer when it is released in August, even with an awkward, eleventh hour lurch into Death Wish territory. International theatrical sales should follow, with Audiard the star attraction rather than any of the impressive newcomers in the cast.
Prolific writer, novelist and political activist Antonythasan Jesuthasan, was a boy soldier with the Tamil Tigers before fleeing Sri Lanka for Thailand and France. He is a compelling presence here in the title role of Dheepan, playing a soldier who burns his dead comrades and his military uniform before attempting to claim asylum. Yalini (Kalieaswari Srinivasan), who is not his wife, finds them nine year-old Illayaal (Claudine Vinasithamby) to be their daughter and create an acceptable family unit for the authorities.
They have soon begun a new life on a housing project that is a wild frontier mixture of drug-dealing, gun-totin' gangs and ordinary people trying to live with some dignity.
Dheepan is completely absorbing as it carries us through the period of adjustment where Dheepan becomes a diligent caretaker, Illayaal starts school and Yalini becomes a carer whilst longing to leave and join her cousin in Britain.
There is a tender sense of lives opening up to a new future and a great deal of sympathy for all three characters as they make halting steps in learning French even as they face the challenge of getting to know each other. The screenplay has a light wit and the sleek, flowing camerawork from Eponine Momenceau is very attractive.
It is inevitable that the trio will not entirely escape their pasts; a guns blazing shoot-out between rival gangs is too close to her previous existence for Yalini and the appearance of a former Tamil Tiger colonel forces Dheepan to face whether his war is truly over. The drift towards a violent, cathartic showdown, with echoes of Death Wish and Taxi Driver, sits uneasily with what has gone before but provides a suitably dramatic finale to a solid and engrossing Audiard drama.
Production companies: Why Not Productions Page 114, France 2 Cinema
International sales: Celluloid Dreams hengameh@celluloid-dreams.com
Producer: Pascale Caucheteux
Screenplay: Noe Debre, Thomas Bidegain, Jacques Audiard
Cinematography: Eponine Momenceau
Editor: Juliette Welfling
Music: Nicolas Jaar
Main cast: Antonythasan Jesuthasan, Kalieaswari Srinivasan, Claudine Vinasithamby, Vincent Rottiers.