Sensitive debut from Greek film-maker Giorgis Grigorakis is set in a small forest enclave under threat from developers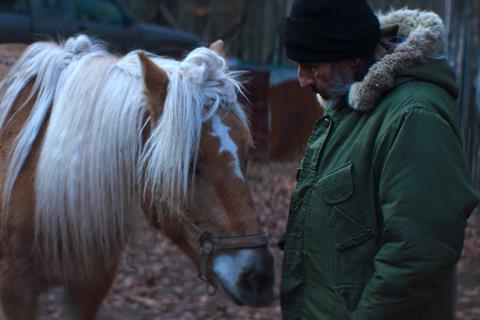 Dir/scr. Georgis Grigorakis. Greece/France. 2020. 101 mins.
Long before Digger explains why gruff farmer Nikitas (Vangelis Mourikis) is trying so hard to hold on to his mountainside parcel of land, this Greek neo-western takes a long look at his surroundings. From the forest, with its auburn glow of fallen leaves, to the streaming rain and even a fast-moving mudslide, it serves up an earthy, alluring vision of his home. The epitome of showing before telling, this quietly potent introduction by writer/director Georgis Grigorakis starts the film as it means to go on: with a fond eye for a place which is more than just scenery to its protagonist, a firm commitment to explore exactly what he's fighting for, and a patient approach to narrative. Rarely does a dusty plain or parched expanse creep into view, but Grigorakis understands his chosen genre, balancing his film on an archetypal oater.
Attenberg and Chevalier filmmaker Athina Rachel Tsangari is one of 'Digger's producers, and its star Vangelis Mourikis featured in both titles
Happiest alone with his rustic shack, horse, chickens, gun and walnut tree in Northern Greece, Nikitas is determined to do battle with the mining company that wants to purchase his home. He'll even take on his his estranged son Johnny (Argyris Pandazaras), who arrives unexpectedly and asks him to sell. The result is a brooding, involving feature that collected the CICAE Art Cinema Award when it premiered in Berlin and now plays in Sarajevo's competition before a certain festival career.
Attenberg and Chevalier filmmaker Athina Rachel Tsangari is one of Digger's producers, and Mourikis has starred in both of those films. Here he five a resolute yet vulnerable performance as Nikitas seethes, lashes out, sulks and frets like a man with everything to lose. He's not a man of many words, but he devotes most of them to defending his forest habitat.
When Johnny rides his dirt motorbike to Nikitas' door more than 20 years since they last crossed paths, the elder man initially won't speak to him. Johnny's late mother has left him her share of the remote property. It takes Nikitas time to warm to Johnny's presence. When he eventually accepts the situation — or, accepts that his equally headstrong son is not leaving anytime soon — Digger follows his revelatory moment with shots of felled, falling trees. Overt and obvious where the rest of the film decidedly is not, these prove to be the film's main misstep.
Even if he was inclined to enjoy a happy family reunion, Nikitas does not have the time. 'The monster', as the locals have dubbed the company that is blasting and digging away the land, is a ravenous beast. Nikitas spends his time fending off its increasingly lucrative bids while also warning its employees for their wanton destructiveness. Digger's loyalties always reside with Nikitas, his quest to keep his home and his devotion to the woodlands; yet Grigorakis shows an environment- and economic-fuelled tragedy, too. Although some of Nikitas' fellow residents share his fight for their modest way of lives and their tree-dappled setting, others simply can't pass up the money or the work.
In a story co-credited to Grigorakis, Mourikis and production assistant Maria Votti, Digger also finds time for Johnny's unsentimental romance with local barmaid Mary Sofia Kokkali), but it's an almost cursory inclusion. Far less routine is a development viewers always know is coming, with the titular excavator destined to play a pivotal role in both Nikitas and Johnny's tentative relationship and Nikitas' feud with the mining company.
Production company: Haos Film
International sales: The Match Factory, info@matchfactory.de
Producer: Athina Rachel Tsangari, Maria Hatzakou, Chrysanthi Karfi Koi
Production design: Dafni Kalogianni
Editing: Thodoris Armaos
Cinematography: Giorgos Karvelas
Main cast: Vangelis Mourikis, Argyris Pandazaras, Sofia Kokkali, Theo Alexander, Michalis Iatropoulos, Vasilis Bisbikis, Pavlos Iordanopoulos, Thitis, Antonis Tsiotsipoulos, Marianthi Pantelpoulou