Dir. Dan Mazer. USA. 2015. 102mins.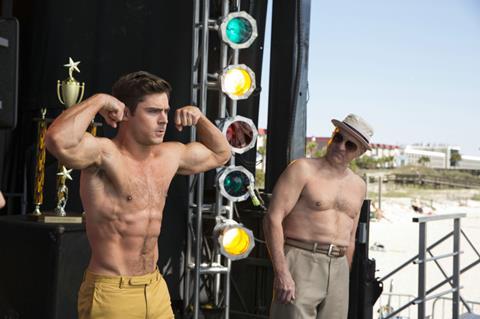 It says a lot about this robustly filthy but shambolic comedy that there is a running gag featuring Zac Efron getting repeatedly punched in the scrotum, from behind, by Robert De Niro. It's not just the fact that this, of all things, was the joke that was chosen to be revisited like an old friend throughout the movie. It's more that the film would have us believe that the perpetrator of the testicular trauma, the eponymous Grandpa, should be viewed some kind of maverick role model, rather than just an octogenarian pervert with an unsavoury interest in his grandson's nuts.
Efron, not a natural comic performer at the best of times, is here out-acted by his own pecs.
Directed by Dan Mazer (who wrote Borat and Bruno, and directed I Give It A Year) and written by John Phillips (who is currently penning the sequel to Bad Santa), the film is fronted by a team with a specialist interest in incorrigibly awful male behaviour. However the shock value of the dialogue – and it is staggeringly rude at times – is neutered by a rambling lack of narrative drive and, ultimately, a sentimental justification that feels disingenuous.
This kind of comedy – epitomised more successfully by Bad Santa – needs to be scalpel sharp and savagely unforgiving in order to connect with a broader audience. And while there are undeniably funny moments here, Dirty Grandpa lacks the courage of its profane convictions. It is highly unlikely to match either the critical or the commercial reception of similarly-themed confrontationally comic road movies like Borat, The Hangover and Jackass Presents: Bad Grandpa.
The parallels with the latter run particularly deep. Both Bad and Dirty Grandpas start their respective journeys newly bereaved. Dick (De Niro) manages to convince his family that his grieving requires an immediate trip to Florida to coincide with spring break – it's what his late wife would have wanted, he explains as he browbeats his uptight grandson Jason (Efron) into driving him there.
Jason is one week away from marriage to fellow lawyer Meredith (Julianne Hough) and is up to his immaculately pressed button-down collars in nuptial fine-tuning - "Do you prefer the coral or the salmon?" shrills Meredith, aggressively brandishing two near-identical ties. To fulfil his Grandfather's request, he has to desert both his fiancee just when she needs his input on napkins and table decorations, and his job, at his father's corporate law firm.
Grandpa Dick gets his way, and the pair hit the road propelled by bourbon and a torrent of creatively filthy dialogue delivered with lip-smacking relish by De Niro. It's amusing at first, this relentless multi-pronged attack on propriety and political correctness. But there are only so many you can hear the word vagina used as a pejorative term, only so many casual gay slurs you can wince through before the shock loses its potency and the comedy wilts.
The humour is not the only crude element. Mazer's use of score, to key up each joke and underline the punchline is the musical equivalent of an elbow to the ribs and a big wink to camera. The rap video aesthetic of slow motion shots of bikini clad bodies provides filler intended to distract from the plot disintegration in the third act. And Efron, not a natural comic performer at the best of times, is here out-acted by his own pecs.
Production company: Lionsgate, QED International, Josephson Entertainment, Ninjas Runnin' Wild Productions
International sales: Lionsgate lionsgate@lionsgate.com
Producers: Jason Barrett, Bill Block, Barry Josephson, Michael Simkin
Screenplay: John Phillips
Cinematography: Eric Alan Edwards
Editor: Anne McCabe
Production design: William Arnold
Main cast: Robert De Niro, Zac Efron, Zoey Deutch, Aubrey Plaza, Dermot Mulroney, Jason Mantzoukas