Dir Robert Zemeckis. US. 2009. 96 mins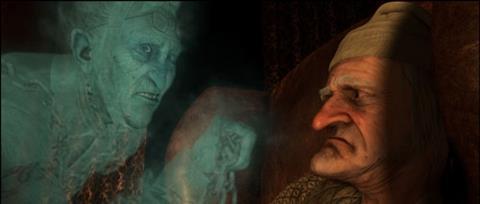 Less Disneyfied than its official title suggests, Disney's A Christmas Carol is an engaging and relatively dark take on a seasonal classic that finds director Robert Zemeckis refining the performance capture animation technique he used to mixed effect on The Polar Express and Beowulf. With Jim Carrey doing an enjoyable multi-character turn and 3D further boosting the appeal, this faithful if intense version of the Dickens perennial looks set to be a hit with family audiences.
The motion capture process still produces some odd-looking characters, but for the most part is less creepy than The Polar Express or Beowulf.
Disney is maximising the holiday season theatrical window by opening the PG-rated film this weekend in North America and a handful of major international markets. Competing against several animated offerings but nothing specifically Christmassy, Carol should be able to beat the $163m earned domestically by the holiday-themed Polar Express when it opened in the same slot five years ago.
Openings in other markets are spread over the next few weekends and while Carrey won't be as big an asset outside the US (his face is barely recognisable on screen and his voice will, of course, be re-dubbed in many territories) familiarity with the story and positive word of mouth should easily carry Carol past Polar Express's $124m international tally.
Zemeckis adapted the Dickens novella himself and he sticks closely to the original story, dialogue and tone. There are touches of humour in the early scenes as Carrey's Scrooge sees off his late partner Marley and humbugs his way through a snowy Christmas Eve in London. The feel turns chilly, though, as Scrooge retires to his sparsely furnished house and has his first ghostly encounter with Marley's moaning, enchained spirit.
The Ghost of Christmas Past, also 'played' by Carrey, is a spookily benign spirit - taking the form of a flickering candle flame - who gives Scrooge some poignant reminders of his past. The Ghost of Christmas Present (Carrey again) is a guffawing giant who shows Scrooge the richer lives of his nephew Fred (Colin Firth) and his clerk Bob Cratchit (Gary Oldman). The Ghost of Christmas Yet to Come (Carrey once again) is less effective, a standard Grim Reaper figure who gives Scrooge a foretaste of his lonely death.
The slapstick featured in the film's trailers is actually spread pretty thinly throughout the action and though there are some airborne sequences and chases through narrow London streets, Zemeckis mostly resists the temptation to overdo the 3D effects. Instead, he emphasises the ghost story aspects (some of which may be too intense for younger kids) and builds up audience empathy with Scrooge, making the tale's traditionally warm and fuzzy finale more than usually affecting.
The motion capture process, which allows performances by real actors to be blended with digital animation, still produces some odd-looking characters, but the effect is for the most part less creepy than it was in The Polar Express and Beowulf.
While Firth (who comes out looking like an early Botox casualty), Oldman and fellow cast member Bob Hoskins aren't done any favours by the process, Carrey survives digitisation fairly well. Scrooge's face may be a caricature with a hooked nose and exaggerated chin, but the level of detail with which it is rendered allows Carrey's performance to come through.
Sometimes recalling the classic 1951 Scrooge portrayed by Alastair Sim, Carrey's performance and expressive voice work give the film an emotional dimension that just wasn't there in the earlier Zemeckis motion capture films (or even in Carrey's previous festive outing, the live action How The Grinch Stole Christmas).
Carol also benefits from strong work by Zemeckis regulars, production designer Doug Chiang and composer Alan Silvestri. Giving the film another potential commercial hook, Andrea Bocelli belts out the closing credits song God Bless Us Everyone, composed by Silvestri and Glen Ballard.
To sign up for Screen's weekly Reviews Newsletter with all the week's new releases, international openings and full festival reviews delivered free to your mailbox every Friday, please click HERE
Production companies
Walt Disney Pictures
Imagemovers Digital
Worldwide distribution
Walt Disney
Producers
Steve Starkey
Robert Zemeckis
Jack Rapke
Screenplay
Robert Zemeckis (based on the story by Charles Dickens).
Cinematography
Robert Presley
Production design
Doug Chiang
Editor
Jeremiah O'Driscoll
Music
Alan Silvestri
Main cast
Jim Carrey
Gary Oldman
Colin Firth
Robin Wright Penn
Bob Hoskins
Cary Elwes