Firm friendships in Budapest form the bedrock of Mate Korosi's appealing documentary debut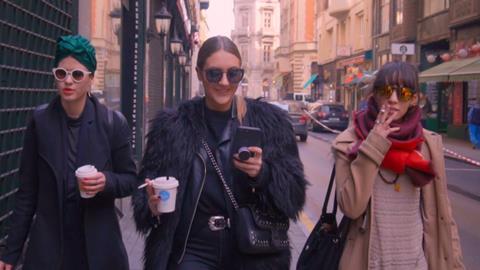 Dir: Mate Korosi. Hungary. 2021. 80 minutes
Given the depressing news about cultural and social matters currently coming out of Hungary, Mate Korosi's upbeat debut documentary Divas comes as a welcome surprise. Made as his graduation project from film school and enterprisingly picked up by HBO Europe, this up-close-and-personal record of — and persuasive tribute to — three 20-year-old Budapest BFFs is a genuine crowdpleaser with intelligence to match its evident big heart. World premiering in the non-fiction competition at Sarajevo, it has considerable potential as a festival and small-screen proposition and deserves a shot at theatrical distribution in receptive territories.
By the end, most viewers will be hoping that Divas proves only the first instalment of a decades-spanning project
Korosi doesn't exactly reinvent the documentary wheel here. But his approach is disarmingly and likeably direct. His voice-over introduces the project by describing exactly how it came about and why. Desperately seeking material for his graduation picture — and also finding himself struggling to cope with maturity in his mid-twenties ("why can't I be a proper adult?") — he stumbles across non-fiction gold via his triumvirate of protagonists: Emese, Szani and Tina, sitting outside the remedial high-school where they were belatedly studying for their diplomas.
Quickly befriending the trio — known at the school for their flamboyant personal style and larger-than-life personalities (hence their "divas" nickname) — Korosi chronicles their mutually supportive friendship, their struggles to balance studies with evening jobs (in a bar, a karaoke joint and a cinema respectively), their dealing with their families and (somewhat downplayed) their love lives. Sequences shot by Korosi increasingly give way to confessional video-diary footage filmed by the protagonists via their smartphones and computers — the mass of resulting material chopped into jagged, vibrant, accessible form by editor Alexandra Lang.
Lang, like Korosi and other key collaborators such as composer Mark Bartha, are all newcomers to he medium. And Divas will certainly serve very well as a calling card for everyone involved on the creative side. But taken purely on its own terms, this is a quite lovely little film, full of humour, empathy and insight, presenting a snapshot of a millennial generation that will strike chords among representatives of that demographic in Europe and beyond.
And, as a blithely progressive-minded postcard from the increasingly repressive Hungary of Viktor Orban — who would take a dinosaurishly dim view of these women's uninhibited sexual fluidity — it's an inspiring, defiant achievement. The viewer really feels as though they are getting to know these modern young urban women in all their complexity and individuality: the new-agey, bubblingly upbeat Tina; the insecure, super-smart, artistically-inclined Emese; the deliciously foul-mouthed, gregarious, indomitably resilient Szani.
The knockabout humour of the first half, in which Korosi's older-brother relationship with the trio is a source of much ribbing, gives way to a more serious tone in the latter stages. There is a jarringly unexpected death, the numb aftermath of which leads to a quite remarkable scene — by some way the longest in the film — in which Szani, guided by Mate's tactful questioning, vocalises her raw emotions.
This sequence elevates the impact of a picture whose early, zappy, zeitgeist-surfing energy seemed perhaps unlikely to sustain full interest across a feature-length running-time. By the end, most viewers will be hoping that Divas proves only the first instalment of a decades-spanning project, regularly catching up with these women as they navigate adulthood's unpredictable waters.
Production company: Reservoir Docs
International sales: HBO Europe, reception@hbo.cz
Producers: Borbala Csukas, Katalin Olah
Screenplay: Mate Korosi, Alexandra Lang, Gelleri Pal Gaspar, Eszter Angyalosy
Editing: Alexandra Lang
Cinematography: Mate Korosi
Music: Mark Bartha