João Miller Guerra and Filipa Reis return to the story of Cape Verde-born Migual Moreira, as he attempts to find his father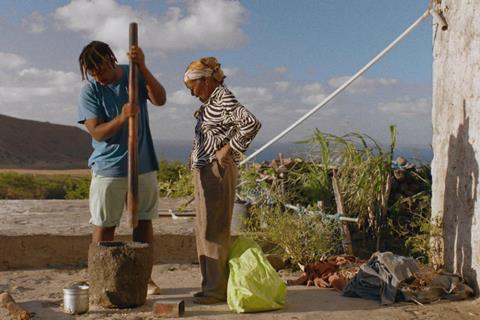 Dirs: João Miller Guerra, Filipa Reis. Portugal-Brazil-Cape Verde. 2018. 95mins
Documentary duo João Miller Guerra and Filipa Reis draw heavily on their background in factual filmmaking for their heady fiction feature debut, which takes as its jumping off point the real life situation of Miguel Moreira. The central character in Djon África, he was also the subject of their previous film, Li ké terra, a documentary about undocumented Cape Verdeans living in Portugal. Miguel travels back to Cape Verde in an attempt to track down the father he has never met; however his shambling journey once he gets there is scripted, by João Miller Guerra and Pedro Pinho (The Nothing Factory). Regularly baked on grogue (fearsome Cape Verdean rum), Miguel starts to lose sight of his quest, and lets the rhythm – and the music – of the islands sweep him along.
The film leaves us with questions of identity and nationality.
Like its central character, the film has a leisurely, slightly woozy appeal and, while it doesn't offer much in the way of closure, it does have bags of sweltering atmosphere and will benefit from interest piqued in Portuguese art cinema, some of it – notably Miguel Gomes' Arabian Nights trilogy and Pinho's The Nothing Factory – which blends fact and fiction to similarly intriguing effect. A healthy festival run should follow the film's premiere in competition in Rotterdam, although theatrical prospects are less certain. Although the film's running time is rather more cinema-friendly than those of Gomes and Pinho's films, Djon Africa's pleasures are lower key; it lacks the showy formal daring of the other films.
It's not hard to see why, having already made a film about Moreira, Reis and Miller Guerra decided to work with him again. With his amiable demeanour and his dreads cantilevering at crazy angles, he's a striking and likeable presence. His laugh – booming, generous, infectious – crashes through the film like a wave breaking one one of the islands' beaches.Although, as a non-actor, Moreira's performance is unpolished, the warmth in his encounters with the people of Cape Verde is wholly persuasive. Of these, a surrogate Granny figure (who may or may not be a figment of his imagination), who recruits Miguel to help tend her livestock, is a prickly delight.
Through these encounters, Miguel learns about his birthright, which seems to be largely based around booze and music. "Grogue", says a man who has drunk so much he has started to blur around the edges, "is both a friend and an enemy. It messes with your head." In addition to fantasy elements which jostle with reality, the sound design emphasises the increasingly trippy element to Miguel's experience.
Meanwhile the soundtrack, culled from the diverse output of the Cape Verdean diaspora, ties together the somewhat episodic storytelling and brings a dynamism to the picture which is entirely lacking in the laid back, laissez faire Miguel. In real life a rap artist, Moreira contributes a track at the film's opening.
Although not in any way didactic, the film leaves us with questions of identity and nationality. He may be warmly welcomed, yet Miguel finds himself a foreigner wherever he goes.
Production company: Terratreme Filmes, Desvia Filmes, OII, Uma Pedra no Sapato
International sales: Still Moving info@stillmoving.fr
Producers: Pedro Pinho, Rachel Ellis, Samira Pereira, Filipa Reis, João Miller Guerra
Screenplay: Pedro Pinho, João Miller Guerra
Cinematography: Vasco Viana
Editor: Eduardo Serrano, Ricardo Pretti
Sound design: Ruben Santiago
Starring: Miguel Moreira, Isabel Cardoso