Panos Koutras' chaotic comedy farce is an ambitious fresco of a family's existential crisis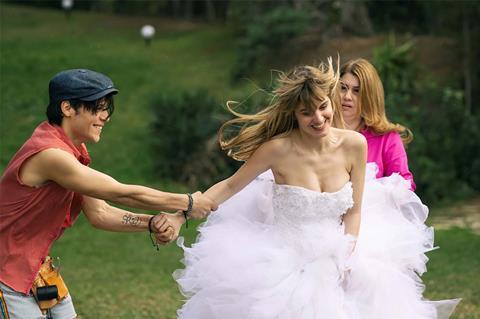 Dir/scr: Panos H. Koutras. Greece/France/Belgium. 2022. 132 mins
A long-extinct bird is suddenly alive and well in Panos H. Koutras' enjoyably chaotic farce Dodo. The unexpected guest adds an absurdist flourish to an Altmanesque ensemble piece set around the last-minute preparations for a financially advantageous wedding. The latest work from the director of The Attack Of The Giant Moussaka (1999) and Xenia (2014) confidently spins a hectic plot plump with guilty secrets, lost illusions and rueful reflections on the human condition. Amusing rather than uproarious, it may be a little rambling and eccentric for mainstream tastes but could engage festival audiences following a Cannes world premiere.
The film has a Chekhovian feel with the presence of the Dodo adding an element of Ionesco absurdity
It is only two days before a wedding that should bring some much-needed money into the family coffers of Greek businessman Pavlos (Akis Sakellariou) and his wife Mariella (Smaragda Karydi), a former actress still recognised for the 1990s television hit Real Life. The earliest scenes unfold at night, lending the film a gloomy, noir-like feel. Koutras introduces plot points as if setting charges that will be detonated later. The bride to be Sophia (Natasa Exintaveloni) visits her gynaecologist awaiting the result of tests. Pavlos is desperate for the payoff from a deal engineered by Alexis (Nikos Gelia) when he is charmed by glamorous trans woman Eva (Tzef Montana). Mariella is helping out with local refugees when she takes a shine to Khalil (Ahmad Kontar) and Amira (Jomana Alhasan) and invites them back to the lavish family home, Villa Sophia.
The number of characters keeps expanding to include friends, family, servants, wedding planners and more. We are made aware that the family is in a tailspin following the financial crisis; credit cards are declined, funds have been blocked and there is talk of embezzlement charges. Without money, who are they? The wedding is a chance for a new beginning, but it could also be the end of the line. Sophia isn't sure if she wants the nuptials to go ahead, Pavlos doesn't think he can trust Alexis and Mariella has doubts about the state of her own marriage.
All of this is capped by the discovery of a dodo in the grounds of the family's villa. There is no explanation for its presence. Marked by blue and orange plumage, the CGI creature looks like a refugee from Dr. Dolittle or a Sesame Street habitué. When it is finally allowed its close-up, it has the growling squawk of a Jurassic Park resident. Even as it develops a taste for popcorn and seems biddable, the dodo's presence unsettles everyone. Is it a sign of resurrection? It reminds Mariella and Sophia of the referee in Alice In Wonderland.
As the abundance of characters assemble at the country estate, the film has a Chekhovian feel with the presence of the Dodo adding an element of Ionesco absurdity. We learn the faults and failings, hopes and fears of this unhappy family. Koutras structures the film in a way that favours large gatherings in which individuals have a chance to hold court, bare their souls or unburden their secrets. It allows individual actors a chance to shine and for a previously glimpsed gun to play its part in proceedings.
Koutras does well to thread together the many plot points and allow some members of the ensemble a moment in the spotlight. Aggelos Papadimitriou has fun as Aggelos, a drunken thespian delighted to regale his audience with scenes from The Tempest. It is Smaragda Karydi's Mariella who emerges as the most substantial figure of the piece; compassionate and pragmatic in the face of every fresh crisis, finding worth in acts of kindness rather than the possession of wealth.
Dodo is engaging in parts, comic in places but needed to be tighter and funnier to really pull off its ambitious fresco of a family's existential crisis.
Production companies: 100% Synthetic Films, MPM Film, Tarantula
International sales: Pyramide International. sales@pyramidefilms.com
Producers: Eleni Kossyfidou, Panos H. Koutras, Marie Pierre Macia, Claire Gadea, Joseph Rouschop
Production design: Elena Vardava
Cinematography: Olympia Mytilinaiou
Editing: Vincent Tricon, Yannis Chalkiadakis
Music: Delaney Blue
Main cast: Smaragda Karydi, Akis Sakellariou, Natasa Exintaveloni, Marisha Triantafyllidou