Dir. Paul Schrader. US, 216, 95 mins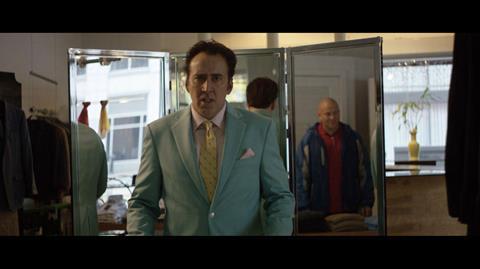 The wayward career of veteran writer-director Paul Schrader has included some eccentric one-offs over the last decade – most recently, his DIY project with Bret Easton Ellis and Lindsay Lohan The Canyons and his last film, The Dying of the Light, an espionage thriller with Nicolas Cage, which the director disowned after it was taken out of his hands. One thing that can be said about brazen crime comedy Dog Eat Dog is that it's a full-blooded venture in every respect, with Schrader and his leads Cage and Willem Dafoe clearly enjoying the gore-soaked frenzy. But the film also feels like a too- familiar reheating of in-your-face Tarantino-style crime tropes, brought up to date for the Breaking Bad era of mordant grand guignol.
If you buy all this, you're set up for a deeply cynical film which depicts a bleak world of endemic slaughter, sudden death and incorrigible imbecility
This satirically-pitched crime-doesn't-pay story projects itself as an essay in flippantly morbid neo-noir cool, but the general tone feels bleakly cynical and the humour often grating. Fans of Cage and Dafoe can rest assured, though, that they're firing on all cylinders with seriously loopy perfomances.
Screenwriter Matthew Wilder turns in a tricksy, often witty and overall somewhat deconstructed adaptation of a novel by the late Edward Bunker, the former criminal whose career was boosted by a role in Reservoir Dogs, and whose Animal Factory was filmed by Steve Buscemi (with Dafoe in the lead). Dog Eat Dog certainly suggests an insider view of career crime and its pitfalls.
The contenders in this Cleveland-set romp are voice-over narrator and snappy dresser Troy (Cage), newly released from prison, who is convinced he resembles Humphrey Bogart (or at least "a stretched out version of him"); drug-addled, volatile Mad Dog (Dafoe), who fully lives up to his name; and Diesel (an impressive Christopher Matthew Cook), a brutal, muscle-mountain debut collector who's also the sharpest brain in the bunch, all things being relative. ("In another universe," says Troy, "this guy could have been a lawyer from Stanford. Unfortunately we're not in that universe").
Troy gets the trio some gainful illegal employment, care of fixer Greco – impressively played with raspy-voiced insouciance by Schrader himself. The gang's first mission, to steal the loot of a playa named Moon Man (Omar Dorsey), goes OK but they soon squander the proceeds and need another gig fast. For their next, more dubious job, they find themselves kidnapping a baby, but in the process kill the father who was supposed to pay the ransom. They now have a body to dispose of – and Mad Dog has a couple more stacked up, having slaughtered his corpulent girlfriend and her daughter in the opening sequence.
That episode sets a flamboyant and highly uncomfortable tone for what follows. It features glaringly-coloured photography by Alexander Dynan, frames within frames, and grotesque facial morphing for drugged-up Mad Dog, then treats two extremely nasty deaths with outrageous flippancy to a boosted-up rockabilly number. If you buy all this, you're set up for a deeply cynical film which depicts a bleak world of endemic slaughter, sudden death and incorrigible imbecility.
There's barely a sympathetic character in sight, other than the largely interchangeable victims and disposable females, with the notable exception of a no-nonsense young woman (an affecting Louisa Krause) who regales Diesel with theories about the death of Seattle singer Elliott Smith.
Throughout, Schrader piles on the knowingly jarring shifts of tone, while DoP Dynan pulls off a virtuoso set of changes, sometimes shifting into elegant black and white and eerily hued dream-like effects. A glimpse of a TV show at the start states the satirical bottom line: guns are bad, well duh. Overall, you get the impression of a ferociously intelligent director flirting with a veneer of dumbness for the fun of it, but the act never really convinces.
Production companies: Pure Dopamine, Blue Budgie DED Productions
International sales: Arclight Films, info@arclightfilms.com
Producers: Mark Earl Burman, Gary Hamilton, Brian Beckmann, David Hillary
Screenplay: Matthew Wilder
Based on the book by Edward Bunker
Cinematography: Alexander Dynan
Editor: Ben Rodriguez Jr
Production design: Grace Yun
Music: We Are Dark Angels
Main cast: Nicolas Cage, Willem Dafoe, Christopher Matthew Cook, Omar Dorsey