A highly entertaining and absurdist account of the armed guards who spend their lives at sea waiting for pirates that never come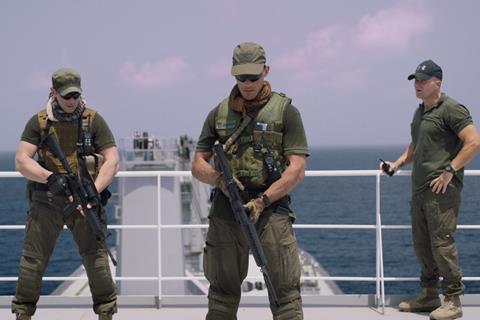 Dir/scr: Gregoris Rentis. Greece/France. 2022. 78 mins.
Both masculinity and the function of mercenaries come under fire in Gregoris Rentis' highly entertaining debut documentary, Dogwatch. The film follows three private armed guards at different stages of their careers in safeguarding ships from piracy when crossing the High Risk Area off the Somali coastline. Striking a balance between observation and simulation, it is a highly stylised account of men whose very presence undermines their objective: "Be confident in the fact that any ship with armed guards has never been hijacked," they are told.
The face of piracy has changed, so much that it has all but left its soldiers at sea.
The men hope to fight Somali pirates and return home as heroes but, for ships protected by armed guards, Somali hijackings are extremely unlikely. Instead, Rentis captures the enjoyable irony of hyper-charged masculinity at sea. Rentis' sense of humour has a touch of Greek cinema's recent 'weird wave' about it, with specific echoes of Athina Rachel Tsangari's Chevalier, which comically roasted toxic masculinity between a group of friends holidaying on a boat. It is this unusually playful quality that makes Dogwatch so entertaining and should ensure it receives further festival play, with theatrical distribution a distinct possibility.
Rentis, who made one short film prior to Dogwatch (Sundown, 2010, which played at IFFR), had a personal connection to the story, his uncle being one of the first privately hired mercenaries in what is now known as the High Risk Area. When the financial crisis hit Greece, recruitment boomed owing to the high salaries at the time. That, and the promise of legendary adventure. Meeting with several mercenaries, Rentis was struck by the longing for conflict that the post engenders and set about making his film, which took seven years, due to access issues. Once Rentis found a shipping company to support the film, however, he set sail for the Somali coastline, both observing and staging his high seas version of Waiting For Godot.
The story is told in three chapters through three protagonists. The first concerns Yorgos, a young recruit, preparing for his first voyage. His head is shaved, and he engages in mock fighting at a training session on the beach, filmed in close-up, highlighting the embodied nature of the work and the literal sweat that goes into preparing for combat. But after preparation comes anticipation as Yorgos awaits transit for two days in the Sri Lankan town of Galle. He passes the time dancing in nightclubs and wandering the streets of the city. This first third of the film is atmospheric and impressionistic, with Thomas Tsiftelis' camera panning the colourful streets in slow motion as Forest Swords' electronic score sets a trance-like pace. As Yorgos' enthusiasm gradually depletes, the tone of the film shifts from anticipation into absurdism.
Costa, whose segment is the most engaging of the three as it is filmed at sea, is shown in extreme close-up shadow boxing, the camera close enough to show individual beads of sweat on his head, neck and arms. This solitary moment on the ship, bathed in sun, is probably the greatest heat Costa will experience. Instead of capturing Somali pirates, we see him calling his girlfriend and celebrating his colleague Rush's birthday with a cake. These lighter moments are intercut with observational footage of the crew putting up razor wire and checking ammunition – the threat is ever-present, even if the pirates are nowhere to be seen. The closest Costa gets to capturing pirates is in capturing a colleague during drill. Here, the camerawork switches from static to Steadicam, adopting Costa's shooter POV as he approaches the 'enemy'. The whole affair plays out like a simulated video game, including hitting the reset button: "He's dead. Target neutralised. Take his gun. Don't leave it. Let's do it one more time!"
One chapter blends almost seamlessly into the next (chronologically edited by Chronis Theocharis, with only a brief title interruption to introduce the next character's name), so that the story moves from land to sea and back to land, much like any single full journey would. The final protagonist is Victor, who is approaching retirement, preparing for the next step in his career – a job in the office. Victor talks about being tired and wanting to be near his family, having lived through the so-called "Golden Era", when "pirates existed everywhere".
The face of piracy has changed, so much that it has all but left its soldiers at sea. But, with tongue-in-cheek humour laced throughout, Dogwatch achieves its critique of the nature of desire in combat by showing the yearning for conflict as a tragicomic play.
Production Companies: BYRD, asterisk*, Good Fortune Films
International sales: BYRD, gregoris@byrd.gr
Producers: Gregoris Rentis, Vicky Miha, Clément Duboin, Florence Cohen
Cinematography: Thomas Tsiftelis
Editing: Chronis Theocharis
Music: Forest Swords