Two Indian women navigate the complexities of life in New Delhi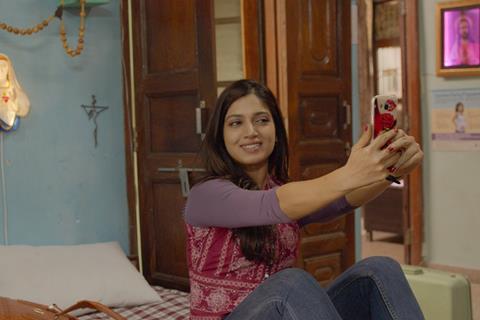 Dir/scr: Alankrita Shrivastava. India. 2019. 130mins
Dolly (Konkona Sensharma) is married, with a family and a down-payment on a swanky new built apartment. Her cousin, Kaajal (Bhumi Pednekar) moves to the city but finds herself adrift until she compromises her principles and accepts a job in a call centre providing romantic chit chat for lonely men. The two women, previously as close as sisters, find themselves driven apart by each other's life choices, but finally realise that they have much more in common than they had initially thought. The path to self-actualisation and sexual gratification go hand in hand in this thematically cluttered but utterly fearless Hindi chick flick.
Leaves us with an unequivocal message of female empowerment
The latest picture from Alankrita Shivastava, the writer and director of Lipstick Under My Burkha, is a taboo-busting assault on an industry which has traditionally been circumspect when it comes to female sexuality. The lack of coyness around themes such as casual sex, infidelity, inter-faith relationships, transgender children and sex work should make this a talking point film, although it might also find itself generating a certain degree of controversy domestically. Festivals looking for bold female directorial voices will likely show interest, as should distributors serving Indian diaspora communities.
A film which features a scene in which a giant sculpture of a vulva is attacked by a furious mob of man with sticks was never going to tread lightly over the subject of female sexual pleasure. But with this sequence, and an earlier one featuring the same thugs, Shivastava both anticipates the potentially negative reactions to her film from some quarters – and also makes it clear that she thinks less than nothing of the kind of men who might have a problem with it. But for all its confrontational candour, the film does feel as though its trying to cover more territory than is comfortable.
Dolly has bought into the aspirational middle class dream, and is constantly trying to buy herself happiness with spending binges. But she is troubled by her son's attraction to dolls and rejection of cricket. And her sex life with her husband is non-existent. His over familiarity with Kaajal is the main reason that the younger woman moves out to a bed in a shared dormitory full of kitsch Christian iconography.
To do so, Kaajal is forced to take the call centre job, adopting the persona of 'Kitty', to purr slightly sexually charged small talk to clients who are audibly rummaging in their trousers on the other end of the line. But her new life introduces her to Shazia (Kubra Sait), a fast living party girl with a DJ boyfriend and a sideline in servicing drunk businessmen. And, hrough her work, she develops a relationship with a client (Vikrant Massey), who seems to be perfect boyfriend material when they finally meet on romantic, spontaneous first date in Agra. Meanwhile, Dolly has developed feelings for Osman (Amol Parashar), the gauche Muslim student who delivers her takeaway orders.
There's a lot to pack in, and that's even before we get to Dolly's feelings of rejection about the mother who abandoned her as a child. Shrivastava keeps things moving with an excitable score and a couple of montages of Kaajal and her new buddies tearing around the suburbs of Greater Noida in jeeps. The film's climax leans rather heavily on melodrama and coincidences as devices, but does leave us with an unequivocal message of female empowerment.
Production Company: Balaji Motion Pictures
International Sales: Zee Studios International Vibha.Chopra@zee.esselgroup.com
Producers: Ekta Kapoor, Shobha Kapoor
Editing: Charu Shree Roy
Cinematography: John Jacob Payyapalli
Production Design: Tiya Tejpal
Music: Mangesh Dhakde
Main cast: Konkona Sensharma, Bhumi Pednekar, Vikrant Massey, Amol Parashar, Kalp Shah, Aamir Bashir, Kubra Sait, Karan Kundra, Hearty Singh