Dir: Pierre Godeau. France/Belgium 2016. 110mins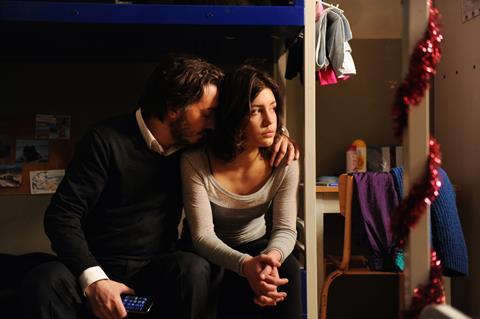 The idea of forbidden — or at least incredibly inappropriate — romance takes on interesting contours in Down By Love (Eperdument), a reality-inspired tale in which the woman is an inmate at the correctional facility run by the man. As transgressive behaviour goes (Wait! You mean the warden isn't supposed to engage in mutually satisfying nookie with a prisoner half his age?) this increasingly unsettling tale sets the bar as high as electrified prison walls and would probably veer towards silliness were it not for the very fine work by its two leads Adele Exarchopoulos (Blue is the Warmest Color) and Guillaume Gallienne (Me, Myself and Mum; Pierre Bergé in Yves Saint Laurent).
What makes the story consistently interesting is that there doesn't appear to be an element of manipulation.
Local enthusiasm for the actors plus the intriguing topic — loosely inspired by a headline-grabbing case in a prison in Versailles in 2011 — should give this March 2 French release a boost. French audiences, already aware that something very close to this really happened, may be more accepting than viewers beyond France but the film works as a startling depiction of l'amour fou.
Jean is pushing 40; Anna is a teenager. He has a wife and adorable young daughter and has worked his way up from a modest background to a position of authority in the state prison system ; she has been incarcerated awaiting trial for four years for something she did when she was a minor. Her crime is never specified but apparently carries a potential sentence of 12-15 years behind bars.
He fancies himself an artist; she's been made to feel like a worthless perp and doesn't have the emotional tools to cope when he shows an at-first purely professional interest in her.
He doesn't know what's happening to him — only that it's happening. Neither party puts up much of a fight - love and/or overwhelming physical attraction wins. Jean is on such a cloud he doesn't seem to realise he has stepped over a number of radical lines. He remains oblivious to prison gossip from other inmates and his own staff prompted by his flagrant favouritism toward Anna. The derogatory chatter is probably not helped by open fondling on the balcony of his office overlooking the prison yard.
What makes the story consistently interesting is that there doesn't appear to be an element of manipulation. As presented here, she's not a temptress and he's not exploiting her for his own craven reasons. However delusional their respective aspirations for shared happiness, they're sincere. And the ultimate irony is that he could very well end up in prison himself for such an egregious violation of duty.
While we can understand why an imprisoned young woman who never knew her father might relish sexual attention from an older man, it's a bit harder to grasp why a grown man with major responsibilities would risk everything for forbidden trysts on the prison grounds. But thanks to the performances, we believe their attraction is both real and mutual. Their various couplings are anything but shy, reinforcing the idea that they're simply meant to be together and this whole prisoner/warden thing is an irrelevant detail.
Exarchopoulos pulls off a blend of pouty yet tough demeanour with aplomb; stage-trained Gallienne coveys authoritative confidence undercut by the vulnerability of a lovesick teenager and a strong whiff of narcissism. Their surroundings — electric gates, uniformed guards, strip searches, cat fights — feel oppressively authentic, the better for the central couple's insanely risky behavior to play out. Supporting roles in this sad, intense story of sexual obsession are well cast — including cell phones, which play a strategic part.
A nice touch is that Anna relishes studying French playwright Jean Racine's 1677 tragedy-in-verse Phedre, with its theme of forbidden love among the gods, while Jean zones out watching Secret Story, the French version of reality show Big Brother.
Production companies: Pan-Européene, LGM Cinéma, StudioCanal, France2 Cinéma, Appaloosa Distribution, Don't Be Shy Productions, Versus Production
International sales: StudioCanal
Producers: Philippe Godeau, Nathalie Gastaldo Godeau, Cyril Colbeau-Justin, Jean-Baptiste Dupont
Screenplay: Pierre Godeau, based on the book "Defense d'aimer" by Florent Gonçalves and Catherine Siguret
Cinematography: Muriel Cravatte
Editor: Hervé De Luze
Production design: Stéphane Taillasson
Music: ROB
Main cast: Adele Exarchopoulos, Guillaume Gallienne, Marie Riviere, Stephanie Cleau, Alienor Poisson