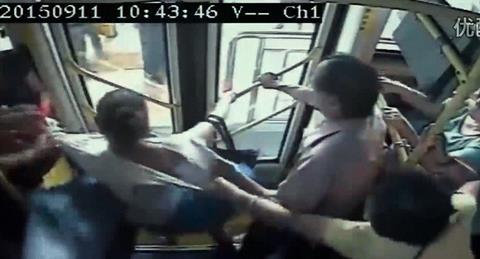 Dir. Xu Bing. China, 2017, 79 mins.
Celebrated Chinese artist Xu Bing turns his mind to cinema in Dragonfly Eyes, loading his 79-minute film with thoughts, sounds and images gleaned entirely from surveillance cameras and live streaming sites in China. He's grafted a narrative onto the footage, but nothing is conventional here. Dragonfly Eyes is quietly disturbing, filled with unease and malaise but also rich in poetry: it's a provocative film for our times which marries conceptual art with cinema in a fresh and unusual way.
Without actor or actress, could the best performance be done by you?
While many films have sought to use, or have been set in the world of surveillance footage, Dragonfly Eyes uses it to work fitfully through an unsettling modern-day parable. Superb editing and sound design combine to create a collage, but one that's delivered with a tense rhythm, the story ebbing and flowing, occasionally stopping completely for a skipped heartbeat. It's a meta exercise, certainly, but aside from its coda Dragonfly Eyes is uneasily transfixing. A competition berth at Locarno should certainly be followed by further festival exposure and museum opportunities in the way of other influential film artists such as Apichatpong Weerasethakul.
Editor Matthieu Laclau and composer Yoshihiro Hano both worked on Jia Zhangke's Mountains May Depart, and there are hints of "reality" here which mirror Jia's fiction, in particular a restaurant sequence where the staff begin to dance in formation. A theme park seems to arrive as a nod to The World.
The poet Zhai Yongming wrote the screenplay in an organic process where the footage also dictates what happens next. Dragonfly Eyes, which features a computerised voice speaking in English, starts out with an accidental drowning, then moves over to a Buddhist temple, alternating between calm chanting and abrasive construction as the story starts to swim into view.
Qing Ting ('Dragonfly', in Chinese) is a young nun who decides to leave the sanctuary of the monastery; alarming footage of a sudden plane crash is interrupted when the film cuts to black and re-starts in a milking factory, where cows are tethered to a giant wheel. Qing Ting confesses to co-worker Ke Fan that she'd like to set one of the animals free. A cow wanders down a road in the dark, there's a runaway digger, stampedes, accidents. She re-emerges in a dry cleaning shop. Ke Fan pursues – stalks? – her. Thus begins a pull-and-push relationship, doused with footage from all over China, flashing and buzzing, the sound and score moving to the beat of mouse clicks. Surveillance footage is captured at a lop-sided angle, slashing diagonals ratcheting up the tension.
Themes begin to emerge, of savage moments and loss of identity. Lightning strikes a car. Boiling water is poured over a woman in a restaurant, while an incident of road rage escalates to terrifying heights. The issue of appearance become a motif: "Would you like someone prettier to take your order?" asks a waitress. Then it's a matter of transformation: change your mind or change your face, we're told. Fake reality or reality becomes fake. Ke Fan becomes convinced that Qing Ting is now video livestreamer Xiao Xiao, as Dragonfly Eyes reverses into itself and faces become indistinguishable. Who are we, really?
At the outset, Xu Bing recalls how he first wanted to mount a project like Dragonfly Eyes back in 2013, but the lack of available footage set him back. Now, the proliferation of surveillance cameras and live streaming captured in the cloud database means footage is everywhere. "Without actor or actress, could the best performance be done by you?" he asks. Ultimately, Dragonfly Eyes is conceptual art come to film, forcing the viewer into its train of thought, pushing a perpetually reflective mosaic mirror of self. The score is uncannily symbiotic to this discomfort, whether it be Chinese pop ballards, electronic Moroder-ish beats or more conventional laments.
Production company: Xu Bing Studio
International sales: Movieview International, yangying@movieview-int.com
Executive producer: Xu Bing
Producers: Xu Bing, Zhai Yongming, Matthieu Laclau
Screenplay: Zhai Yongmind, Zhang Hanyi
Editors: Matthieu Laclau, Zhang Wenchao
Music: Yoshihiro Hanno
Sound design: Li Danfeng