Rotterdam regular Clara Law returns with a haunting lyrical elegy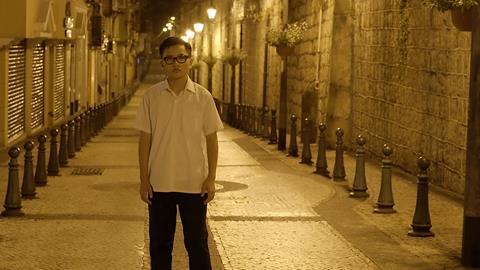 Dir. Clara Law. Australia. 2021. 110 mins.
Modern Asian history becomes an urban ghost story in Drifting Petals, the latest from Australian-based Hong Kong director Clara Law – and 'drifting' very much captures the mood and pace of this leisurely, category-defying piece. More tone poem than narrative – end titles term it an 'elegy' – Drifting Petals is about memory, place, globalisation, several generations of protest, the elusiveness of home, the compromised value of art in times of unrest… It is without doubt fairly crammed with teasing intellectual content, and is bracingly committed to formal invention; yet the end result often feels chilly and rarefied, and specific references to Chinese history can make it less than entirely accessible for the non-initiated. First seen in Sydney last year, it now plays in the Big Screen competition in Rotterdam, where Law has been a regular since the early 90s.
Law's film may be more Bartok in form, but it's Chopin at heart, in its lyrical yearning for emotional release
The film marks a significant departure for the Floating Life director, following 2015's mainstream production The Unbearable Lightness of Inspector Fan (aka Shanghai Noir). A key influence here, Law has stated, is W.G. Sebald's writing on history, memory and place, and the film's digressive, fragmentary nature bears that out. Another collaboration with long-term partner Eddie Fong (who here takes on writing, camera, editing and producing duties), the film is a low-budget but polished DIY venture, musing on cities and political turmoil – most immediately in Hong Kong, but also beyond.
In a brief prelude, an unnamed woman, never seen but heard in voice-over – spoken by Law – takes a drive in Australia with a young man named Jeff, visiting a site in New South Wales known as the 'Walls of China'. Jeff is a classical pianist (he's played by Jeff Lai, who performs the film's keyboard pieces himself) and has just returned to Hong Kong from studies in Manchester. Absent during the recent years' anti-government protests, he now feels displaced, no longer really at home. Wandering the deserted city streets at night, he encounters a troubled young woman, Mien (Ariel Ng), desperately searching for her boyfriend Simon, who she initially says is dead; Jeff later encounters Simon (Pink Yung), an activist on the run, and Mien's belligerent father (Gary Lee), who furiously disapproves of her involvement in the protest movement. In between these encounters, Jeff practices his repertoire of Rachmaninoff, Chopin et al, but worries in voice-over about the value of art and the striving for transcendence in the troubled early 21st century.
The film alternates between Jeff and the unseen narrator's musing on her own past in Macau, where Law herself was born. As the camera drifts at night through that city's streets, both colonial-era antique and neon-blazing contemporary, she thinks about her older brother, who vanished when she was a child. The brother seems to reappear as a ghost, a silent young man (Dickens Ko) who leads her on a chase through Macau in weaving POV shots. At one point, he is seen paying homage to Yang Quyun (1861-1901), a key figure in the history of Chinese independence; while it's not explicitly stated, the film seems to play on the ironic parallel between Hong Kong's current struggles and the history of similar striving on the part of a nation that is itself now determined to keep Hong Kong at heel.
Classical piano has a thematic significance throughout. Jeff meets a young composer and social outsider who urges him to stay true to his art and resist the temptations of the social media age; the film is very much a cri de coeur against the malaise of digital-era capitalism, as couldn't be plainer when a bus hoves into view covered in Deliveroo logos. At one point, Jeff contrasts tonal and atonal music, arguing that the latter, represented here by Bartok, is by nature uncertain - music that, like him, "can't find its way home".
Occasionally interspersing captions, archive stills and brief black-and-white sequences, Law's film may be more Bartok in form, but it's Chopin at heart, in its lyrical yearning for emotional release. At the end, it hits some over-emphatic chords as the narrator discovers what happened to her brother – making the connection between Hong Kong today and an earlier episode of suppressed protest. The theme of memory, and the need for memorialisation, is brought home with a reminder of the past violence now concealed behind the impersonal dazzle of Macau's Vegas-style gambling hub.
It's in the nature of such a patchwork film, with its multiple viewpoints and complex temporal framework, that it may be hard to navigate; but Drifting Petals comes across as somewhat alienating in its formal detachment, and those moments when it attempts to redress the balance by making its point more overtly can feel awkward. Jeff Lai, however, makes an affecting guide through this labyrinth, and the digital images of Hong Kong and Macau at night, empty streets tinged with yellow and luminous grey, give this sometimes cluttered film its unifying visual tone.
Production company: Lunar Films
International sales: Lunar Films lunarfilms2008@gmail.com
Producers: Eddie Fong, Clara Law
Screenplay: Eddie Fong, Clara Law
Cinematography: Eddie Fong
Editor: Eddie Fong
Production design: Chung Man Yee
Main cast: Jeff Lai, Ariel Ng, Dickens Ko, Pink Yung