Jay and Mark Duplass lend their support to Miguel Arteta's fast-forward relationship drama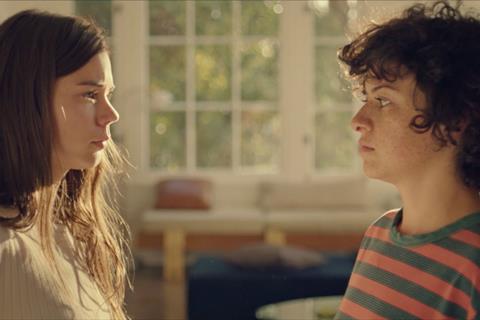 Dir: Miguel Arteta. US. 2018. 93mins
A meet-cute turns into something more ugly in the latest film from writer/director Miguel Arteta (The Good Girl, Youth In Revolt, Beatriz At Dinner), which mines the highs and lows of romantic attraction for a brutally honest take on love and intimacy in the modern age. That two women are at the centre of the escalating drama gives Duck Butter something of an edge, although that's not the point; they are simply two very different people pushing the boundaries of human connection, with mixed results for them, and the viewer.
The film starts to get more interesting as the cracks begin to appear
Strong performances from charming leads Alia Shawkat (TV's Transparent and Arrested Development) and Laia Costa (Victoria), together with the film's somewhat provocative subject matter and the involvement of indie champions Jay and Mark Duplass (who have cameos as themselves, as well as executive producing) should help Duck Butter achieve modest domestic success when it releases in the US on April 27, a week after its premiere in competition at Tribeca. International play is less certain, although it should come to the attention of festivals and audiences interested in intelligent queer cinema.
Riding high after her first day as an actor on the set of the latest film by the Duplass brothers (playing themselves), the normally tightly-wound Naima (Shawcat) goes clubbing and meets Spanish singer Sergio (Costa). Their spark is immediate and, after spending the night together, they discuss their previous disastrous relationships and their shared desire to find genuine intimacy.
The free-spirited Sergio suggests something of an experiment; that they spend 24 hours together, awake, and have sex on the hour. In this way, she says, they can fast forward through months of dating and really get to know one another. While the more reserved Naima is initially reluctant, when she is fired from the movie for 'creative differences' she agrees in a fit of pique.
Although the experiment might be out of the ordinary, the girls' time together initially covers familiar territory. We watch as they have sex, play music and indulge in deep 'getting to know you' conversations that range from the silly — Sergio reveals her childhood habit of defecating on the floor — to the serious; Naima recalls a difficult sexual encounter with an older man, who claimed he didn't like the taste of her intimate area (a conversation which leads to Sergio's describing the taste as "duck butter").
The film starts to get more interesting as the cracks begin to appear. In this pressure cooker environment, and fuelled by a lack of sleep and plenty of pot, the girls' personalities can't but help escape. In a screenplay co-written by Arteta and Shawkat, their characters continue to ring true, even as their behaviours become more extreme. As Sergio's charming effervescence turns first irritating then increasingly hysterical, aggravated by the arrival of her overbearing mother, Naila's patience is slowly eroded and her own sharp edges revealed.
While it's intriguing to watch a relationship play out over the course of just a few hours, Duck Butter doesn't offer much in the way of discovery or resolution. The girls end up in the same place they started, and the points it makes about the cynicism of modern life and the changing nature of human interaction are nothing particularly groundbreaking. Yet, ultimately, it works as both a character study and welcome example of an LGBTQ film in which none of the characters are defined by their sexuality or gender, but by their individual choices — both good, and bad.
Production company: Duplass Brothers Productions
Distribution: The Orchard, tgeorgakis@theorchard.com (US), Netflix (worldwide)
Producers: Mel Eslyn, Natalie Qasabian
Screenplay: Miguel Arteta, Alia Shawkat
Editing: Chris Donlon
Production design: Angel Herrera
Cinematography: Hillary Spera
Music: Kaitlyn Aurelia Smith
Main cast: Alia Shawkat, Laia Costa, Hong Chau, Kate Berlant