After a stunning opening weeked, Wen Muye's ripped-from-the-headlines drama seems well on its way to becoming the top-grossing film in China this year.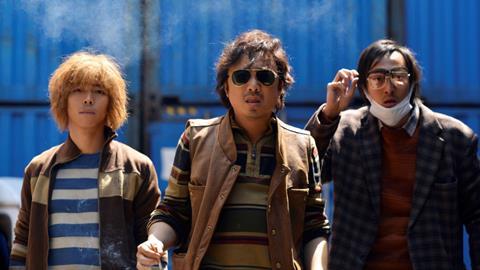 Dir: Wen Muye. China. 2018. 115 mins
A remarkable true story gets the big screen treatment in Wen Muye's debut feature Dying To Survive. Leukemia patient Lu Yong became a folk hero when he imported generic anti-cancer drugs from India to China to supply fellow patients suffering from chronic myeloid leukemia (CML) who could not afford the cost of the domestically available medication. Arrested for promoting counterfeit drugs in 2013, the charges against Lu were eventually dropped following a public outcry by over 1,000 patients whose lives had been extended by his efforts. As the presence of comedy star Xu Zheng in the lead role suggests, this Chinese cousin of Dallas Buyer's Club (2013) is laced with caustic humour, although not at the expense of its fundamental sincerity.
A rousing piece of torn-from-the-headlines storytelling that delivers laughs and tears in equal measure.
The modest success of such socially conscious dramas as Caught in the Web (2012), Dearest (2014), and Angels Wear White (2017) has suggested that Chinese audiences are ready seek out topical fare, but the incredible $200 million opening weekend performance (including Thursday previews) of Dying to Survive proves that films which deal with social issues in populist fashion have genuine mass appeal. Indeed, if this early momentum can be sustained, Dying to Survive could supplant Operation Red Sea as the biggest domestic grosser of the year to date.
Internationally, the film has considerable potential in specialty markets, especially with audiences who have been deterred by the perceived propagandist slant of China's recent blockbusters.
In this fictionalised take on Lu's story, the smuggler is not a patient but a divorced salesman named Cheng Yong (Xu) who is fighting for custody of his young son. Struggling to make ends meet with his Indian health supplements store, he agrees to go into the medicine trade for purely financial reasons. Still, he soon forms friendships with the patients who become his business partners: Lv Shouyi (Wang Chuanjun), a new father who wants to stay alive for his son, Priest Liu (Yang Xinming) who serves as Cheng's English language translator when dealing with the Indian supplier, and surly but sensitive youth "Yellow Hair" (Zhang Yu). There's also pole dancer Liu Sihui (Tan Zhuo) who has a sickly child and coordinates a network of patients through her social media network.
At first, it works like gangbusters with Cheng getting rich beyond his wildest dreams while the patients are free from the shackles of the big drugs company, which has forced many into poverty with its inflated prices. However, trouble is looming. The drugs company is pressuring law enforcement to crack down on suppliers on the basis that they are a "fake" product not regulated for sale in China. There's also competition from rival seller Zhang Changlin (Wang Yanhui). Although his product is less effective, Zhang's dirty tricks tactics make Cheng perilously aware of the legal consequences for selling drugs that are perfectly safe yet deemed "fake" in China because they have not been approved by a local regulatory body.
Wen pivots the film's gradual shift in tone on his leading man as early knockabout escapades give way to a solemn mood with a committed Xu conveying Cheng's change from opportunistic businessman to true crusader without shaving off the character's rougher edges. Xu has stretched beyond his beleaguered everyman persona before with mixed results in the likes of The Great Hypnotist (2015), and A or B (2018) but his sterling performance here is arguably his best to date. Xu co-produced with his frequent collaborator Ning Hao of Crazy Stone (2006), No Man's Land (2013), and Breakup Buddies (2014) fame, with the trendsetting director's influence evident in the acerbic initial hour, which thrives on hectic pacing and quick-witted banter.
It's the palpable anger of the second half, though, that gives Dying to Live its sting and makes Wen's film much more than a savvy star vehicle.
In marked contrast to most of China's recent mainstream cinema, Wang Boxue goes for a gritty palette while his roving camera and Zhu Lin's jittery editing give the proceedings a real sense of urgency. It's a defiantly rough-and-ready film with Wen's emphasis on grubby mise-en-scène not only serving to hammer home the central issue but illustrating China's general health-related shortcomings at a time of great economic prosperity. Cheng smokes heavily throughout, everyone eats greasy food out of takeout containers, and thick smog often pervades the frame. Yet the spirited performances of the cast ensures that the camaraderie always cut through the gloom with Wen's message ultimately being one of resilience against the odds.
With its staunch criticism of China's healthcare system, it may comes as a surprise that Dying to Survive passed the infamously restrictive local censorship process. However, since the events loosely depicted on screen, China's government has launched a healthcare reform, including drug pricing. As such, the film's indignance can be seen as being in line with Xi Jinping's sweeping vision of a "moderately prosperous society" where all citizens are guaranteed a certain standard of living and care. Yet regardless of where it lands politically, Dying to Survive is a rousing piece of torn-from-the-headlines storytelling that delivers laughs and tears in equal measure.
Production companies: Dirty Monkey Films Group, Huanxi Media Group, Beijing Universe Cultural Development Co., Beijing Talent International Film Co.
International sales: Movie View International, info@movieview-int.com
Producers: Ning Hao, Xu Zheng
Screenplay: Han Jianu, Zen Muye, Zhong Wei
Production Designers: Li Miao, Li Tong, Zhang Peng
Editing: Zhu Lin
Cinematography: Wang Boxue
Music: Huang Chao
Main cast: Xu Zheng, Zhou Yiwei, Wang Chuanjun, Tan Zhuo, Zhang Yu, Yang Xinming