Inventive, hybrid art doc from Brazil's Moara Passoni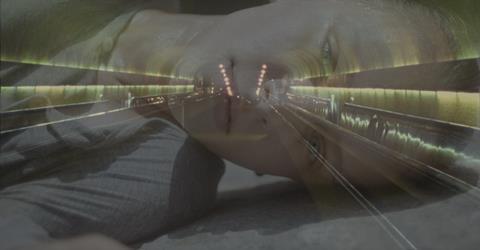 Dir. Moara Passoni. Brazil/USA. 2020. 80 mins.
An elegant, elliptical hybrid documentary, Brazilian debut feature Ecstasy merges seemingly autobiographical testimony with imaginative, texturally rich imagery and staged sequences to produce a thoughtful and often troubling account of a young woman's eating disorders, as lived from the inside.
Passoni and DoP Janice d'Avila are restlessly inventive, varying the visual register throughout
Visually diverse, Moara Passoni's film takes in a range of textures to bring the protagonist's experience alive, and to place it in a wider context both psychoanalytical and political, the latter with relation to the turbulent recent history of Brazil (and in an affirmative coda, the nation's troubled present). Difficult, sometimes harrowing subject matter, as well as a delicate, detached tone, will make Ecstasy a hard sell, although a strongly philosophical feminist voice and distinctive stylistic vision demand attention - which it is bound to get as part of the current online selection at CPH: DOX.
Writer-director Passoni previously made her mark last year as co-writer and associate producer on Petra Costa's Oscar-nominated The Edge Of Democracy, with Costa now on board as producer here. The film begins with stylised shots – sometimes directly from above - of a teenage girl running, talking in voice-over about the feeling of ecstasy that pervades her life, before she collapses, watched by a much younger girl. Both are incarnations of protagonist Clara Rossetti, daughter of a congresswoman who takes up her official position in capital city Brasilia – a situation established after a montage of still photos and archive footage shows popular protest and unrest, and brutal response by the Brazilian police.
Clara is uneasy moving to the chilly, futuristic spaces of Brasilia's modernist architecture – one of the film's virtues being its exploration of the city, making its inhospitable spaces a metaphor for Clara's body and her psychic state, as she notes explicitly ("My body is a castle built for total isolation").
Expelled from school for kissing another girl, Clara is moved to a ballet school, where her problematic relation to her body is exacerbated – and explored visually to striking effect, notably in close-ups of slippered feet doing en pointe exercises. The ballet scenes are particularly striking, pushing the bleached-out look of much of the film to an extreme, as white-clad bodies move in an all-white environment, the resultant eggshell look evoking their fragility and enclosure. Passoni and DoP Janice d'Avila are restlessly inventive, varying the visual register throughout. Especially notable is a sequence of still shots in a supermarket, with different produce glaring in all the colours of the rainbow, while a cake shop sequence features an extreme close-up of a meringue (in keeping with a recurrent egg motif) that is an inspired poetic find. Also recurrent is a superimposed image of a blue dot, relating to Clara's anorexia and her search for bodily and mental control.
The voice-overs from Clara at different ages are charged with literary echoes, including Lewis Carroll, James Joyce and Georges Bataille, and the film is sonically rich, with sound designer Cécile Chagnaud mixing the eerie, restless original score by Ismael Pinkler with a panoply of speaking voices and other music including Chopin and a collaboration by David Lynch and Lykke Li.
Production company: Busca Vida Filmes
International sales: Syndicado, admin@syndicado.com
Producers: Petra Costa, Moara Passoni, Sara Dosa, Tiago Pavan, Margo Mars
Screenplay: Moara Passoni
Cinematography: Janice d'Avila
Editor: Fernando Epstein
Production design: Helena Botelho
Music: Ismael Pinkler