What happens when a woman develops an allergic reaction to the world she lives in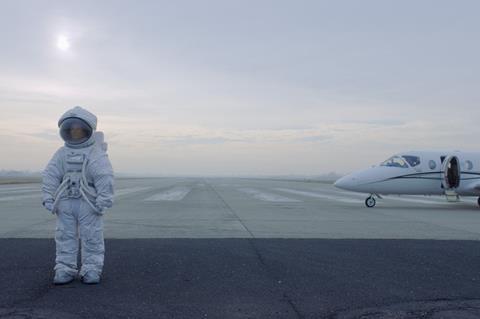 Dir/scr. Agnes Kocsis. Hungary/Romania/Belgium. 2020. 153 mins.
Following a woman who experiences life-threatening allergic reactions to the world around her, Eden initially seems to be the Hungarian answer to Todd Haynes' Safe. But while the two films share the same basic premise, Agnes Kocsis' take on the concept dedicates the bulk of its focus to the loneliness and pain of a life without connection. Heartfelt and precise, Eden charts Eva's (Lana Baric) battle to prove that her hypersensitivity is real, as well as her efforts to manage her severe condition, alongside her struggle to cope with being cut off from the world.
The effect is of the ordinary world rendered foreign and hostile
Eden screened at both Rotterdam and Goteborg in January, preceding the pandemic's global spread; however it is clearly a fitting film for a period that has seen much of the planet similarly trapped at home and sick of the sight of their own four walls. Accordingly, it plays Sarajevo with an added sense of relevance and weight, and should secure further festival berths for the same reason — although its 153-minute length will hamper general release prospects.
There is a touch of science fiction in Kocsis' third feature, her first to bypass Cannes (or, this year, the Cannes label) after 2006's Fresh Air and 2011's Pal Adrienn. That Eva wears a spacesuit when venturing outside the house for invasive testing adds to that feel, as does the testing itself, which involves bombarding the ex-teacher with contaminated air and electronic fields inside glass cubes and desert domes as experts watch.
The effect, as emphasised by the film's grey-blue colour palette, cinematographer Mate Toth Widamon's lingering wide shots and canny, near-futuristic production design by Petra Vinnai, is of the ordinary world rendered foreign and hostile. From her very first moments on-screen, Eva is cast as an intruder in both distinctive and everyday spaces and places, and as a human lab rat.
Eventually, it is revealed that the tests are for a court case, with Eva contending that pollution has caused her current condition. Psychiatrist and divorced father Andras (Daan Stuyven), also connected to the legal proceedings, becomes her only outside contact — other than her initially doting, eventually fed-up brother Gyuri (Lóránt Bocskor-Salló). With Andras, Eva flirts with the thing she has been missing most: routine interactions. The pivotal existential question that Kocsis and her fellow screenwriters Ivo Briedis, Gábor Németh and Andrea Roberti inch towards, however, is how long someone can handle being so cast adrift from the rest of existence.
As Eva, Baric conveys the weariness and disappointment of a woman now accustomed to being seen as different, yet constantly reminded of what lurks beyond her sparse metallic apartment. While her chemistry with Stuyven is lively, even when their characters are first sounding each other out, she is particularly engaging to watch as Eva simply peers out her window or gazes at stickers of birds that mimic the real thing.
Unsurprisingly, Eden spends much of its running time staring as Eva in turn stares at the world. Kocsis wants her audience to notice the feature's every moment as Eva notices every moment she spends alone — and while that will test some viewers' patience, it proves smartly effective. Easily read as a musing on the plight of those with chronic health conditions, the disconnected nature of modern life in general and the consequences of humanity's reliance upon technology, too, this is a film that uses its slow-building pace to strike many a perceptive and moving note.
Production company: Mythberg Films, Libra Films, Creative Hours, Isabella Films
Sales: HNFF World Sales, klaudia.androsovits@nfi.hu
Producer: Jozsef Berger, Oana Giurgiu, Alain Berliner, Agi Pataki, Els Vandevorst
Production design: Petra Vinnai
Screenwriter: Agnes Kocsis, Ivo Briedis, Gabor Nemeth, Andrea Roberti
Editing: Aron Mezei
Cinematography: Mate Toth Widamon
Main cast: Lana Baric, Daan Stuyven, Lorant Bocskor-Sallo, Maja Roberti, Zalan Makranczi, Robert Kardos