Dir. Halkawt Mustafa. Iraq/Norway/UAE, 2015, 97 mins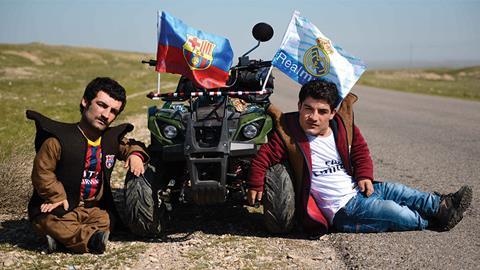 A heartfelt, old-fashioned story about following your dreams, El Clasico adopts an unusual narrative stance, straddling Kurdistan and Spain, La Liga, dwarfism, and the need for acceptance – which perhaps reflects the background of its director and co-writer, Halkawt Mustafa (Red Heart), who emigrated from Iraq to co-production territory Norway.
Performances by the Ahmed brothers are capable, in particular the handsome Wrya as Alan.
At its heart are the brothers Alan and Shirwan (Wrya and Dana Ahmed), both dwarves, who embark on a strange adventure to Madrid to deliver a pair of Kurdish slippers to the footballer Ronaldo (who doesn't feature, except for in a life-sized underwear poster). Hopes of a Bend It Like Beckham cultural-crossover hit are soon dashed on the rocks of implausibility, but El Clasico is nothing if not a sincere and well-meaning production.
Open-hearted Alan is thwarted in love; he wishes to marry neighbourhood beauty Gona (Rozhin Sharifi), but her father won't let her embrace a little person. El Clasico feels more authentic here, at home in Kurdistan, where Alan runs a tea shop while Shirwan works at the cobblers run by Gona's intolerant dad (Kamaran Raof).
Kurdish locals fully embrace the Spanish football league, taking noisy sides in the showcase derby between Real Madrid and Barcelona FC – known as El Clasico. Barca fan Shirwan devotes his enthusiasm to Lionel Messi, while Gona's father is an inveterate Ronaldo supporter.
Alan decides that he needs to make a big gesture to win over Gona's father, who has spent months fashioning a pair of slippers for his hero Ronaldo. He decides to cash in his savings and make an illegal trip to Madrid to present them personally, an arbitrary and uneasy voyage in which he is joined by the now homeless Shirwan.
El Clasico is a rather fantastical production, the brothers driving around on a quad bike with football flags aloft, wearing Kurdish jackets emblazoned with Messi and Ronaldo's names. Alan's idea that he'll gain acceptance by making this trip seems a rather dim hope indeed, meaning that his sacrifice of a kidney in pursuit of this goal makes him look not so much heroic as deeply misguided.
Halkawt Mustafa directs by the screenplay, and there's little here with enough visual impact to distract from a script which is possibly too much to swallow in one sitting. Performances by the Ahmed brothers are capable, in particular the handsome Wrya as Alan.
Production companies: Hene Films
International sales: Halkwatm@gmail.com
Producer: Halkawt Mustafa
Scr. Anders Fagerholt, Halkawt Mustafa
Cinematography: Kjell Vassdal
Editor: Inger Lise Langfeldt
Music: Trond Bjerknes
Main cast: Wrya Ahmed, Dana Ahmed, Kamaran Raof, Rozhin Sharifi