It may be familiar, but actor David Wenham's 'Before Sunrise'-like trip through Sydney still has a warm charm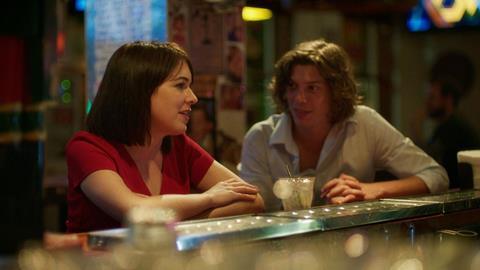 Dir. David Wenham. Australia. 2017. 85 mins.
It's with a lightness of touch but the weight of familiarity that actor David Wenham's debut feature flits through the streets of Sydney, offering a meet-cute-sparked walk-and-talk and an off-the-beaten-track tour of Australia's largest city.
Ellipsis is more convincing when it's focusing closely on its central duop, layed by Emily Barclay and Benedict Samuel
While described by Wenham as an experiment — it was workshopped and filmed in just 11 days, wholly improvised, and the production spent no more than two hours in any one spot — Ellipsis' banter, almost-romantic friendship, and assemblage of offbeat altercations keep to a well-worn path, even if the film is staged and shot with energy and affection. Still, both Wenham (Lion, The Lord of the Rings trilogy) and the Before Sunrise-like nature of his debut should attract attention after its premiere at the Sydney Film Festival, marking it out for worldwide digital distribution, Australian festivals and streaming platforms.
With leads Emily Barclay and Benedict Samuel sharing writing credits with Wenham and Gabrielle Wendelin, Ellipsis watches the actors as they step into the characters of Viv and Jasper. Her phone breaks when they collide on the street, he offers to pay for the repairs, and soon they're whiling away the wait time together. Visiting the beach, hopping between bars and restaurants, they wander around the city all afternoon, evening, and into the early hours of the next day.
It's easy to predict where all this will end, both physically and emotionally, as Wenham and his team move through obvious moments, awkward dialogue, and overt nods to predecessors in both the roaming romance and locale love letter genres — including an ending so blatantly reminiscent of another movie, mentioning the specific influence is a hefty spoiler. Yet what serves Ellipsis best is its central performances.
Wenham's only previous directing credit is a chapter in 2013 anthology Tim Winton's The Turning, and here he demonstrates a trait not uncommon among those moving from in front to behind the camera: favouring his actors. Accordingly, the naturalistically charismatic Barclay and Samuel conjure up low-key charm as they react to their surroundings and their shared dynamic. Together, the pair build protagonists that evoke intrigue not in the routine biographical details (she's a New Zealander flying back to her London home, fiancé, and relationship issues the next morning; he's professionally and emotionally adrift following recent troubling events), but in the authenticity of their interactions.
That's the aim of Wenham's stripped-back, free-flowing approach — not only as his main players engagingly flesh out their rapport, but as they encounter a motley crew of Sydney's populace on their journey through the Central Business District and suburbs, on scenic walks, and into clubs and a sex shop. Ellipsis is more convincing when it's focusing closely on its central pair, however, than in its often-stretched attempts to showcase the ebbs and flows of life through the city's colourful characters. A tangent about the after-hours exploits of the man fixing Viv's phone, which was added after the main block of shooting, similarly serves a broad thematic purpose but proves superfluous.
Though the film's struggles never fade from view despite its prevailing fond mood, cinematographer Simon Morris brings intimacy, fluidity, and a firm sense of place to the piece, both shining a spotlight on Barclay and Samuel, and capturing everyday locations rather than tourist haunts. Editing by Nick Meyers (a regular collaborator with Ellipsis' executive producer Robert Connolly, who also directed Wenham in The Bank, Three Dollars, and Paper Planes) helps sweep the film's 85 minutes along — an unnecessary late recap via montage aside — while a jazz-tinged score by Australian musician Megan Washington hits the expected warm notes.
Production Company: Arenamedia
International Sales: LevelK, derek@levelk.dk
Producers: David Wenham, Liz Kearney
Executive producer: Robert Connolly
Screenplay: David Wenham, Emily Barclay, Benedict Samuel, Gabrielle Wendelin
Cinematographer: Simon Morris
Editor: Nick Meyers
Music: Megan Washington
Cast: Emily Barclay, Benedict Samuel