Director: Jon Spira. UK, 2015, 101 minutes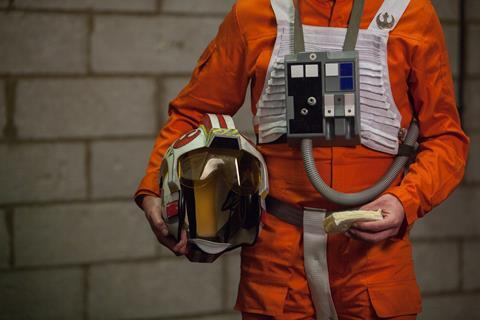 An affectionate tribute to the individuals who played minor, supporting and background parts in the original Star Wars movie, Elstree 1976 entertainingly explores the world of the character actor and bit-part player. Recalling the experiences of a group of performers who appeared in the film under plastic helmet, rubber mask or heavy prosthetics, this amiable Kickstarter-funded documentary should prove catnip to anyone who has ever attended a fan convention. And in showing how George Lucas' sci-fi blockbuster still looms large in their lives four decades later, the film also serves as a testament to modern pop-cultural obsession.
Most interviewees try to maintain a healthy perspective on their association with one of the most-watched films ever made, while content to swim in the currents awarded by felicitous fate
Director Jon Spira, who previously chronicled 30 years of Oxford's music scene in Anyone Can Play Guitar, came across his topic while teaching screenwriting at a local filmmakers workshop. One student, John Chapman, mentioned that he had played an X-wing pilot in Star Wars, going on to reveal that he was selling autographs at sci-fi conventions, despite the extreme brevity of his screen time in what was his sole film appearance. Spira was drawn to explore this little-reported community, a highly variegated assortment of characters who just happened to all have been in the same place at the same time during one long hot English summer.
Beginning and ending with artful shots of Star Wars action figures filmed singly and crisply in a pure white space, Elstree 1976 is otherwise content with basic talking-head interviews of its subjects, interspersed with occasional footage of current activities: busking, classroom drama workshops, zen martial arts. Clips of Star Wars are amusingly reframed to draw audience attention to background artists, and then arrested on vibro-pause: the extra becomes the star.
Spira takes a democratic approach to his subjects, introducing them all by first name only, and awarding them roughly equal screen time. But when the film shifts its focus to the fan conventions, a rigid hierarchy becomes all too apparent, topped by former builder and Darth Vader star David Prowse. Actors with small speaking parts and a billing in the film's credits feel lesser contributors deserve no place at these profitable congregations, while a different delineation separates the actors whose actual faces appear in Star Wars from the ones who are entirely masked.
Among those making a vivid impression by sheer force of personality or deranged eccentricity are former car salesman Chapman, distinguished theatre actor Paul Blake (he suspects "Here lies Greedo" will be on his tombstone), genial Jeremy Bulloch (the Boba Fett star, who didn't appear in the Star Wars series until The Empire Strikes Back, making a late entrance in Spira's film) and a youthful-looking Derek Lyons, whose positive self-presentation is rather heartbreakingly undermined by its own dogged insistence.
Most try to maintain a healthy perspective on their association with one of the most-watched films ever made, while content to swim in the currents awarded by felicitous fate.
Spira's stated aim is to make a film that's emphatically not just a fan document, placing Elstree 1976 in the lineage of projects that focus on a group of connected individuals in order to present a larger view of humanity. While the quirky outcome falls short of that ambition, it offers a slice of enjoyable nostalgia, capturing a sense of life as silly, surprising, regretful and all too fleeting.
Production company: Canal Cat Films
International sales: The Works, clare.crean@theworksfilmgroup.com
Producers: Hank Starrs, Steve Milne
Cinematography: Sonny Malhotra
Editors: Cressida Kocienski, Jon Spira, John Twycross
Music: Jamie Hyatt
With: Paul Blake, Jeremy Bulloch, John Chapman, Anthony Forrest, Laurie Goode, Garrick Hagon, Derek Lyons, Angus MacInnes, David Prowse, Pam Rose