Dir/scr. Tunc Davut. Turkey. 2015. 86 min.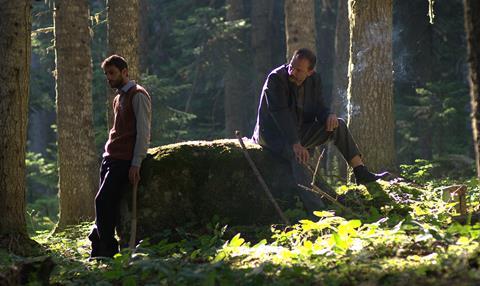 Style beats content by a mile in Entanglement (Dolanma) a tale of two brothers, one woman, one house in the woods, a breathtaking forest and a very big dog. Tunc Davut's first film displays from its opening sequence an uncanny talent for framing, using deep focus and carefully choosing each single angle and move of his film, but his ambitious attempt to tackle big and small, original and clichéd issues, all at the same time, melts down in a mass of hints that could have eventually blossomed into significance, had they been allowed to develop properly.
It is all sad, picturesque but never very conclusive.
Fans of slow-burning, minimalist Turkish cinema should have a look at Entanglement although for others it may prove to be an uphill struggle most of the way.
Two brothers, Kemal and Cemal, share a wooden house in the middle of the forest which has been left to them by their recently deceased mother. They are seasonal forest workers, making some money on the side by peddling wood illegally out of season. They try to sell a piece of land, inherited as well, which had been exploited for some years by an uncle who never makes an appearance.
The older brother, Kemal (Muhammad Uzumer), acting for all purposes as the head of the family is a gruff, chain-smoking character given to bouts of severe coughing. He returns one day from another attempt to find a customer for the land, once again thwarted by the uncle, in the company of a woman, Nalan (Defne Halman). She laconically announces that she is going to stay with them for a while. Cemal (Baran Sukru Babacan), the submissive younger sibling who keeps the household going, takes it all in his stride, makes the tea, carries the water and fixes the antiquated truck every time it breaks down, without ever voicing an opinion.
Cemal is devoted to the house, to the memory of his mother and to the nature, all around them, which provides for their livelihood.
This uneasy menage a trois is never too explicit but complicated by the presence of a massive dog that hates strangers but goes to visit the tomb of the late mother every time he breaks away from his chain.
Without too much help from practically nonexistant dialogue, it is not difficult to understand that Nalan followed Kemal to the house because she had no better options, that Kemal is too self-centered to pay much attention to the needs of anyone around him and that Cemal may have very little to say but notices everything.
To Davut's credit, despite his insistence to put across the emotional relations between the trio only through visuals with rare and very brief interferences of spoken lines, there are plenty of touching and relevant moments in his film, thanks to the precise composition of his images. The only drawback is that his set-ups look so terribly calculated that soon enough they detract attention from the plot itself.
As for the story, it could easily be read as another ecological observation of man destroying nature, as a reflection on incommunicability in stagnant Turkish society, as the bankruptcy of the Turkish traditional system presently ruling the country, the role of women in a world run by men, and more. But the cryptic approach to all these themes leaves each one unresolved. Much the same happens to the plot itself, which never bothers to explain the events portrayed in a satisfactory manner.
Camera work, all through, is never less than gorgeous, the pace is deliberately slow and the three performances offer nicely studied variations on familiar prototypes, particularly Defne Halman as a woman silently reaching the end of her tether. It is all sad, picturesque but not very conclusive.
Production company: Tekhne Film
International sales: info@tekhnefilm.com
Cinematography: Ilker Berke
Editing: Mesut Ulutas, Tunc Davut
Production design: Erhan Alabas
Music: Murat Asil
Cast: Muhammad Uzuner, Defne Helman, Baran Sukru Babacan