Dir: Richard Levine. US. 2011. 93mins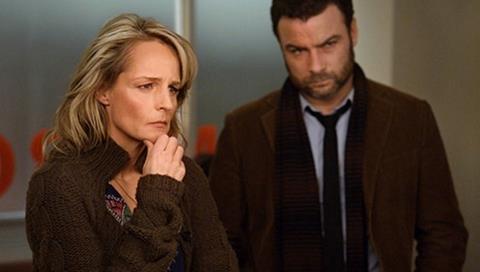 A film of pleasantly half-sketched domestic noodling, pedestrian drama Every Day fails to satisfyingly connect not so much because of what it bungles in execution as what it just never really tries to do — namely bring substantive conflict to the fore. Lacking in any major catharsis, the film perhaps angles to be chiefly a snapshot of the accumulated burdens of life's quotidian responsibilities, but instead merely comes across as inconsequential.
Every Day feels lacking in defined dramatic stakes.
espite a recognisable cast, theatrical box office business should be modest, and limited to the big city arthouse crowd.
While his wife Jeannie (Helen Hunt) struggles in her role as a reluctant caregiver to her ailing, formerly estranged dad Ernie (Brian Dennehy), New York TV scribe Ned (Liev Schreiber) tries to negotiate a narrow professional pass, satisfying the sensationalist urges of his boss Garrett (Eddie Izzard) on a sexy medical soap opera serial. Mandated script fixes find Ned paired with coworker Robin (Carla Gugino), who provides characteristic temptation.
Writer-director Richard Levine' script, the recipient of a fairly chaste R rating Stateside, sketches its characters humanely, but never particularly takes a strong stand one way or another. There's no payoff of deep, hidden pain or fire-born resilience; in fact, there is not much honest dysfunction at all. Neither is there any real loquacious snap to the dialogue.
Everything is instead played fairly bland, and middle-of-the-road. Ernie is dying, but his grandkids seem to have little investment in this revelation. Several pressing conversations between characters — like how to broach the subject of an assisted care facility — are started and never really finished, and even a subplot involving Ned and Jeannie's gay teenage son Jonah (Ezra Miller), who wants to attend a "gay prom" but ends up getting inappropriately hit on by an older guy, fizzles out a bit strangely.
The movie's production design and technical package is fairly conventional. The film is flatly shot, save one moment of intrigue, in the form of a dream sequence in which Ernie imagines himself sitting in with a jazz band as the drummer.
The lead performances are competent but not particularly stirring. Gugino again proves herself fetching, while Miller (CityIsland) brings an appealing, uncomplicated honesty to Jonah — refreshing in an era when so many teen characters are rendered as little more than attitudinal bundles.
Overall, though, Every Day feels lacking in defined dramatic stakes. The exact opposite of the outlandish stories Ned is asked to write, it is polite and genteel, but also ultimately yawningly pointless.
Production companies: Ambush Entertainment, Cold Iron Pictures
Domestic distribution: Image Entertainment, www.Image-Entertainment.com
Producers: Miranda Bailey, Matt Leutwyler
Executive producer: Sam Hoffman
Co-producer: Amanda Marshall
Screenplay: Richard Levine
Cinematography: Nancy Schreiber
Editor: Pam Wise
Production designer: Adam Stockhausen
Music: Jeanine Tesori
Website: www.everydaythemovie.com
Main cast: Liev Schreiber, Helen Hunt, Brian Dennehy, Carla Gugino, Eddie Izzard, Ezra Miller, Skyler Fortgang, Tilky Jones