Sensitive feature debut follows the fall-out from a Bosnian teenager's compulsive lies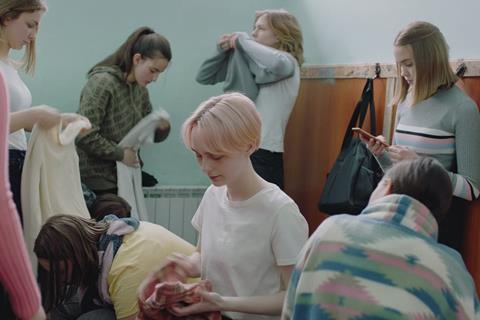 Dir/scr: Una Gunjak. Bosnia and Herzegovina/Croatia/Serbia/France/ Norway/Qatar. 2023. 94mins.
The kids aren't all right in Bosnian writer-director's Una Gunjak's sensitively-handled debut feature Excursion, tracing the dramatic fallout from a 15-year-old schoolgirl's impulsive lies. Premiering in the Filmmakers of the Present sidebar at Locarno (where it won a Special Mention) prior to an out-of-competition slot at Gunjak's native Sarajevo — the picture's setting — it marks a smooth transition to the bigger canvas from a filmmaker who enjoyed festival success with her 15-minute 2014 short The Chicken. Festivals seeking to showcase emerging talents are the most obvious takers for this multi-national co-production.
Gunjak's talent lies in her handling of the youthful ensemble
Gunjak's talent lies in her handling of the youthful ensemble, led by newcomer Asja Zara Lagumdzija in the demanding lead role of Iman, an independent-minded sort with pink-streaked blonde hair who exaggerates her degree of sexual experience after hearing that a male acquaintance is (inaccurately) bragging to pals that they had sex.
Iman later builds upon her lie by claiming she has become pregnant as a result of this supposed encounter; this yields escalating consequences which eventually imperil the school trip of the title. The excursion has already been the focus of considerable anxiety among the pupils' parents, who are troubled that such a holiday — even with professional supervision by teachers — might be an opportunity for underage shenanigans. All have heard of a notorious recent incident supposedly involving seven 'unfortunate' girls on a similar trip from Bosnia's Serbian-majority city Banja Luka.
Gunjak walks a tricky line in developing her chosen theme, maintaining plausibility while showing how urban myths, 24/7 social media, idle gossip, patriarchy-based narrow-mindedness and teenage insecurities can easily combine to make mountains out of molehills. Experienced German cinematographer Matthias Pilz (who also shot The Chicken) deploys an accessibly bright, clear visual style — and some jittery hand-held camerawork — to capture the vibrant intensity of the hormone-infused teenage world-view. Gunjak, who has herself mainly worked as an editor in the nine years since The Chicken, also benefits from the contributions of another seasoned collaborator in French cutter Clemence Diard, while Drasko Adzic's score is withheld until nearly the 40-minute mark and then subtly deployed.
Excursion is especially strong when it comes to dramatising the social and emotional dynamics between those caught in the tricky middle-ground between girlhood and maturity. Iman, her best friend Hana (Nadja Spaho) and their schoolmates are all acutely attuned to peer-pressure, while balancing competing conformist and individualist instincts.
The script advances no easy psychological explanation for Iman's damaging deceptions, the pair of lies upon which the plot pivots. Rather it is suggested that they emerge from the dysfunctional misogynistic social structures in which this intelligent and sympathetic individual finds herself enmeshed.
Production company: SCCA/pro.ba
International sales: Salaud Morisset, festival@salaudmorisset.com
Producers: Amra Baksic Camo, Adis Djapo
Cinematography: Matthias Pilz
Production design: Emina Kujundzic
Editing: Clemence Diard
Music: Drasko Adzic
Main cast: Asja Zara Lagumdzija, Nadja Spaho, Maja Izetbegovic, Mediha Musliovic, Izudin Bajrovic