Zac Efron plays Ted Bundy as an innocent man in Joe Berliger's edgy 'biopic'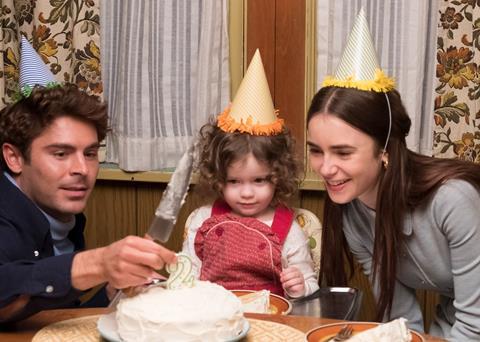 Dir: Joe Berlinger. US. 2018. 110mins
Ted Bundy always insisted he was innocent of the brutal murders he was accused of committing — as far as he was concerned, he was simply the victim of incompetent police work and bad timing. What's provocative about director Joe Berlinger's Extremely Wicked, Shockingly Evil And Vile is that he has, essentially, crafted the Bundy biopic that the convicted serial killer would have himself made. This daring but uneven film tries to crack the inner life of the violent, narcissistic pathological liar by presenting his story in the same sympathetic, self-aggrandising manner in which Bundy tried to sell it to others, focusing on the man's long-term relationship with single mother Elizabeth Kloepfer. Zac Efron projects the right amount of edgy, empty handsomeness, but the movie's conceit doesn't pay enough dividends — especially when trying to reconcile Bundy's distortions of reality with the actual terror he caused in the 1970s.
There's no inner conflict within the character, and Efron plays him with such unwavering conviction that it's monstrous precisely because we see no hint of monstrousness.
Premiering at Sundance, Extremely Wicked will court buyers on the strength of Efron's gutsy portrayal and our seemingly unending obsession with serial killers. The unorthodox narrative approach should also be a draw for adventurous art-house crowds.
Berlinger is best known for documentaries such as Paradise Lost and Brother's Keeper (both of them co-directed with recently deceased creative partner Bruce Sinofsky), and earlier this month he released through Netflix a docu-series about Bundy called Conversations With A Killer. But in Extremely Wicked, he tells a scripted story as Bundy (Efron) courts Liz (Lily Collins), who's instantly smitten by this good-looking, chivalrous man who doesn't seem bothered that she has a baby. But their romantic bliss is eventually interrupted by Bundy arrest on suspicion that he may have something to do with a series of killings across the American Northwest.
Extremely Wicked is hardly the first film to try to put us into the headspace of a psychopath, but Berlinger intriguingly normalises his subject, ironically fashioning the movie as a traditional innocent-man-falsely-accused courtroom drama, with Bundy cast as the screenplay's noble, resilient hero. Tellingly, only at the end of Extremely Wicked do we see Bundy commit his crimes — before then, the movie is a straightforward portrait of a happy couple, placing the viewer inside the bubble of Bundy's deception.
Efron never lets Bundy's mask slip, always projecting the man's utter confidence in his own innocence. What's fascinating about the actor's performance is that we always believe that Bundy believed he didn't kill those women. There's no inner conflict within the character, and Efron plays him with such unwavering conviction that it's monstrous precisely because we see no hint of monstrousness.
Berlinger's pokerfaced presentation of Bundy's deceit needs somewhow to explain how Liz could be fooled by this killer. Consequently, Collins has to walk a tightrope, demonstrating her character's love for Bundy without making Liz seem so naïve that she comes across as stupid.
In the film's early reels, Collins handles the task commendably, but once Extremely Wicked starts to shift its focus to Bundy's murder trial in Florida in the late 1970s, Liz becomes a peripheral figure whose unwillingness to acknowledge her boyfriend's crimes becomes preposterous. Collins and Berlinger want to show how Liz was blinded by devotion, but the character hasn't got enough dimensionfor us to understand why she's still drawn to him years after the relationship ended. Similarly, Extremely Wicked introduces us to another important person in Bundy's life, his old friend Carole Ann Boone (Kaya Scodelario), who became his lover and fiercest advocate during the trial. But as with Liz, Berlinger can't quite elucidate what drove Carole Ann to be his champion. Rather than humanising these relationships, Extremely Wicked makes them even harder to believe.
What we're left with is a very clever structural conceit that ultimately doesn't offer many insights into Bundy's warped mind. Berlinger holds off on showing the horrific nature of Bundy's murders until Extremely Wicked's final act so that we're shocked by the terrible things this handsome, charming fiend did. In a sense, Berlinger is trying to indict us along with people like Liz and Carole Ann — we've all been seduced by Bundy. But despite Efron's conviction and good looks, he gives us an inscrutable Bundy that never pulls us in. This potentially nervy portrait of a serial killer proves to be oddly bloodless.
Production companies: COTA Films, Voltage Pictures
US sales: CAA, filmsales@caa.com; and UTA, mcgrathj@unitedtalent.com
International sales: Voltage Pictures, jonathan.deckter@voltagepictures.com
Producers: Michael Costigan, Nicolas Chartier, Ara Keshishian, Michael Simkin
Screenplay: Michael Werwie, based on the book The Phantom Prince: My Life With Ted Bundy by Elizabeth Kendall
Production design: Brandon Tonner-Connolly
Editing: Josh Schaeffer
Cinematography: Brandon Trost
Music: Marco Beltrami and Dennis Smith
Main cast: Zac Efron, Lily Collins, Kaya Scodelario, Jeffrey Donovan, Angela Sarafyan, Dylan Baker, Brian Geraghty, Terry Kinney, Haley Joel Osment, James Hetfield, Grace Victoria Cox, Jim Parsons, John Malkovich