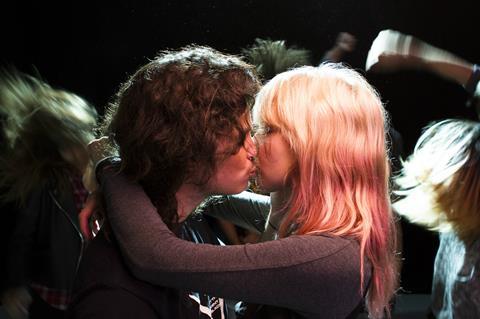 Dir/scr: Pascal Plante. Canada. 2017. 87min
Quebecois up-and-comer Pascal Plante spins an understated and slyly shifting tale of summertime romance with his feature debut Fake Tattoos. What begins as a two-hander with a pair of young thrashers, as they talk and flirt their way into bed and coupledom, eventually transforms into a more singular investigation of adolescent guilt and renewal. Taking a languid urban romance and turning it on questions of shame and abnegation, the film plays like a mix of Medicine for Melancholy and Manchester By The Sea rejiggered for the Y.A. set.
Plante allows the viewer to piece together the lead's wounded backstory through uneasy interactions, allusions and insinuations
Having premiered at the Vancouver Film Festival and taken home the Grand Prix at Montreal's Festival de Nouveau Cinema, Fake Tattoos will mark its international launch as part of Slamdance's main roster and the Berlinale's Generation 14plus programme ahead of a February theatrical run in Canada. Thanks to Plante's well-tuned eye for detail and subtly rewarding narrative approach, the title could prove of interest for other smaller-scale festivals and VOD programmers looking to highlight emerging francophone talent.
Things kick off on Theo's (Anthony Therrien) 18th birthday, a night the brooding young man hopes to spend alone, downing beers and losing himself in the mosh at a downtown metal show. But there he meets the slightly older, recently single Mag (Rose-Marie Perreault), who pulls him out of the crowd, into a local diner and into her life. Why single him out as her rebound? "A guy with a fake tattoo couldn't be much of a threat," she reasons.
Theo's press-on tattoos and the decidedly non-metal posters in Mag's room make for effective visual symbols, reiterating how unfixed these two youths are – both of them trying on new identities and approaches to life as they near adulthood. Plante's HD camera never forces the point, often capturing the young lovers and their environments in long, unbroken takes that allow all to simply exist onscreen.
As the more confident and self-assured Mag initially takes the reins, Theo's taciturn, almost bashful façade never falls, even as their relationship blooms. Around halfway through, one can't help but wonder, "just what is this guy's deal?" and, as if on cue, the film goes about answering that very question. In doing so, however, it also leaves Mag's perspective behind, focusing entirely on Theo's scars – both figurative and literal – and how he got to the point of being so guarded.
Working from his own script, Plante never resorts to flashbacks or overt speeches, instead allowing the viewer to piece together the lead's wounded backstory through uneasy interactions, allusions and insinuations. A seasoned sound editor, Plante furthers that strategy via the film's woozy audio design, where music abruptly cuts and bass notes drone on from one scene to the next – another point of entry into Theo's shaken headspace.
Production company: Nemesis Films
International sales: Seville International sevilleinternational@filmsseville.com
Producer: Katerine Lefrancois
Executive Producer: Caroline Gaudette
Cinematography: Vincent Allard
Editor: Pascal Plante
Production designer: Samuel Bolduc-Cloutier
Music: Dominique Plante
Main cast: Anthony Therrien, Rose-Marie Perreault, Lysandre Nadeau, Brigitte Poupart, Nicole-Sylvie Lagarde, Léona Rousseau, Rémi Goulet, Lauren Mallais-De Luca, Anyjeanne Savaria, Maxime-Olivier Potvin