Dir. Alicia Scherson, Cristián Jiménez. Chile. 2017. 81 mins.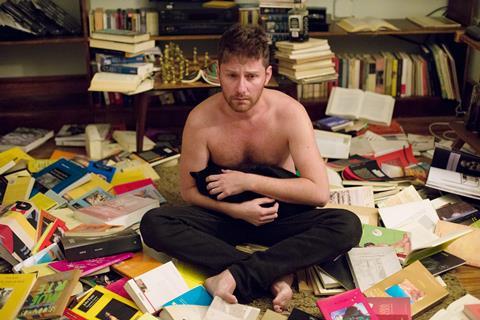 A tragicomic Chilean drama, this droll study of a forty year-old man who tries to replace his unsatisfactory life with an invented alternative unfolds in a distinct triptych structure. The first and the third chapters deal with academic Bruno (Cristián Carvajal) and his wife Consuelo (Blanca Lewin). But these are just bookends to the middle section: house sitter Martin (Jorge Becker), a distant cousin of Bruno's, moves into their airy family home while Bruno, Consuelo and their daughter live in France for three months. And for three months, Martin becomes someone else.
Inscrutable, with a stoniness which is probably just inertia but can be read as intensity by the more charitably-minded people he encounters, Martin has failed at life.
This collaboration between Chilean directors Alicia Scherson and Cristián Jiménez is adapted by Alejandro Zambra from his own story. (Jiménez also directed a feature film version of Zambra's previous novel, Bonsai). The film's world premiere in the international competition strand of the Sundance Film Festival should provide a high-profile platform from which further festival bookings will be assured. Theatrical sales, particularly among Spanish-speaking territories, are also likely, although the element that makes the story so intriguing – the unreliable and slightly creepy protagonist – might also prove to be its main marketing challenge.
The architecture of the family home – it is Scherson's real-life home in Barrio Yungay, Santiago – is central to the story. Bright, full of guileless light and and clean white walls, the home is a showcase for the family's identity. A poster for a Jean Vigo film, heaving bookcases and tasteful black-and-white photographs of the family mark them out as urbane intellectuals. Coming into this space, which has been claimed so comprehensively by its owners, Martin clutches what seems to be his only possession, a tacky musical cigarette box, and prowls from room to room. He rifles through closets and, in direct contravention of the rules of the house, he smokes everywhere, carving out small pieces of territory for himself.
Inscrutable, with a stoniness which is probably just inertia but can be read as intensity by the more charitably-minded people he encounters, Martin has failed at life. He doesn't even seem to be able to perform the basic functions – caring for the family cat, keeping the house in order – for which he has been recruited by Bruno. Pretty soon Misisipi the cat has vanished, and a shot from a camera placed at knee level in the living room peers through a graveyard of abandoned books and the scattered detritus of a short attention span.
But through the missing feline, Martin meets Pachi (Gabriela Arancibia), an alluring free-spirited neighbour who makes a living selling bootleg DVDs. On a whim, Martin invents a new backstory – he was abandoned by his wife, who took their daughter when she left the family home. Borrowing life story as well as wardrobe items from Bruno, he claims to be a college professor in Chilean poetry.
The soundtrack changes as Martin becomes more wedded to his new identity. The laid back, bluesy jazz that filled the film when Bruno and Consuelo were present gives way to Bach and Beethoven – Martin's choice for his created persona. But when the cat returns, bringing with it the reminder that its owners, too, will be back, the jazz once again takes over on the score.
Production company: Peso Pluma
Sales agent: Visit films info@visitfilms.com
Producers: Carlos Olivares, Fernando Bascuñán
Screenplay: Alejandro Zambra, Alicia Scherson, Cristián Jiménez
Cinematography: Cristián Petit Laurent
Editor: Soledad Salfate
Production design: Jorge Zambrano
Score: Caroline Chaspoul Eduardo Henríquez
Main cast: Jorge Becker, Gabriela Arancibia, Blanca Lewin, Cristián Carvajal