An impressive debut with 'a boisterous, anarchic energy to match its charismatic but self-destructive subject'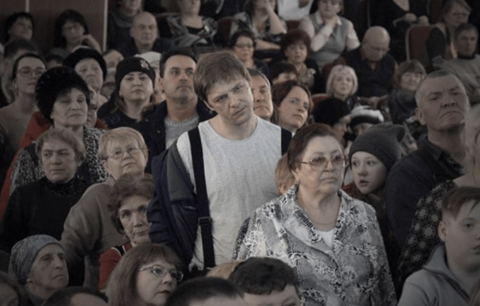 Dir-scr: Julia Sergina. Russia. 2021. 85 mins
"It's better to be a clown than a slave." So claims Viktor Toroptsev, a taxi driver and self-described "toothless, terrible Far Eastern savage" who takes on the Russian state on behalf of his decaying homeland of Khabarovsk Krai in the Eastern fringes of the country. It's a Siberian wasteland which has been all but abandoned by the central government and a sizable proportion of its own people – 22% of the population has left since 1991. Viktor's one-man rebellion takes the form of a riotously amateurish vlog and Youtube channel, which, after a rocky start, gains in popularity, bringing him to the attention of the authorities. This impressive debut has a boisterous, anarchic energy to match its charismatic but self-destructive subject.
A vivid portrait of a man and his homeland
The first feature from Julia Sergina, Far Eastern Golgotha started out as her student graduation film but came together to be a compelling character study which has enjoyed a warm reception on the festival circuit. Prospects beyond the world of non-fiction film festivals might include a release through a specialist streaming platform. Certainly the picture should serve as a launchpad for Sergina's career and a showcase for her sharp eye for the telling details which make this such a vivid portrait of both the man and his homeland.
"A man that doesn't bind his fate and the fate of his children to his land is a traitor," announces Viktor in one of his typically rabble-rousing addresses. Peppered with profanity and filmed and broadcast from what looks like the inside of a skip, Viktor's early ventures into the world of vlogging are unpolished. Comments left by viewers deride his uncouth manner, dismissing him as 'scum' and an 'armchair revolutionary'. But Viktor is a natural in front of the camera, combining passion for the Amur region with an earthy charisma (he looks like a Russian Sean Bean who has been sleeping on a park bench for a month or two) and a fair amount of gallows humour. In one blog post, he offers a guided tour of his dying town, Amursk. Pausing next to a derelict husk of a building, he notes the former site of the barracks. "Just dick pic on fence left."
His everyman appeal catches the eye of Michael Potapenkov. Educated, tech-savvy and currently working for opposition leader Alexei Navalny (who, it's worth noting, was later poisoned with novichok and imprisoned), Michael has, on the face of it, little in common with Viktor. But a friendship develops between the two, and, under the guidance of Michael, Viktor's vlog starts to connect with an audience. But when Viktor and Michael are pulled in for questioning by the police, Viktor's lack of political smarts lands them both in hot water.
A ticking pulse on the score underlines the mounting cost of speaking out and a sense that, for Viktor, time might be running out. It's something that he himself agrees with. Rather melodramatically, he tells his long-suffering wife that he doesn't expect to live to forty. She's less than sympathetic. "Die before forty? What will make you die? Your sofa?" But the film, with its sense of barely contained chaos captured through the rattling agitation of the editing, shows how a question mark hovers over the survival of men who find themselves at odds with the Russian government.
Production company: Staya Doc Film Studio
International Sales: Staya Doc Film Studio Mail@Stayadoc.Com
Producer: Alexander Balashov, Karina Sharafutdinova, Anastasia Kochetkova, Andrey Ananinsuitably
Cinematography: Vladislav Bakhanovich, Arseny Kayadatsky Adislav Bahanovich, Arseny C
Editor: Julia Sergina