Dir. Thomas Vinterberg, UK, 2014, 119 mins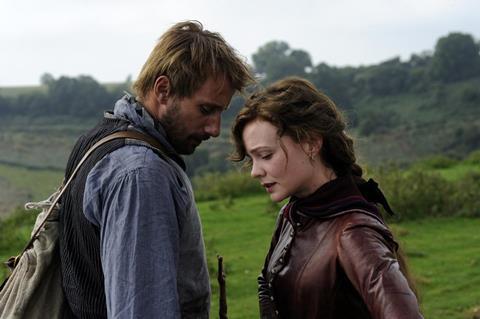 Carey Mulligan shoulders the load for Danish director Thomas Vinterberg as he adapts Thomas Hardy's Far From The Madding Crowd, the Victorian writer's fourth novel which – although harsh at times – is far kinder to its protagonist than his later works. This pastoral, pedigree film which relates the story of proto-feminist farmer Bathsheba Everdene and her three suitors (played by Matthias Schoenaerts, Michael Sheen and Tom Sturridge) boasts fine performances and pristine technical credits, but fails to make a deep connection as it jolts awkwardly towards a sweet finale. It's a title to be admired, certainly, but for all its visual fireworks, Far From The Madding Crowd doesn't truly ignite an emotional spark.
Although Far From The Madding Crowd runs to two hours, there's a strong suspicion that an extra 15 minutes might have helped, not harmed, this piece
Fox Searchlight will expect Far From The Madding Crowd, which premieres in the UK on May 1, to draw fans of upmarket period fare, and can probably count on respectful, if not entirely glowing, notices, marking out Carey Mulligan's intelligent performance (which will almost certainly be mentioned in year-end awards chatter). Charlotte Bruus Christen's ravishing camerawork demands attention, alongside costuming by Australia's Janet Patterson.
Bringing in production designer Kave Quinn to recreate 1874 Dorset (Hardy first referred to Wessex in Madding Crowd but did not appear to set the story there), Vinterberg (The Celebration, The Hunt) becomes the latest in a long list of directors to be drawn to Hardy; the first film adaptations of the Victorian writer's work appeared while he was still alive. Far From The Madding Crowd was most memorably brought to the screen in 1967 by John Schlesinger, with Julie Christie playing Bathsheba, and this is the production, shot by Nicholas Roeg, to which Vinterberg's work will be most compared (it was re-released in the UK in March, notching just over £6,000 in five sites on its opening weekend). Neither version should emerge the 'winner', though: each has its own merits and all Hardy adaptations, to a certain extent, labour under the shadow of Polanski's wild artistry in 1979's Tess.
Vinterberg, Oscar-nominated for The Hunt, has previously made two small, indifferently-received English language films in Dear Wendy and It's All About Love, and Far From The Madding Crowd is a step up in scale, although its commercial appeal will have more in common with Cary Fukunaga's reserved Jane Eyre than with Ang Lee coming to the UK to make a boisterous Sense & Sensibility.
The writer David Nicholls (One Day, Starter for 10) cut his teeth on pedigree adaptations with Mike Newell's Great Expectations in 2012, but Far From The Madding Crowd is a trickier prospect. Hardy's novel is over 300 pages long, and Bathsheba Everdene is a headstrong, infuriatingly quixotic, character. Nicholls/Vinterberg force her passion for army officer Sergeant Troy (Sturridge) to the fore with an extraordinary swordplay sequence, although the thorny issue remains of why she would refuse the attentions of Farmer Oak when he's played by the oh-so-handsome, brooding Matthias Schoenaerts.
Bathsheba (Mulligan) is an orphan working on her aunt's Dorset farm when she is approached by the up-and-coming farmer Gabriel Oak, whom she turns away. Their fortunes are quickly reversed though, when Bathsheba inherits her uncle's grand farm, and Oak loses his flock in a devasting, bitterly Hardy-esque sequence when his inexperienced sheepdog drives the sheep off a cliff.
Bankrupt, Oak winds up working for Bathsheba after he stops on her land to help put out a fire. He becomes a friend and a witness to her half-hearted flirtation with lonely landowner William Boldwood (Sheen) and a quick, ill-advised marriage to Sergeant Troy (Sturridge), who is still in love with runaway servant girl Fanny (Juno Temple).
Up to this point, Vinterberg's Far From The Madding Crowd has felt secure and confident in its storytelling, pausing even for Mulligan and Sheen to sing entire songs. Suddenly, though, the pace quickens, and there's no time to give Sergeant Troy the scantiest of character arcs - he declares his love for new wife Bathsheba in the same sequence as he's revealed to be a drunk and a cad. When Fanny and her baby die and are brought to Bathsheba's farm house, their corpses seem gratuitous and underscore how the film has somehow lost its emotional connection. Vinterburg briskly begins to wrap things up in what looks like a race for the door.
The film's hiccups can't be laid at the actors' feet. As Bathsheba Everdene, Carey Mulligan is bright, light and nuanced. Bathsheba makes some incomprehensible choices in her life – like many of Hardy's heroines – but the actress has the charisma to keep the audience with her. Belgian actor Shoenaerts struggles with the accent of a West County farmer, as might be expected, but is a perfect ballast for the piece. And even though Tom Sturridge suffers the most from having a two-dimensional character, this talented actor manages to power through his scenes. Michael Sheen is also affecting, even in the brief time he's given. Although Far From The Madding Crowd runs to two hours, there's a strong suspicion that an extra 15 minutes might have helped, not harmed, this piece.
Of note is Charlotte Bruus Christensen's camera work – some may claim that Hardy's vision is wilder than the bucolic, Joshua Reynolds-style haystacks she delivers, but Far From The Madding Crowd was his most pastoral novel (Vinterberg shot in Dorset, Somerset and Oxfordshire). She moves to capture brooding darkness and moments of intense light – her camera illuminates the emotions and high drama on display, from a dappled twilight, where the buttons on Bathsheba's dress grow luminous, to the crisply empty winter vistas and the bitter snow of Boldwood's doomed Christmas celebrations. Production design by Kave Quinn presents deep tableaux for the viewer to fall into, and many will relish the experience.
Production companies: DNA Films
Contact: Fox Searchlight, www.foxsearchlight.com
Producers: Andrew McDonald, Allon Reich
Screenplay: David Nicholls
Cinematography: Charlotte Bruus Christensen
Editor: Claire Simpson
Production design: Kave Quinn
Music: Craig Armstrong
Costume design: Janet Patterson
Main cast: Carey Mulligan, Matthias Schoenaerts, Tom Sturridge, Michael Sheen, Juno Temple, Jessica Barden