Ekwa Msangi's impressive debut tells the story of three immigrants who haltingly attempt to rebuild a family and a home in Brooklyn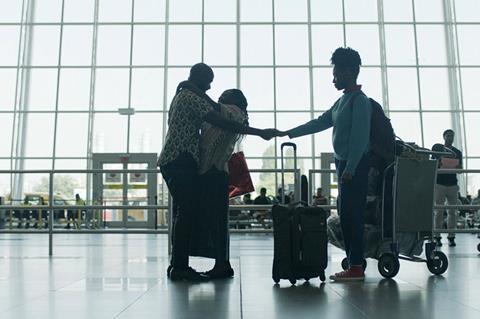 Dir/scr. Ekwa Msangi. US. 2020. 101 mins.
It's the sheer, almost sensual fluidity of Farewell Amor which lingers. A triptych in the sense of being a true artwork, Ekwa Msangi's film is a delicate three-act, three-hander which is incisively and sensitively framed, shaded and scored. It's the evocative story of a New York cab driver from Angola who is finally reunited with his wife and daughter after 17 years, but Farewell Amor is also the tale of every immigrant whose heart looks to express itself in radically changed circumstances.
A highly accomplished debut by a compelling new voice.
Msangi is US-born, Kenya-raised and a graduate of NYU. Farewell Amor premiered at Sundance in January in the US Competitive section, and now shows in the Cannes Market through Film Constellation, where it should move onto the radar for buyers and festivals alike. It's small-scale, certainly – most of the action takes place in a tiny one-bedroomed Brooklyn apartment – but crafted and deliberate in the way it moves through cramped spaces and bursts of exhilarating freedom as these three individuals try to find their place in a strange new home.
All leads impress, but Ntare Guma Mbaho Mwine (Showtime's The Chi) gives a particularly memorable performance which could see the 50-something actor recognised with awards in the indie arena, should the film gain traction (it should). He plays Walter, who left Angola 17 years ago and has been trying to bring his wife Esther (Zainab Jah) and daughter Sylvia (Jayme Lawson) to the United States ever since. He's been sending money back to them while eking out an existence in the tiny flat – so small that two people can't be together in the corridor. The film starts with the family's awkward reunion at LaGuardia airport, and returns to the scene from the three differing perspectives, the camera ebbing and flowing with its three subjects.
Walter is the most complex character, and Mwine draws him expressively. It's clear from early on that Walter has had a relationship in those 17 years, and we soon see how torn he is, because he has spent all that time trying to bring Esther and Sylvia into the country but their arrival means he has to leave the nurse Linda (Nana Mensah) who encouranged him to persevere. He fled Angola in the country's civil war, and scars remain. He is hurting, heartbroken even. There are times when Walter seems beaten and old, yet in others he comes alive and we see the sexy, charismatic man that he is at heart. The music of Angola and the 'Kisomba' dancing he loves provides a connection with his daughter, who has never known her father and is awkward and distanced in her new life.
Esther, meanwhile, has turned to God in Walter's absence, and is alternatively hurt, and fiercely obstinate. Her extreme piousness puts her at odds with Walter and Sylvia, but it's also a carapace on years of hurt and loneliness. There's a wonderful cameo from Joie Lee as a savvy neighbour who gives Esther some under-stated advice.
Each story brings the viewer into that tiny apartment, each seen by a different set of eyes. It's impressive to see how Msangi uses subtle changes in lighting and perspective so that we see the place afresh each time. She has written an authentic story about the immigrant experience in America, and layered it, coloured it, flavoured it with music and dance. It's not an angry or polemical piece and that somehow makes it all the more powerful in its own understated way; Farewell Amor is a humane work first and foremost. This is an accomplished debut by a compelling new voice.
Production company: Outrageous Pictures, Department of Motion Pictures
International sales: Film Constellation
Producers: Huriyyah Muhammad, Josh Penn, Sam Bisbee, Ekwa Msangi, Joe Plummer, Bobby Allen
Screenplay: Ekwa Msangi
Cinematography: Bruce Francis Cole
Production design: Virginia Hastings, Lance Mitchell
Editors: Jeanne Applegate, Justin Chan
Music: Osei Essed
Main cast: Ntare Guma Mbaho Mwine, Zainab Jah, Jayme Lawson, Nana Mensah, Joie Lee, Marcus Scribner