This 'decidely offbeat' holiday offering sees Mel Gibson playing a gun-toting Santa Claus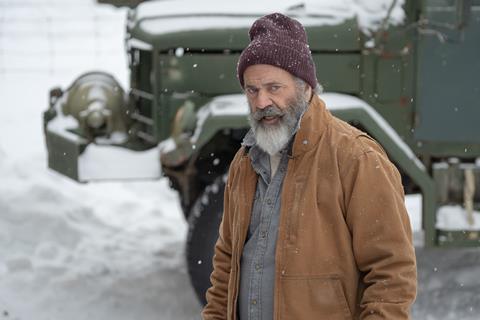 Dirs/scr: Ian Nelms, Eshom Nelms. US. 2020. 100mins.
Powered by the optimistic belief that the sight of Mel Gibson as a grumpy, gun-toting Santa Claus is sufficient to sustain an entire film, Fatman has its wicked charms, but ultimately this cheeky action-comedy is a lot of buildup without sufficientpayoff. Writer-directors Ian Nelms and Eshom Nelms have dreamed up a world in which Father Christmas is real — and facing financial woes while being hunted down by an oddball hitman — and the cast and crew's commitment to that knowingly ludicrous conceit can be very amusing. But the B-movie pleasure is fleeting, resulting in a film that demonstrates the Nelms brothers' cleverness, albeit at the expense of a satisfying story.
You think I got this job because I'm fat and jolly?
Fatman opens in select US theatres on November 13 followed by digital and on-demand November 24. Gibson's waning commercial clout will be called upon to lure viewers to this decidedly offbeat holiday offering, and those who enjoy their yuletide entertainment spiked with sarcasm, a la Bad Santa, may savour Fatman's lump-of-coal sense of humour.
Chris Cringle (Gibson), who lives in remote Alaska with his supportive wife Ruth (Marianne Jean-Baptiste), is the one and only Santa Claus, bringing toys to all the good girls and boys every Christmas Eve. Perhaps wisely, the Nelms brothers (Small Town Crime) don't belabour the logic, putting their faith in the fact that their target audience will simply relish a wild-eyed Gibson in a bushy grey beard which makes him look less like the traditional Father Christmas and more like a middle-aged Mad Max.
Because children are becoming less well-behaved, Chris has fewer toys to deliver. This sees him fall afoul of the American government, which heavily subsidises his enterprise and is disappointed with his output of late. Fearful of losing his contract, Chris must agree to allow the military into his factory so the loyal elves can help build parts for warplanes.
The intricacies of Santa's operation are Fatman's least-interesting element. More effective, and certainly funnier, is the introduction of Billy (Chance Hurstfield), a spoiled kid who, incensed at his Christmas list being rejected by Santa, hires an assassin known simply as Skinny Man (Walton Goggins) to kill him. As is the case with just about everyone in Fatman, the hitman is most memorable because of his strange quirks — he won't go anywhere without his pet hamster — and soon he's on the road to track down Chris.
In its early stretches, the film has fun playing this premise straight, imagining a reality in which not only is there a Santa Claus but one who exists in a Tarantino-esque genre flick. What may disappoint potential viewers, however, is that Gibson engages in very little violence — this isn't a hardcore shoot-'em-up in the vein of his other recent low-budget star vehicles such as Blood Father and Dragged Across Concrete.
For most of its runtime, Fatman is actually a tongue-in-cheek character study. (The overworked and under-appreciated Chris has become disillusioned that the world has lost its kindness, provoking him to wonder if it's time to finally hang up his sleigh.) Only when Chris confronts the hitman in a wintry third-act showdown does Fatman become a proper action film — setting the stage for Chris, as he's about to engage in a firefight with Skinny Man, to bellow menacingly, "You think I got this job because I'm fat and jolly?"
That's a funny line, but the Nelms brothers don't fully capitalise on their high-concept idea, giving us too much world-building and too many flagrantly weird characters. The bizarreness becomes an end in itself, and the filmmaking isn't stylish or kinetic enough to energise the proceedings. Most disappointing, though, is the casting of Gibson. Presumably, the filmmakers want to be provocative by having an actor known for his onscreen intensity and frequently abhorrent offscreen behaviour play the gentle, pure-hearted Santa Claus. But although the actor has a tender rapport with the lovely Jean-Baptiste, the role is so obviously against type that the inevitable revelation that his character is actually handy with a pistol is hardly a surprise or especially cathartic.
Tapping into Fatman's snarky vibe, Goggins brings an unhinged electricity to Skinny Man, who is nursing his own grudge against the titular gift-giver that goes back to his own childhood. But like the film in general, his performance never entirely transcends the script's one-joke novelty, with the result being neither naughty nor nice.
Production company: Mammoth Entertainment
International sales: Fortitude International, info@fortitudeint.com
Producers: Michelle Lang, Robert Menzies, Todd Courtney, Nadine de Barros, Lisa Wolofsky
Production design: Chris August
Editing: Traton Lee
Cinematography: Johnny Derango
Music: Mondo Boys
Main cast: Mel Gibson, Walton Goggins, Marianne Jean-Baptiste, Chance Hurstfield