Dirs/scr: Tomas Bojar, Rozaile Kohoutova. Czech Republic, 2016.  76  mins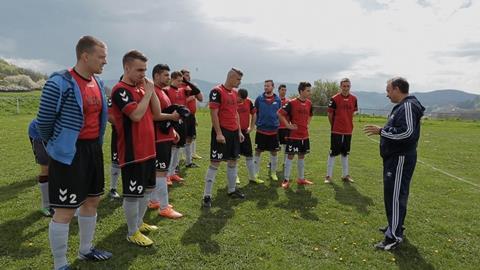 Football is not a matter of life and death, it's much more serious than that in FC Roma. Tomas Bojar and Rosalie Kohoutova's lively, engaging documentary follows a team in the lowest league of Czech football as it struggles to make headway against the preconceptions of opponents who would rather forfeit a game than shake hands with a team primarily consisting of Romany players. This thoughtful account of pride and prejudice is accessible to a much wider demographic than fans of the beautiful game and should be a star player for HBO Europe and ancillary markets.
FC Roma is not a one-sided, rosy-eyed view of the Romany community
It seems heavily ironic when UEFA and the football world have galvanised themselves to back No To Racism campaigns that FC Roma is confronted by nothing but bigotry. Potential opponents seem to anticipate games defined by violence on and off the pitch. Passionate, hard-working coach manager Pavel Horth stoically endures another rejection on the flimsiest of grounds. Even when FC Roma does secure a fixture, the abuse from the spectators is shocking. " I'm not racist but people should be white," cheerily confides one woman as those around her invoke the name of Hitler.
The subject of racism in sport is ample enough to sustain a documentary but FC Roma widens out into an examination of the racism that seems endemic in Czech society. The Romany players are refused service in a bar because they are not in possession of a seemingly non-existent club membership. People expect them to be lazy spongers taking from the state and contributing nothing to society. "All they do is steal from us and beat us up," declares one of those interviewed.
Sympathy is completely on the side of FC Roma who merely want to play a game of football. Bojar and Kohoutova have some colourful personalities on their side to make the viewer an FC Roma supporter, not least big-hearted goalkeeper and assistant coach Patrick Herk. A tall, imposing figure who is rarely seen without some food in his hand, Herk is always the voice of reason, standing up to make himself count in any situation. He works as a bin man and his conversations with a colleague as they trundle along their route would be worthy of a television series in themselves. His exchanges with Horth always manage to find a glimmer of humour in their darkest hours. "We're last on the list in this country," laments Horth. "We're not on the list," counters Herk.
FC Roma is not a one-sided, rosy-eyed view of the Romany community. The filmmakers have been granted access to clashes on the pitch, pep talks in the changing room and rueful reflections in the aftermath of matches. Conversations are unguarded and we are allowed glimpses of some of the prejudices in the Romany community, with casual insults aimed at the gay community and members of other races.
Some of the players are no saints, with Pavel giving a kindly, mild-mannered warning to lay off the weed. There is discussion of all the problems with alcohol and drug addiction in the Romany community, unemployment and a variety of social issues. There are gestures made towards exploring the complexity of the issue.
Horth remains a great advocate for sport as a means of channelling the energies and ambitions of the next generation, keeping them off the streets and giving them something to do. "If Spain can have a Messi then so can the Czechs," he argues. It is all the more dispiriting then when teams do not even turn up for a game against FC Roma. "Where in the world does someone refuse to play another team?" he asks in this entertaining documentary which raises a lot of questions about how difficult we find it to love our neighbours.
Production companies: Nutprodukce, HBO Europe
International sales: Nutprodukce info@nutprodukce.cz
Producer: Pavla Janouskova Kubeckova
Cinematography: Jifi Chod, Rozalie Kohoutova
Editor: Evzenie Brabcova