Dir: Roan Johnson. Italy. 2016. 98 mins.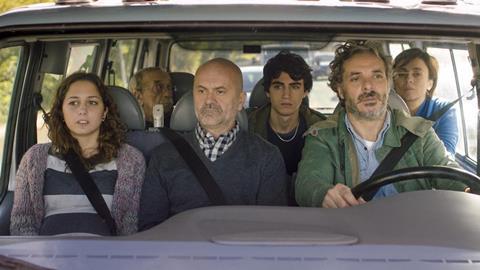 Comedy, they say, doesn't translate well. That's certainly true of the charming but conventional Italian teen pregnancy tale Feather (Piuma) which, although it will strike chords both comic and dramatic when released to local audiences by Lucky Red on 20 October, risks coming across as an inferior Latin imitation of Juno to those who are forced to read the subtitles.
Slick editing and a fresh, spontaneous handheld shooting style do their best to paper over the story's featherweight dramatic structure
That's because the characters' Roman accents and voices are central to the appeal of a film that draws on the Italian capital's working-class outskirts for its slightly nostalgic vision of the city as a chaotic but caring support network of genial chancers, best buddies and families that express their love by shouting at each other a lot. Not necessarily well-served by the pressure of its Venice competition slot, this is nevertheless a small but likeable film that, with only the occasional dramatic lull, spins out one good question for just over ninety minutes: why has our increasingly anxious society turned of the most natural things in the world – having a baby – into a trauma and a problem?
With little originality in its nine-month chapter structure, little true dramatic jeopardy to leaven its warm glow and an ending that might have been written via audience referendum, Feather relies on solid casting, acting and the deft handling of comic timing and dramatic tension within single scenes to bring to life the story of high-school partners Ferro (Fedele) and Cate (Yoshimi), who we first meet when Cate has already discovered she's pregnant.
He's a Roman lad with a supportive mother and an irascible dad who, after thirty years doing a Mcjob, dreams of moving to the Tuscan countryside; she's sweet but tough, taking no nonsense from her well-meaning but permanently broke gambler of a father, who has enough problems looking after himself. Ferro's ailing, sharp-tongued grandfather, who lives in the flat upstairs, and buxom New Age physiotherapist Stella, who ministers to the latter's needs, help out with one-liners, comic shading and one important plot twist.
The young couples' close group of schoolfriends – with whom they're planning a road trip after the upcoming high school finals – keep this cross-generational film with one foot at least in the tried-and-tested Italian 'that summer after the exams' teen comedy genre. This is underlined by a cute alt-rock soundtrack and an engaging fantasy sequence in which Ferro and Cate swim across the flooded streets and rooftops of their Roman quartiere.
Slick editing and a fresh, spontaneous handheld shooting style do their best to paper over the story's featherweight dramatic structure, which is felt above all in a foot-dragging middle section. But if this film is mostly a succession of scenes hung out on a narrative clothes-line outside an apartment somewhere off Rome's Via Tuscolana, that's okay too. Because some of those scenes – like one in which Ferro visits his dad to confess a secret, in the storeroom where the latter is sleeping off a marital row – are gems of comic acting, timing, and writing, worthy almost of golden-age Woody Allen.
Production companies: Palomar, Sky Cinema
International sales: True Colours, catia@truecolours.it
Producers: Carlo Degli Espositi, Nicola Serra, Marco Camilli, Luigi Pinto
Executive producers: Patrizia Massa, Nils Hartmann, Roberto Amoroso, Sonia Rovai
Screenplay: Ottavia Madeddu, Carlotta Massimi, Davide Lantieri, Roan Johnson
Cinematography: Davide Manca
Editors: Paolo Landolfi, Davide Vizzini
Production designer: Mauro Vanzati
Music: Paolo Tomio
Main cast: Luigi Fedele, Blu Yoshimi, Michela Cescon, Sergio Pierattini, Francesca Colella, Francesca Antonelli, Bruno Sgueglia, Francesca Turrini, Brando Pacitto, Clara Alonso