Tom Hanks, a robot, and a scene-stealing dog take a road trip across a devastated America for Apple TV+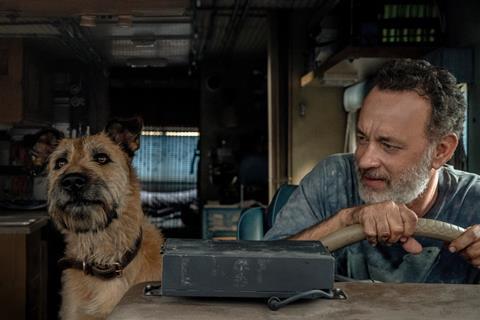 Dir. Miguel Sapochnik. US. 2021. 115 mins.
Tom Hanks, an adorable dog and a bumbling robot take to the road in a post-apocalyptic America in this Disney-ish family entertainment, produced indeed by Amblin Entertainment but this time for AppleTV+ (from November 5). It's hard to tell which of the cast is more winning, but all credit to a grizzled Hanks for sharing the screen with a scene-stealing mutt and a bucket of screws.
Houses a terrifying dystopian scenario in a dog-kennel of cuteness
Family-focused to a fault - notwithstanding its too-long running time - Finch is named after protagonist Finch Waldestein (Hanks), who has survived an environmental catastrophe and lives by himself in an underground laboratory with robots he has constructed and a stray dog named Goodyear whom he adores. A robotics engineer, Finch is creating Jeff (voiced by Caleb Landry Jones) to look after Goodyear when he is no longer around — which will happen sooner rather than later due to irreparable radiation damage.
This soft sci-fi hits all the hot-topic buttons for today's younger teens, concerned about the environment and their own futures. It also houses a terrifying dystopian scenario in a dog-kennel of cuteness: Josh, the 'newborn' robot voiced winningly by Landry Jones, starts out speaking like Stephen Hawking (with a Russian accent) and makes many sweetly-destructive teenager-y mistakes until he comes into his own and finds the voice of an American boy. Goodyear is played by a real-life stray dog called Seamus who all but chews on the camera and runs off with it. The robotics and creature design, initially on display in Dewey, a dumpy WALL-E-like modified lunar rover, and later in the striking concept for Josh, are first-class.
Adults, though, may require something more in the way of drama from this road trip. Finch keeps to his workshop in a blighted St Louis - and the occasional (dog)food raid - until he realises time is running out, and the trio takes to the road in his specially-designed camper van in search of the Golden Gate Bridge. All the peril en route comes - repeatedly - from weather events, and Hanks has to work overtime to convey terror when there's nothing tangible in pursuit. On one occasion, our heroes are followed by a car, but no human ever emerges from it. Neither does Finch ever run out of water, or gas, or battery power for Josh (certainly a problem after the van's solar panels are crushed).
The scenario is familiar: a blend of everything from The Postman to The Martian, in which a sole survivor must dig deep - and, in this case, pass the knowledge of the human race (or 72 per cent of it) on to Artificial Intelligence before he dies. The only real twist is a dog, and he's not saying anything. Yet Game Of Thrones director Miguel Sapochnik finds a certain goofy appeal in this scenario, and editing by Tim Porter is deft enough to add the energy that the film can otherwise lack.
A project driven by veteran British film-maker Ivor Powell from a script by Craig Luck, Finch follows on from Tom Hanks' collaboration with AppleTV+ last year, the somewhat sharper-edged Greyhound, and last year's awards contender News Of The World. These heroic, stoic characters have always suited the actor, and moreso with the gravitas of age. It's hard to think of another performer generous enough to pull something like Finch off, and despite his cute co-stars, it almost never works when Hanks is off the screen, something that becomes increasingly problematic by the end.
Production companies: Amblin Entertainment, Reliance Entertainment, Walden Media, ImageMovers, Misha Films
Worldwide distribution: AppleTV+
Producers: Kevin Misherj, Jack Rapke, Jacqueline Levine, Ivor Powell
Screenplay: Craig Luck, Ivor Powell
Production design: Tom Meyer
Cinematography: Jo Willems
Editing: Tim Porter
Music: Gustavo Santaolalla
Main cast: Tom Hanks. Caleb Landry Jones