Dir: Claudio Giovannesi. It-Fr. 2016. 110mins.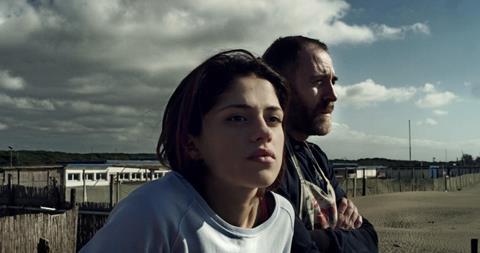 Italian director Claudio Giovannesi specialises in small, real films that get under the skin of a conflicted character. Some, like the recent Wolf, are documentaries, others – like his 2012 outing Ali Has Blue Eyes, an engrossing study of a young Muslim kid torn between two cultural codes in a Roman satellite town – deploy non-professional actors in scripted stories that emerge gradually from months or years of research.
The refusal to find a way to wring drama out of realism lets down a small film that is at its best in moments of quiet detail
That's a necessary preamble, because the weakness of this Italian juvenile-correction-facility romance lies precisely in the fact that the clichéd story is not nearly as strong as the undoubtedly authentic observations that underpin it. There's a handheld immediacy to the film, and a deal of tenderness and anger in its portrait of young offender Daphne, whose tough exterior conceals a desperate need for affection. But in a script that seems wary of too much dramatic tension – unless it's of the foot-chase variety – it all makes for a flatline audience experience. Released in Italy on 25 May, a week after its Director's Fortnight debut, Fiore should join the queue of worthy local indie films that do little business at home and less abroad.
As with Ali, there's a grey zone between actor and role in Fiore: many of the kids portrayed in a film that spends much of its running time inside the walls of a juvenile prison are former inmates. The only hint of this blur within the film comes during the end titles: lead character Daphne is played with grit and passion by newcomer Daphne Scoccia, her prison crush Josh by another first-timer, Josciua Algeri – and so on.
Daphne is a dark-eyed drifter who steals a smartphone (and its password) at knifepoint whenever she needs some cash. Inevitably, she ends up in a prison for young offenders, where she immediately becomes ostracised by the other girls in her section – but it's an isolation she courts, as this difficult kid who sets light to her mattress just to see it burn has big self-esteem problems. These are rather too obviously connected to the phone calls the wardens make on her behalf to a father, himself (we come to realise) on parole, who at first never answers. But there's promise in these early scenes, which come with a refreshing lack of backstory, while Daphne herself is engaging, punchy yet vulnerable.
But around halfway in, we're forced to surrender to the fact that Fiore is, at heart, a conventional teen love story, as Daphne finally thaws in the face of the advances of cocky Josh, a detainee in the male part of the prison. There's a point when we feel the danger in this violent, self-regarding lothario who initially uses Daphne to contact his estranged (and abused) girlfriend in Milan. But the sense that this fragile young woman might be about to exchange one prison for another is allowed to fade, just as the conflict with dad (Italy's go-to streetwise 40-something, Valerio Mastandrea) is resolved with a beach-shack pasta dinner and plenty of magic-hour sunset light.
Abetted by the director's own co-composed soundtrack – sparingly used, but just a little too saccharine when it does come – this refusal to do a Dardennes Brothers or a Ken Loach and find a way to wring drama out of realism lets down a small film that is at its best in moments of quiet detail – a sorority tattoo session, or the wry juxtapositon of Sunday masses, in prison and out, which say more about human frailty than supreme beings.
Production companies: Pupkin, IBC, Rai Cinema
International sales: RaiCom, mattia.oddone@rai.it
Producers: Rita Rognoni, Beppe Caschetto
Executive producers: Valerio Mastandrea, Gianni Zanasi
Screenplay: Claudio Giovannesi, Filippo Gravino, Antonella Latanzi
Cinematography: Daniele Ciprì
Editor: Giuseppe Trepiccione
Production designer: Daniele Frabetti
Music: Claudio Giovannesi, Andrea Moscianese
Main cast: Daphne Scoccia, Josciua Algeri, Laura Vasiliu, Valerio Mastandrea, Gessica Giulianelli, Francesca Riso, Klea Marku, Tatiana Lepore, Aniello Arena