Ethan Hawke shines as a tormented man of God in Paul Schrader's latest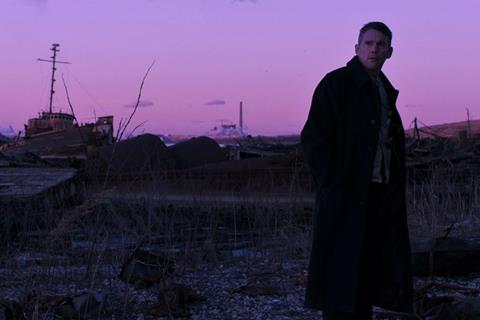 Dir/scr: Paul Schrader. US. 2017. 112mins
Thoughtful, moving, overreaching and uncompromising, First Reformed is a tremendously tormented work from writer-director Paul Schrader. Even though some of its risks don't pay off, the piece's emotional anguish ensnares the viewer in the same dark cloud consuming the main character. Ethan Hawke delivers a performance full of grace and sorrow as a Christian minister whose wrestles with faith will be familiar to fans of Schrader's previous portraits of existential and spiritual despair.
First Reformed belongs to Hawke's impassioned, agonized portrayal
Premiering in Venice before playing in Toronto, First Reformed finds Schrader moving away from the lurid genre kicks of The Canyons and Dog Eat Dog and back to his typically intense character studies. Hawke and co-star Amanda Seyfried bring commercial visibility to a movie that's sure to be deeply divisive, but the story's blunt ruminations on global warming and organized religion should attract adventurous indie distributors.
Hawke plays Toller, a former military chaplain who now leads a tiny church in upstate New York. His faith appears a bit shaky, however, and it's only further tested when he meets Mary (Seyfried), a pregnant wife who asks him to speak to her depressed, activist husband Michael (Philip Ettinger). Toller soon learns that Michael is in favour of aborting the child because he's convinced the planet will soon be destroyed by powerful corporations fatally polluting the environment.
First Reformed recalls both Taxi Driver (which Schrader wrote) and Light Sleeper (which he wrote and directed) in that it chronicles the dark nights of the soul of a solitary man who speaks to us in voiceover. But unlike those previous violent antiheroes, First Reformed's protagonist is a decent, albeit conflicted individual who's grappling with a possible cancer diagnosis — a bleak prospect that perhaps influences his choices in the film's later reels.
Following a tragedy involving Mary and Michael, First Reformed slowly grows in ambition and setsToller on a surprising path. But as the film's full scope starts to become clear, Schrader and Hawke fearlessly chart the character's inner journey — even if it seems extreme, even implausible. The audience is presented with incidents that possibly trigger Toller's transformation; notably, his realization that a local energy company which subsidizes his church is a major polluter. Yet the character's actions are meant to remain somewhat inexplicable, an indication of how his spiritual searching has merged with a certainty that he needs to do something drastic to change the world.
Schrader's narrative brusquely brushes up against several provocative themes: the corporatization of religion; the fear that global warming has doomed humanity; the questionable effectiveness of political protest; and the dangers of radicalization. Thankfully, Hawke mostly humanizes these talking points as a man who believes that God has saved him but can't shake the suspicion that he isn't worthy. His voice wavering, and sometimes fighting back tears, Toller tries to lead by example, showing compassion to those around him. The character's dark secrets and his growing attachment to Michael's aggressive activism, however, make him question what role God has in mind for him.
Seyfried is sweetly understated as an expectant mother who forms a close bond with Toller through their shared grief. Victoria Hill breaks the heart as a choir teacher with unrequited feelings for Toller. And stand-up comic Cedric Kyles (better known as Cedric The Entertainer) gives a layered turn as a megachurch pastor who's as concerned with church finances as he is with scripture.
But First Reformed belongs to Hawke's impassioned, agonized portrayal. Schrader tests his audience's empathy by making Toller's actions increasingly outrageous, but his star provides an emotional through-line for us to hold onto.
Production companies: Killer Films, Omeira Studio Partners, Fibonacci Films, Arclight Films International
International sales: Arclight Films, ruzanna@arclightfilms.com and lina@arclightfilms.com, and CAA, filmsales@caa.com
Producers: Christine Vachon, David Hinojosa, Frank Murray, Jack Binder, Greg Clark, Victoria Hill, Gary Hamilton, Deepak SikkaExecutive producers: Brian Beckmann, Philip Burgin, Brooke Lyndon-Stanford, Martin McCabe, Luca Scalisi, Mick Southworth, Ying Ye
Cinematography: Alexander Dynan
Production design: Grace Yun
Editor: Benjamin Rodriguez Jr.
Music: Lustmord
Main Cast: Ethan Hawke, Amanda Seyfried, Cedric Kyles, Victoria Hill, Philip Ettinger