Dir. Stephen Frears. UK, 2016, 110 mins.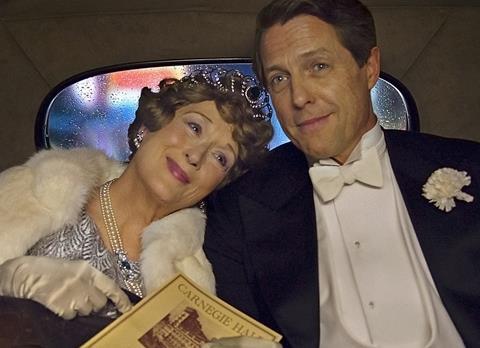 Bouquets all round: Stephen Frears goes broad in Florence Foster Jenkins, and the appeal should be wide. Playing the deluded songbird heiress, and equipped with an impressively padded girth, Meryl Streep hasn't been in such good-humoured form since 2009's Julie And Julia, delivering a comic aria while capturing pitch-perfect notes of pathos in a series of misguided operatic performances.
It isn't just that Florence's singing is delusional; her marriage to the English impresario St Clair Bayfield (Hugh Grant) is also a wall of seemingly-impenetrable self-deception
Hugh Grant steps up to give warm, astutely-judged support in what is perhaps a career-best performance, and while Florence Foster Jenkins isn't a terrifically subtle film, it is consistently appealing and should marry Streep's global followers to the audience which made The Best Exotic Marigold Hotel a hit.
Florence Foster Jenkins is the second film based on the life of the American heiress - once dubbed the world's worst singer - to be released in the last year, with Xavier Giannoli's Marguerite, starring Catherine Frot, bowing at 2015's Venice. This is the film which will sing to the gallery, though. While little doubt remains that Meryl Streep can open a film, this will test how high the commercial notes she can reach. It also proves that, at the age of 74, and following on from The Program and Philomena, a film by Stephen Frears remains elusive to categorise; this is closest in tone, perhaps, to his 2005 hit Mrs Henderson Presents. The UK is set for a May 6 release, while Paramount has US rights and will hold back until August.
Meryl Streep can sing, as witnessed in last year's Ricki And The Flash. This time, as the real-life Alabama heiress Florence Foster Jenkins in wartime New York of 1944, she famously can't hit the notes. What is so excruciating about Florence's warbling, as illustrated on the surviving record Murder on the High C's, is that she would veer agonisingly close to getting it right, but then screech off wildly in an alarmed cacophony.
It isn't just that Florence's singing is delusional; her marriage to the English impresario St Clair Bayfield (Hugh Grant) is also a wall of self-deception. Her taste in clothes is extravagantly off-key (Consolata Boyle's fantastic costumes threatening to upstage Streep at every curtain call) and her apartment is also over-stuffed with bric-a-brac and questionable art. But Florence Foster Jenkins is loving towards its heroine, opting for full-on warmth and smiles wherever it can snatch them.
We join Florence and the opportunistic St Clair at one of the ageing heiress's Verdi Club soirees. Passionate about "the profound communion" of music, Florence is a lavish supporter of the arts – Toscanini relies on her open chequebook – and the evening's proceedings end in elaborate tableaux vivant featuring Florence herself. But that's no longer enough to satisfy her. When Florence attends a performance by Lily Pons at Carnegie Hall, she is inspired to take up singing again.
Cosme McMoon (Simon Helbeg, from TV's The Big Bang Theory) is dutifully engaged as her accompanist, and Frears sets the film up for its big reveal – a magnificent comic set-piece when Streep starts to sing and McMoon realises her singular lack of talent as everyone else in the room blithely pretends not to notice.
Despite the fact he is 'married' to Florence but lives with his girlfriend Kathleen (Rebecca Ferguson), St Clair will do anything he can to protect his 'bunny', but that will become his greatest challenge when she decides to sing at Carnegie Hall and make tickets available to the paying public.
Frears, working from Nicholas Martin's deft screenplay, mixes operatic set pieces with very broad comedy and some observational gags– noting the highly eccentric Florence's obsession with sandwiches and potato salad, for example, going so far as to stuff a bathtub with the latter for a laugh. Helberg's part is pivotal – McMoon is our entry to the bizarre world which surrounds Florence in her suite at the Carlyle. His perfornance is nicely tuned and Streep busts all the high notes – Foster Jenkins was ambitious enough to tackle Mozart's The Magic Flute, including the Queen of the Night aria - yet it's Grant's character who deepens through the journey and the actor delivers a touching performance, giving the film its heart.
Another star of the show is costume designer Boyle (Testament of Youth), whether it be garbing a hefty angel of inspiration descending from the heavens, or a portly Wagner warrior. Clad in a fat suit, her chest resembling a shelf, Streep sports a series of amusingly unflattering costumes, from satin tea dresses to the angel wings she wears for a pivotal performance.
Florence Foster Jenkins was entirely filmed in the UK, with Liverpool standing in for New York – physically, it's not convincing, but the spirit is just about right. (In real life, the heiress, who was crippled by late-stage syphilis, was 76 at the time the film plays out, so Frears isn't exactly chasing a documentary feel). Four plays have been written about Florence Foster Jenkins, a documentary, and now, two features. Stephen Frears' crowd-pleasing comedy will certainly be the one to register.
Production companies: QWERTY Films, BBC Films, Pathe
International sales: Pathe International
Producers: Michael Kuhn , Tracey Seaward
Executive producers: Cameron McCracken, Christine Langan, Malcolm Ritchie
Screenplay: Nicholas Martin
Cinematographer: Danny Cohen
Editor: Valerio Bonelli
Production designer: Alan MacDonald
Music: Alexandre Desplat
Costumes: Consolata Boyle
Main cast: Meryl Streep, Hugh Grant, Simon Helberg, Rebecca Ferguson, Nina Arianda, Aida Garifullina