The war between two criminal brothers rocks Kuala Lumpur's underworld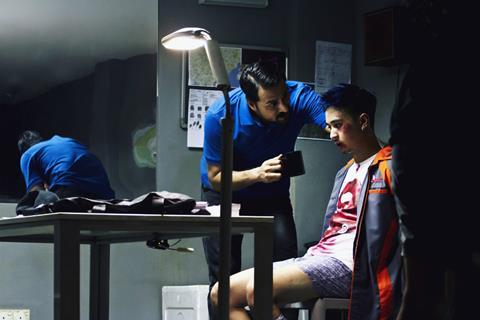 Zahir Omar. Malaysia. 2018. 100mins
Fraternal tensions between cautious crime boss Tailo and his firebrand younger brother Sailo cause the pressure cooker of the Kuala Lumpur underworld to blow. This stylised Malaysian gangster picture is soaked in lurid crimson and sleazy neon tones even before the blood starts to flow. The bullets splatter indiscriminately and the body count is almost too extensive to keep track of. Yet since it is virtually impossible to feel emotionally invested in any of the characters, it's hard to care about their gory demises.
The film's main problem is that it gives us nobody to root for
The feature debut from Zahir Omar, formerly the assistant director for the late Yasmin Ahmad, this is an energetic, if somewhat derivative genre piece. A cast made up of Malaysian veterans (Sunny Pang, Bront Palarae) and hotly tipped newcomers (Jack Tan) should ensure plenty of interest domestically. A brashly chaotic car chase notwithstanding, however, the picture's action component may not be distinctive enough to connect with overseas audiences. The lip-smacking relish that the film displays in wreaking a trail of bloody havoc through the nighttime underbelly of the city could lead to late night slots in further festivals.
The film's main problem is that it gives us nobody to root for. The closest we have to a sympathetic character is Tailo (Sunny Pang, best known for his gloriously over-the-top performance in Headshot). He is, we are told, a gentleman. Since he makes a living extorting money from wealthy customers in his taxicab by threatening to rape and murder their wives, it's a loose interpretation of the term – more an honour among thieves kind of a deal. A side note: the cheerfully jaunty music which accompanies the rape threat is jarringly incongruous, suggesting that the filmmakers are rather underestimating its gravity.
Tailo is loyal (to a fault) both to his younger brother Sailo (Fabian Loo) and to Ah Soon (Eric Chen), a former colleague recently released from jail. But Sailo is an irksome blowhard with ambitions which far exceed his abilities, and Ah Soon is a glowering downer, who annoys everyone else in the gang by silently judging them all. Other key characters include Gwailo (Tan), Sailo's handsome but disastrously dumb best friend; Inspector Kamal (Bronte Palare), the cop with a taste for violence and a grin that looks as though he kills kittens for kicks. And then there's Jared (Frederick Lee), gang boss and casino owner. It's an extreme performance from Lee that veers unpredictably from demented genius to prop-chewing hamming, often within a single shot. If nothing else, he appears to be having a lot of fun.
The film's missed opportunity is Reanna (Joyce Harn), a cool beauty who, having been targeted by Tailo after he picks her up in a cab, turns the tables on him, and on the lover who recently dumped her, by organising another, bigger heist. But having sashayed into the movie and run rings around all the idiot men, Reanna simply disappears again, taking with her much of the potential for mischief.
The unpolished execution and vivid, over-lit sleazy look of the film is not a problem – it adds to the trashy, cranked up aesthetic in which characters are one step away from being cartoons. But the tonal inconsistencies, particularly in the bizarre musical choices, are more of an issue. And the plot, like most of the characters, is just not quite as smart as it needs to be.
Production Company: Planet Films
International Sales: Good Move Media Hello@Goodmovemedia.Com
Producer: Mo Bahir, Leonard Tee, Perin Petrus
Screenplay: Fredrick Bailey, Ivan Yeo
Editing: Dom Heng, Ajay Kumar
Production Design: Nick Wong
Cinematography: Keong Low
Music: Zane Adam
Main cast: Sunny Pang, Bront Palarae, Jack Tan, Ruby Yap, Frederick Lee