Forest Whitaker-backed doc follows two young South Sudanese people determined to reclaim their country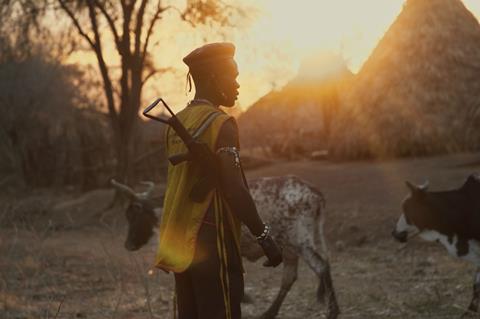 Dirs: Christophe Castagne, Thomas Sametin. US/France. 2022. 94 mins
Almost since its formation as a country in 2011, when it gained independence from Sudan after years of civil unrest and a landslide referendum vote, South Sudan has been a country at war with itself. Power struggles between leading politicians and clashes between communities have created a destabilising environment of conflict which has displaced tens of thousands of citizens, many of whom now live in UN-run Protection Of Civilian (POC) camps. In their insightful documentary, Christophe Castagne and Thomas Sametin focus on two young South Sudanese people who are determined to reclaim the country they still want to call home.
Castagne and Sametin have distilled the issues in South Sudan into the experiences of two motivated and personable individuals
Festival interest should be strong following For The Sake Of Peace's debut at Cannes, as a Special Screening alongside actor-producer Forest Whitaker's Lifetime Achievement Palme d'Or. Whitaker is founder and CEO of the Whitaker Peace & Development Initiative (WPDI), through which he has developed the Youth Peacekeeping Network featured in the film, and his presence behind the camera — and, briefly, on it — should help it achieve wider attention, as will its timely and well-handled humanitarian themes.
While the issues in South Sudan run the length and breadth of this land-locked country, Castagne and Sametin have distilled them into the experiences of two motivated and personable individuals. First, we meet the charming and pragmatic Nandege, a young Didinga woman who is training as a peace mediator through the WPDI. She has the mammoth task of resolving the bloody rivalry between the communities of Chukudum, in Didinga Territory, and Mohina, in Logir Territory, which are locked in a cycle of cattle raids and murder. Komol, the head of the Logir, admits to killing around 1,000 people for their cows; it's no wonder that Nandege is nervous to meet him. A sequence filmed on the inside of the car, which is taking her to the village and sways queasily on the dirt track roads, captures the sense of trepidation and optimism which runs through the film.
Elsewhere, in a sprawling, dusty POC camp in Juba, resides the tall and taciturn Gatjang, forced from his home by armed militia who were targeting his Nuer community. His life has been turned upside down by this war — he has no hope of marrying, for example, because he now cannot possibly afford even a meagre dowry — and yet he remains upbeat, utilising his passion for football to help connect with the camp's young residents. Teaching them the rules of the game, to be gracious in loss, will, he hopes, show them there is another path to resolution besides violent aggression. And when the camp team reaches the final of the local Unity Day competition, he hopes that winning the huge trophy will be "a big step to freedom".
That path, however, is paved with challenges. Nandege's preparations for monumental peace talks between the Didinga and the Logir are threatened by suspicion, distrust and transport problems. Plus, she is a woman and traditionally considered "worthless" in South Sudanese culture — although, thankfully, attitudes are changing. Gatjang fights against camp officials, who want to use his beloved football pitch for yet more tents to house increasing numbers of refugees; efforts, he says, should surely be on ending the fighting, so that people can return to home, rather than creating more supposedly temporary solutions (he himself has been there since 2014).
Editing (from Sametin, Matthieu Bretaud and Julien Lecat) cuts neatly back and forth between Nandege and Gatjang, a structure which works well from both a narrative and dramatic point of view. The increasing pace of these cuts — together with an up-tempo (and occasionally overegged) score, which combines traditional drumbeats with more frantic strings and ominous tone — gives the film a sense of building urgency and reminds us of the high stakes at play for Nandege, Gatjang and the country as a whole. Crucially, Castagne and Sametin give equal care and attention to both strands of their film, and the result is a cohesive and ultimately hopeful look at the potentially transformative power of individual action, whatever form it may take.
Production companies: Significant Productions, The Whitaker Peace & Development Intiative, R2
Contact: Significant Productions, nina@significantproductions.com
Producers: Forest Whitaker, Nina Yang Bongiovi, Caroline Descombris
Cinematography: Christophe Castagne
Editors: Thomas Sametin, Matthieu Bretaud, Julien Lecat