Matt Damon and Christian Bale scorch up the track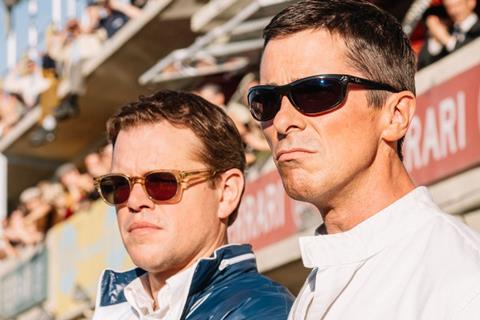 Dir: James Mangold. US. 2019. 152 mins
The true life challenge of creating the perfect racing car inspires a dynamic, precision-engineered crowd-pleaser in Ford v Ferrari. Director James Mangold fills the screen with enough burning rubber, smoking brake pads and high speed race track thrills to please the most ardent petrolhead. He also widens the film's commercial appeal by grounding the story in the personalities as well as the process of designing cars and winning races.
Visceral racing sequences that place you in the heart of the action
Appealing performances from both Christian Bale and Matt Damon allied to subject matter that is neither sequel or superhero epic should help the film carve out a decent share of the autumn box-office for Twentieth Century Fox and new owners Disney.
Mangold is very much in the driving seat for a film that puts all the fine-tuned expertise of a big-budget Hollywood production at the service of a great piece of storytelling. The screenplay credited to Jez Butterworth, John-Henry Butterworth and Jason Keller takes its fair share of dramatic liberties. It streamlines events into a work that reflects the true grit of men who risks their lives whilst encapsulating the corporate politics, tight-knit relationships and bantering humour that swirl around them.
Matt Damon's charismatic Carroll Shelby is first seen tearing up the track as he wins the 1959 Le Mans race. The tragedy of his life is a heart condition that forces him into retirement. His energy and ambition is subsequently channelled into designing and selling cars. Ken Miles (Christian Bale) is an English-born mechanic working in America who might be the best driver than Shelby has ever seen.
The project that brings the two men together is an initiative by Lee Iacocca (Jon Bernthal) at Ford Motors who wants to give the stolid, old-school company a snazzy new image. His proposal to buy into Ferrari and create a winning sports car is treated with such contempt by Enzo Ferrari (Remo Girone) that Henry Ford II (Tracy Letts) takes it as a personal insult. A huge amount of Ford money is then committed to developing a car that will win the 1966 Le Mans race and teach Ferrari a lesson.
Ferrari is largely relegated to junior partner and pesky foreign competitors in a film that keeps the focus very much on Ford and the friendship that grows between Miles and Shelby as they build the car. Physically lean as a whippet once again, Bale gives one of his most relaxed and endearing performances as the sarcastic, rebellious Miles. Damon's cowboy hat and swagger make Shelby the showman of the duo. There is a fond, understated chemistry between two strong-willed individuals whose conflicts tumble over into an entertaining, energetic street brawl.
An excellent supporting cast finds moments to shine, with Tracy Letts on great form as a pompous, overbearing Ford, Josh Lucas playing the dastardly embodiment of corporate intransigence, Noah Jupe impressing once again as Miles' son and Catriona Balfe making more of Miles' wife Molly than just another long-suffering spouse.
Photographed with a sleek gleam that reflects the can-do optimism of the 1960s, Ford v Ferrari (titled Le Mans 66 in some territories) creates visceral racing sequences that place you in the heart of the action, tensely anticipating an outcome that you may well already know. That is no mean achievement.
Production companies: Chernin Entertainment, Turnpike Films
Worldwide distribution: Disney
Producers: Peter Chernin, James Mangold, Jenno Topping
Screenplay: Jez Butterworth, John-Henry Butterworth, Jason Keller
Production design: Francois Audouy
Editing: Michael McCusker, Andrew Buckland
Cinematography: Phedon Papamichael
Music: Marco Beltrami, Buck Sanders
Main cast: Matt Damon, Christian Bale, Jon Bernthal, Catriona Balfe, Tracy Letts